SGA vice president shown as administrator on protestors' Facebook group
During Student Government Association's meeting Wednesday, a group of protestors calling themselves "We the Students" interrupted the meeting with a proposed resolution to move for a vote of No Confidence in University President John Bardo.
The resolution passed by a vote of 20-4-7.
In an interview during the meeting, which The Sunflower broadcasted live on Facebook, Student Body Vice President Taben Azad denied any prior knowledge of the disruptive resolution.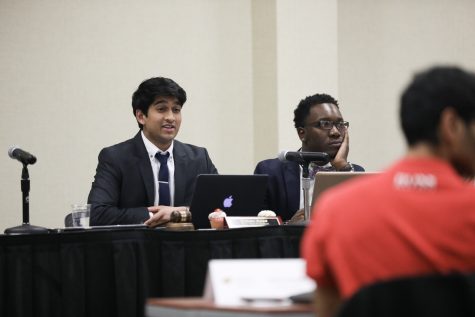 "We had no idea it was coming," Azad said.
However, in the protestors' Facebook group, which two Sunflower reporters were invited to by members, Azad is listed as an administrator for the group.
The page shows Azad was made an administrator of the group March 5, nine days before the protestors staged a sit-in outside Bardo's office with demands for transparency from university administration. 
One of Azad's first posts into the Facebook group was at 7:12 p.m. March 6. He wrote about the planned protest Tuesday, and mentioned the list of demands the group had for Bardo.
At 8:43 a.m. Tuesday, Azad posted the We the Students Facebook page was live and invited members to share and invite friends to the sit-in.
Azad did not attend the sit-in, but did post in the Facebook group numerous times during the sit-in.
At 1:15 p.m., he posted, "Don't let Vizzini, Moses or Heldman move you all. They are full of it and could care less. YOU ALL KEEP MAKING THEM SWEAT."
At 1:52 p.m., near the end of the protest, he wrote, "YALL BETTER FINISH STRONG. SHOW THEM CORRUPT ADMINISTRATORS WHO YOU ARE AND YOU HERE."
One of Azad's most recent posts came around midnight Wednesday. He posted a checklist of sorts and mentioned the Vote of No Confidence, writing "check" next it.
About the Contributors
TJ Rigg, Reporter/Copy Editor
TJ Rigg has worked for The Sunflower since August 2012, when he started as a general assignment reporter. Eventually, he added additional responsibilities...
Matt Crow, Former Sports Editor
Matt Crow is the Sports Editor for The Sunflower. Crow is a senior at Wichita State majoring in communications with an emphasis is electronic media. He...