Dayton's frontcourt isn't as settled as their veteran backcourt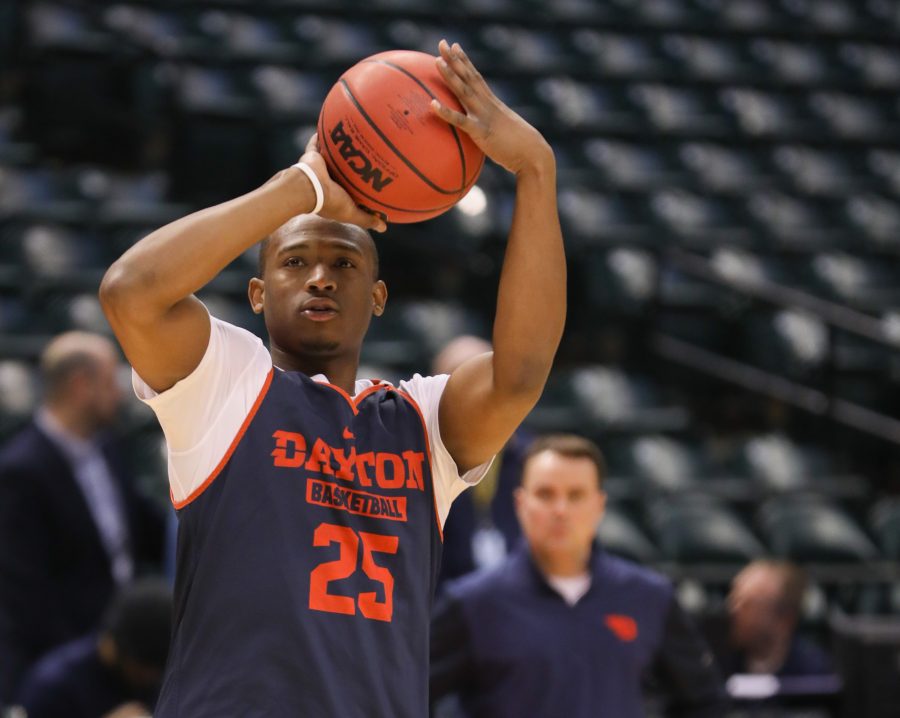 Dayton is in the NCAA Tournament for the fourth straight season. Archie Miller's Flyers are the one of 18 teams to play in the Tournament each of the last four seasons.
Dayton is regular tournament party crashers, winning four games in the last three seasons as the lower seed. They're seeded No. 7 in the South region, and they'll play Wichita State, who has been widely considered to be under-seeded as a No. 10 seed.
Overall, the Flyers have a 19-19 record in the NCAA Tournament, including three appearances in the Elite Eight and seven in the Sweet 16. Last year, Dayton was routed out of the tournament by 10-seeded Syracuse, who went on to the Final Four. Under Miller's direction, the Flyers have a 5-4 record in the NCAA Tournament.
Miller was the Atlantic 10's Coach of the Year. Archie and his brother Sean, who is the Arizona head coach, are the first brothers in the NCAA to be named the Coach of the Year in their respective conferences.
The Flyers (24-7) finished as the regular-season champions of the Atlantic 10 conference. They fell to No. 9 seeded Davidson in the quarterfinals of the A10 conference tournament. They finished with 12 wins over top 100 RPI opponents. Dayton lost their last two games.
Dayton leads the all-time series with the Shockers 2-0. They haven't met since 1962 in the first round of the NIT.
Dayton starts a small-ball lineup featuring three senior guards and no forward taller than 6-8 senior Kendall Pollard. The Flyers have 10 players who average more than 10 minutes per game. Senior guard Scoochie Smith earned A10 first-team honors, averaging more than 13 points, four assists and 3 rebounds per game.
Dayton's frontcourt is less settled than the power backcourt of Smith, Charles Cooke and Kyle Davis. Miller has struggled to replace 6-6 forward Dyshawn Pierre, who led in rebounding (8.5 per game) and added 12 points per game his senior year.
Kostas Antetokounmpo, a 6-10 freshman forward and brother of Milwaukee Bucks star forward Giannis Antetokounmpo, is ineligible for play this season while he serves an academic redshirt.
Pollard, 6-6, who averages 14 points and five rebounds, battled offseason surgeries to his knee and wrist. He also sat out the first six games of the year with a thigh injury.
Josh Cunningham, a 6-7 transfer from Bradley, missed 21 games with a torn ligament in his left ankle before he returned in February.
Ahead of Friday, Miller worried about the size and athleticism of Wichita State 6-8 center Shaq Morris. Morris averages more than nine points and nearly five rebounds in an average of 17 minutes of playing time. Those numbers hide the Morris' efficiency, Miller said.
"He doesn't have gaudy numbers, but if he played somewhere else where he had more minutes, he probably would," Miller said. "He's a terrific player. I'm not sure there's a guy that's been more effective in his minutes. He's a difficult challenge challenge for any team."
Morris, behind teammate Darral Willis, Jr. averages the 30 points per 100 possessions. When he's on the floor, he's Wichita State's second-most utilized player behind Willis.
"I love that respect," Morris said. "For the most part, I do what I can control. I try my best to stay on the floor and do what I can do to help my teammates out."
Wichita State head coach Gregg Marshall said he's been openly critical of Morris during parts of his career with the Shockers. Marshall said he's more satisfied with his play at this point than he had been in previous years.
Marshall said when Morris arrived at Wichita State he was in many ways comparable to a playground bully.
"He's come a long way," Morris said. "As a coach, the way we try to do it, we try to develop the person, the student and the player. He is a great, shining example of a guy that's come a long way in all three of those categories."
About the Writer
Evan Pflugradt, Sports Editor
Evan Pflugradt is the former Sports Editor of The Sunflower.

Pflugradt past served as the publication's Editor in Chief, Opinion Editor and a reporter....