How Gregg Marshall transformed Shaq Morris to be NCAA Tournament ready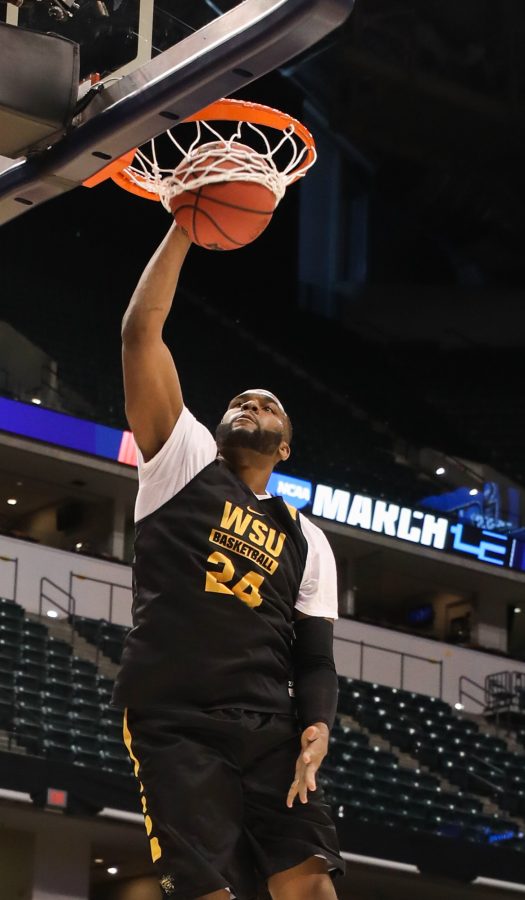 Ahead of Friday, Dayton head coach Archie Miller expressed concerns about how his Flyers would handle the size and athleticism of Wichita State 6-8 center Shaq Morris.
Morris averages more than nine points and nearly five rebounds in an average of 17 minutes of playing time. Those numbers hide the Morris' efficiency, Miller said.
"He doesn't have gaudy numbers, but if he played somewhere else where he had more minutes, he probably would," Miller said. "He's a terrific player. I'm not sure there's a guy that's been more effective in his minutes. He's a difficult challenge for any team."
Morris, behind teammate Darral Willis, Jr. averages 30 points per 100 possessions. When he's on the floor, he's Wichita State's second-most utilized player behind Willis.
"I love that respect," Morris said. "For the most part, I do what I can control. I try my best to stay on the floor and do what I can do to help my teammates out."
Wichita State head coach Gregg Marshall said he's been openly critical of Morris during parts of his career with the Shockers. Marshall said he's more satisfied with his play at this point than he had been in previous years.
Marshall said when Morris arrived at Wichita State he was in many ways comparable to a playground bully.
"He's come a long way," Morris said. "As a coach, the way we try to do it, we try to develop the person, the student and the player. He is a great, shining example of a guy that's come a long way in all three of those categories."
In last season's NCAA Tournament, Morris and teammate Rauno Nurger won the frontcourt battle against three NBA-level forwards, despite being undersized. Friday, Morris will match up with a Dayton frontcourt where has a reasonable size advantage.
"Neither team has a 7-ft space eater inside, and hopefully Shaq can hold his own and win that battle inside," Marshall said.
Wichita State 6-10 forward Rauno Nurger said Morris possesses the strength to reek havoc down low in the post. Nurger and junior guard Daishon Smith said the goal would be to pound the ball to Morris in the post and get him going on offense early.
"He won't make it easy for anyone," Smith said.
About the Writer
Evan Pflugradt, Sports Editor
Evan Pflugradt is the former Sports Editor of The Sunflower.

Pflugradt past served as the publication's Editor in Chief, Opinion Editor and a reporter....