Ron Baker writes article for The Players' Tribune
Play Angry is a motto Shocker fans know well. No matter what part of the country you live in, if you've seen Wichita State play under Gregg Marshall, you are familiar with the impact this phrase has had on the team over the last five years.
On Friday, New York Knick and former Shocker Ron Baker released an article for The Players' Tribune with the Wichita State motto as its title.
Baker is known as a player who has fun no matter where's he at in relation to the basketball — it doesn't matter if he's on the bench or running the floor.
In the article, Baker starts off by sharing a story about Carmelo Anthony and his consistent comparison to Baker being a cowboy.
"I'm used to being known as the guy from the Midwest — the guy who grew up on a farm in a town of 200 people," Baker wrote.
Baker keeps the article fun and interactive by discussing his acting career and the commercial he made for Carlos O'Kelley's.
"I need you to tell me — and please be honest — what you think about that commercial that I did last year with Fred VanVleet and Evan Wessel, two of my former Shockers teammates," Baker said.
The article provides the commercial for readers to view. Following the video, Baker highlights why that commercial is important to him, and spoiler, it's not the food.
"I'm not trying to sell more enchiladas," Baker said. "I just want to point out something special about the ad. We shot it in the actual restaurant that my teammates and I used to go to after games. But more important, all the people seated in the restaurant behind us? Those are our real, actual friends."
Baker's words provide more than some funny moments from his past; they also highlight why his time at Wichita State is valuable to him.
In his junior year, Baker, along with VanVleet, was asked to assist with recruiting potential Shockers.
"He wanted us to be the first people to meet a recruit and his family when they came to campus," Baker said. "He literally wanted us to have a sit-down meeting with each recruit — even before he toured the campus and met with the coaching staff or the academic advisors."
Baker and VanVleet were involved in recruiting Landry Shamet and Markis McDuffie who are both averaging more than ten points a game this season.
Toward the end of the article, Baker shares how the Play Angry motto enhanced their team.
"It's really more of a mindset than something literal," Baker said. "It's hard to describe in one word, so the best way to Play Angry is probably just to tell a story."
The story Baker tells is one many Shocker fans remember vividly — the win against Kansas in 2015.
Baker clears any confusion about what it means to be a Shocker and play angry.
"Play Angry isn't about playing dirty, or playing mean, or playing out of control," Baker wrote. "Play Angry is: You're not going to beat us to a loose ball."
While Baker is not on the team this year, he wants the Shockers to be successful.
"I just want to wish you good luck in the tournament this month, I know you'll make all the fans and alumni proud," Baker said.
The sentiment Baker shares in this article seems to flow right along with the Wichita State adage, "once a Shocker, always a Shocker."
—
Leave a Comment
About the Writer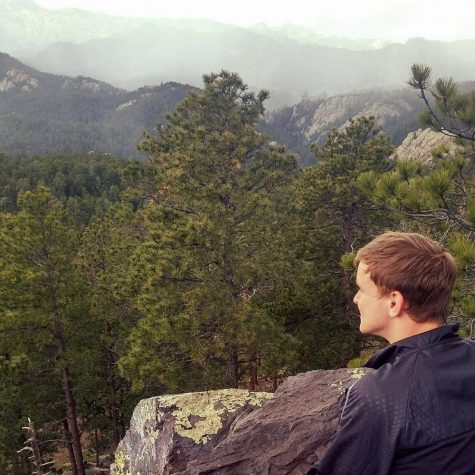 Sam Belsan, Former eporter
Sam Belsan was a reporter for The Sunflower.