Wichita State rallies, upsets Dayton
Wichita State has won at least one NCAA Tournament game in each of the last five seasons.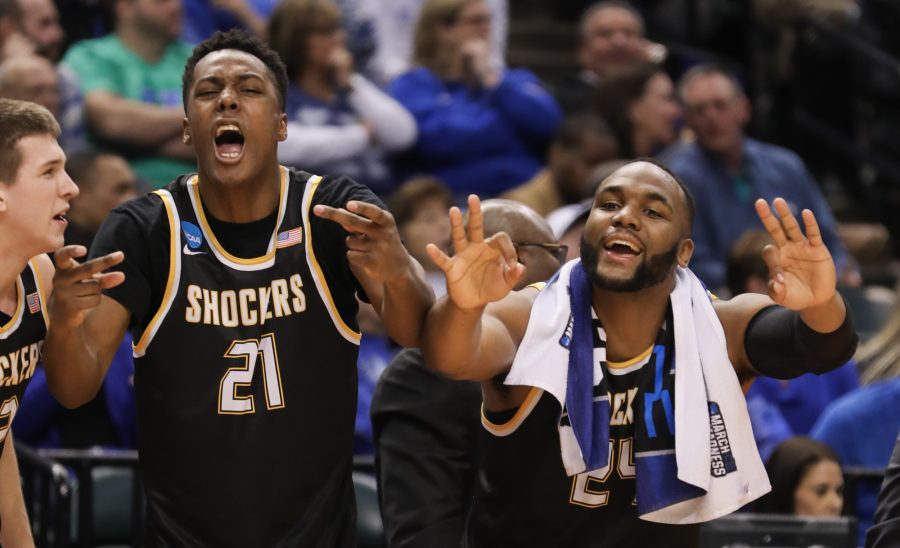 Wichita State looked anything but themselves and Rashard Kelly knew it.
Kelly, a junior forward, pulled together his teammates, many of which hadn't ever played in an NCAA Tournament game, and asked them to turn up the defensive intensity.
The Shockers trailed Dayton by five points. Wichita State hadn't scored in more than five minutes and the 3-pointers weren't falling — they were shooting just 9 percent from long distance.
Off-balance, jumping off his left foot, Kelly tossed up a prayer from 3-point range and hit it to beat the buzzer. Still, the Shockers entered halftime trailing by two points.
Wichita State struggled to slow the pace of Dayton senior Scoochie Smith, who had 15 first half points on 6-9 shooting.
"They rilled us a little bit, but we have to slow down, have more poise and execute it," Kelly said.
Wichita State head coach Gregg Marshall looked around his locker room and asked his players if they any of them felt like they played a good first half of basketball. Hands stayed low.
Marshall leaned into Zach Brown and Kelly and said to not let Smith continue his scoring showcase. While Dayton returned to the court with six minutes left in the break, Marshall kept his team into the locker room until the a little more than two minutes before the start of the second half.
Brown stayed in front of Smith and limited his ball movement and shut down drives to the basket.
"Zach is a veteran, we can put him on anybody one through four," teammate Daishon Smith said. "He can slide his feet and really play defense. He is the X-Factor.
"He wants to play hard every night on both ends. He controls the energy of the team."
Wichita State pulled away after 14 lead changes to take the eventual win 64-58 — Wichita State's lowest scoring game of the year came to Louisville in November with 52 points.
"We didn't have to play a perfect game, we just had to play a good game," Kelly said.
Daishon Smith, in his first NCAA Tournament game, was brought in to assist Brown and Kelly defense. He slid into the point guard spot moving Landry Shamet to the shooting guard.
"He can put me in for defense," Smith said. "I think on the offensive end I'm doing a great job of controlling the tempo and getting guys the ball."
Kelly finished two points shy of a double-double with eight points and 11 rebounds. Brown was a perfect 3-3 from 3-point range and 4-5 from the floor — he scored 12 points.
Shaq Morris scored 10 points and had six rebounds in 14 minutes of limited action.
Wichita State plays the winner of No. 2 seed Kentucky and No. 15 seed Northern Kentucky on Sunday.
About the Writer
Evan Pflugradt, Sports Editor
Evan Pflugradt is the former Sports Editor of The Sunflower.

Pflugradt past served as the publication's Editor in Chief, Opinion Editor and a reporter....