Small wedding, big celebration
Emily Martin, administrative officer in the Office on Finance, found love on the Tinder dating app.
She met her husband Phil on the app and the two started dating in February 2016. Just 10 months later, they tied the knot, but not in the traditional sense. Rather than an elaborate ceremony, the Martins opted for eloping.
They did not go to Las Vegas.
"That's what we wanted to do," Emily said. "But once we figured out airfare for everyone, we decided to stay here."
Emily said she and Phil had grandmothers who died last summer, which brought much of their family together. The woman who performed Emily's grandmother's funeral service performed the wedding ceremony at Haysville United Methodist Church.
They still had to go through the legal process: applying for a wedding license, getting approved, etc. About three weeks after they were engaged, Emily and Phil married on Dec. 23.
About 12 people attended the wedding including their parents, siblings and Phil's daughters.
While their wedding ceremony was small, they are planning on a big celebration in May.
The reception will be at Grace Hill Winery. Emily described it as similar to a backyard party with a photo booth, yard games and drinks for all.
For food, the Martins hired B.S. Sandwich Press.
"I do a lot of the scheduling for the food truck plaza here, so through that I've been able to get some good connections with food trucks and basically I just had my husband try a few of them, was like, 'Pick one,'" Emily said.
The Martins invited about 200 people to their celebration. So far, Emily said, no one has said no. She estimated about 150 people will attend the party.
Some people were surprised by their choice for the small ceremony.
"I had a handful of people do the whole, 'Oh. Why'd you do that?' Well, it was our wedding," Emily said. "It took a minute to be OK with that thought process, but when you're the one paying for it all, it's your wedding, you do what you want."
Emily said she and Phil initially planned to get married at a Courthouse, but decided on the small church ceremony about three weeks before the wedding. She added that choosing the small ceremony and big party was about saving money.
"Neither one of us are very religious folk and so the ceremony itself wasn't as big of a priority to us," she said. "It was more we wanted the celebration with our friends and family. We'd rather spend our money on the reception."
Leave a Comment
About the Contributor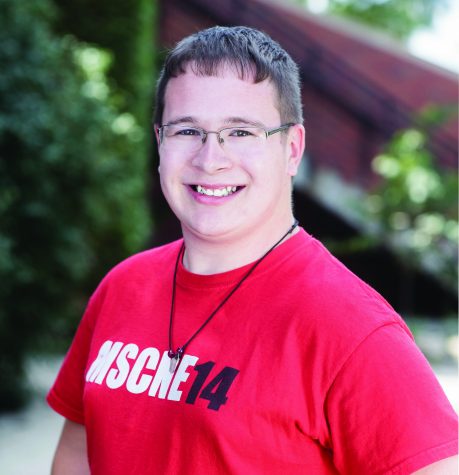 TJ Rigg, Former reporter/copy editor
TJ Rigg is a former employee of The Sunflower.