Shockers atop score board going into final day of competition
The Shockers are competing in their final Missouri Valley Conference Outdoor Track and Field Championship this week. The meet is being hosted at Cessna Stadium.
Wichita State is looking to claim their fourth-straight women's outdoor championship title and their second-straight men's outdoor championship title.
In a pre-championship coaches poll, both WSU teams were predicted to win. The men received seven out of eight first place votes and the women received all the first place votes.
After two days of competition, the Shockers lead both the men's and women's team scores.
The Wichita State women's team scored 124 points — 69 points more than second-place Illinois State (55) — in the first two days. The men's team scored 100 points — 34 points ahead of second place SIU (66).
The Shockers had a strong showing in the Heptathlon and Decathlon.
Breanne Borman won the Heptathlon with a personal record 5,640 points. Borman had been in second place after four events on Friday.
Second, third and fourth place in the Heptathlon were all claimed by WSU. Gavyn Yetter scored 5,553 points (PR), Nikki Larch-Miller scored 5,370 and Martiesha Caines scored 5,295 (PR).
Ben Johnson claimed the top spot in the Decathlon with 7,053 points. Johnson had been in second place after five events on Friday. WSU's Kaden Griffin placed third with 6,602 points.
Other Shockers who made their way to the podium on Saturday included Rebekah Topham (second, women's 3,000 meter steeplechase), Nathan Wickoren (second, men's 3,000 meter steeplechase) and Austin Chippeaux (third, men's high jump, 2.05m).
---

Team Scores (after two days)
Women
1) WSU — 124
2) Illinois State — 55
3) UNI — 47
4) Indiana State — 42
5) SIU — 33
6) Missouri State — 21
7) Loyola — 20
8) Bradley — 8
9) Drake — 1
Men
1) WSU — 100
2) SIU — 66
3) UNI — 60
4) Illinois State — 36
5) Indiana State — 21
6) Drake — 10
6) Loyola — 10
8) Bradley — 9

Leave a Comment
About the Writer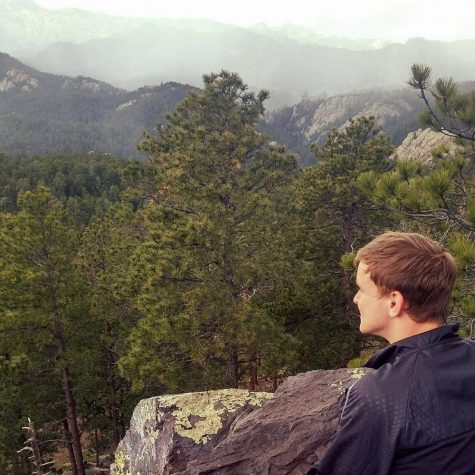 Sam Belsan, Former eporter
Sam Belsan was a reporter for The Sunflower.