Former editor arrested for electronic solicitation
TJ Rigg, an associate producer at KWCH Channel 12 News and former editor in chief of The Sunflower, was arrested and booked into Sedgwick County Jail Tuesday afternoon on the charge of electronic solicitation.
Electronic solicitation is a sex crime in Kansas, defined as "enticing or soliciting a person, whom the offender believes to be a child, to commit or submit to an unlawful sexual act" through electronic means.
KWCH Eyewitness News reported Tuesday that they received an anonymous email Sunday showing a text message exchange and pictures detailing the alleged inappropriate behavior. KWCH reported that the station contacted police Monday and placed Rigg on leave pending the outcome of the police investigation.
According to Wichita police arrest reports, Rigg was arrested at 1210 S. Topeka. That address houses the Child Advocacy Center of Sedgwick County, the Exploited and Missing Child Unit, the state Department for Children and Families, the police and sheriff's Internet Crimes Against Children Unit and representatives of the Sedgwick County District Attorney's Office, the Department of Homeland Security, and ICT S.O.S., which works with victims of human trafficking.
Rigg was editor in chief of The Sunflower during the 2014-2015 school year and worked at KWCH for the last two years. Rigg continued to work as a reporter and copy editor for The Sunflower until his graduation from Wichita State this spring.
Rigg recently told The Sunflower he was hired as a journalism teacher at Wichita West High School and was set to begin work there in the fall. West High could not be reached for comment Thursday evening.
Update: Rigg's bond was set at $100,000 Wednesday, according to a Sedgwick County Jail booking report.
Leave a Comment
About the Contributors
Jenna Farhat, Former news editor
Jenna Farhat was the news editor of The Sunflower. Farhat majored in creative writing.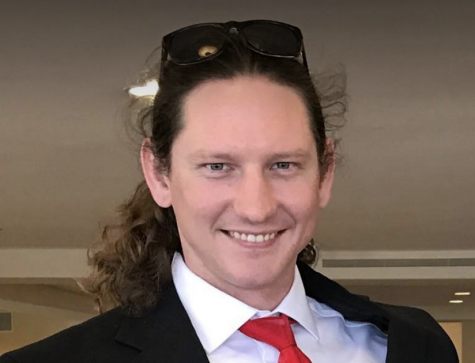 Chance Swaim, Former Editor in Chief
Chance Swaim was the Editor in Chief of The Sunflower from fall 2017 to spring 2018.

Swaim was a graduate student in the English Department working...