Guns on campus — preparing for the new year
Concealed handguns are now allowed at Wichita State
As the campus spent the 2017 spring semester preparing for the new gun law, the tensions continued to run high for many students, faculty and staff. As of July 1, concealed carry has been allowed in all buildings on campus
In 2013, Kansas legislature passed a new law allowing concealed carry guns on every college campus in the state. The new law allows concealed carry for handguns on college campuses to anyone 21 years of age or older.
Campuses have had four years to prepare for the new law; however, students and faculty have seen a lack in preparation and awareness until the 2017 spring semester. While members of the University Police Department and the General Counsel put on gun forums, there was a lack of student presence in comparison to faculty and staff presence.
Background
For WSU, many students, staff and faculty members did not hear of the new law until a recently, although it's been in place since 2013. Once the law became a more prevalent and looming issue in 2015, Faculty Senate, led by former-president Peer Moore-Jansen, an anthropology professor, took to the Kansas Board of Regents to state the feelings and thoughts of WSU and its faculty members.
"My motivation was two-fold," Moore-Jansen said. "Learning about the Kansas legislature proposing this law and then as the president of the Faculty Senate, I felt a serious responsibility to do my best to represent the faculty on this campus. I felt not only obligated, but I was also very interested in trying to secure a policy that would serve this community the best."
As Moore-Jansen took on the president role in 2015, he attended meetings with the Faculty Senate, Student Government Association, the administration and KBOR to learn more about the law and see what he could do to help the WSU community, he said.
In an effort to learn how faculty and staff across Kansas campuses truly felt, Moore-Jansen and other faculty presidents created a survey.
The survey was administered in Dec. 2015 and results were concluded in Jan. 2016.
"One major concern that came from the survey is how can professors maintain control of the class," Moore-Jansen said. "In a tornado, students want to go home, they want to leave, but the faculty can take control and tell them what needs to be done. But what happens when someone in the class feels empowered? Guns may or may not be the source of that, but it is still something that needs to be thought about."
The survey of WSU faculty and staff only, with about a 48 percent participation rate, concluded that about 78 percent of those surveyed did not want guns on campus. It also stated that faculty and staff did not have issues with guns themselves, but the concept of guns on campus and safety issues.
This concern has also been brought forward by former student-body President Joseph Shepard and current student-body President Paige Hungate.
"The education and training piece is not required and I think that's the most important issue," Shepard said. "I'm actually for guns, I think that people need them for protection…however, that education and training is so important, that mental health background is so important because one trigger and it's a wrap."
"I don't like them on college campuses, it makes it very difficult for UPD to know who is the person that is the attacker and who is not, but in general, outside of the university realm, people should be allowed to carry."
WSU's Transition
Hungate strained the importance of education for incoming students. During orientation, officers were present to go over the new gun policy and discuss the changes.
With contributions from David Moses, general counsel; Sara Morris, chief of UPD; and Corey Herl, UPD captain, educational forums were held on April 13, 17, 25 and 27 — but student presence lacked.
Meanwhile, Moses, Morris and Herl all agreed on a common theme for the forums — "We don't train, we educate and now is not the time for panic, it's the time for awareness."
Through the Students for Concealed Carry and interactions between students and administration, Hungate wants to use her position as a platform for students to be heard and addressed.
"In reality, we are the stakeholders," Hungate said. "I'm willing to sit down to have those tough conversations with President Bardo and the executive team about how students feel about these laws. Our students are half and half and I want to advocate for both sides so we can get to a census in a good, compromised way."
WSU Buildings
While the entire WSU main campus, the Metroplex, along with the west, south and downtown campuses are affected by the new concealed carry law, buildings on Innovation Campus can either follow suit or create their own policy.
"Most buildings on Innovation Campus are not university property, therefore, are not required to follow the gun policies that are applicable to Kansas public universities," Tracee Friess, director of communication research and technology transfer, said.
The exception is the Experiential Engineering Building/GoCreate — this building is university-owned, so campus policies are applicable.
Koch arena and the athletic facilities are affected by the new concealed carry law as well. However, any athletic event projected to have 5,000 people or more in attendance, based off previous ticket sales and estimated attendance, will have "temporary, adequate security measures" — bag checks, metal detectors and officers present — to prohibit guns from being carried into large-scale events.
The 5,000 attendees rule was something WSU agreed on after conversations with KU and K-State. Each Division I college in the state of Kansas would have the same standards.
Brad Pittman, associate athletic director and facilities and operations manager, said he and his staff in the athletic department will work to communicate the new law with season ticket holders, along with updating the fan guides.
"Will that reach everybody? No, history tells me that not everybody gets the information," Pittman said. "But I don't know that there's a fool-proof method to make sure that everybody, especially a casual fan buying a ticket, gets that information and we will practice and preach education, understanding and compliance."
While student presence is low on campus during the summer, there has been one gun incident reported to UPD as a university employee found a .40-caliber handgun in a restroom on the second-floor of Jabara Hall, the Wichita Eagle reported. Herl stated that there has otherwise been no gun incidents on campus.
View Comments (2)
About the Writer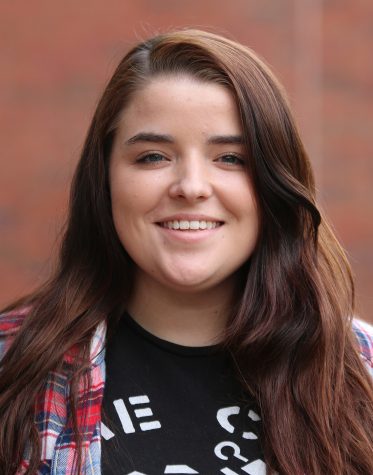 Marissa Campbell, Former culture editor
Marissa Campbell was the Culture Editor for The Sunflower. Campbell wrote music reviews as well as arts, culture and other entertainment stories. From...