Wichitans gather to stand in solidarity with Charlottesville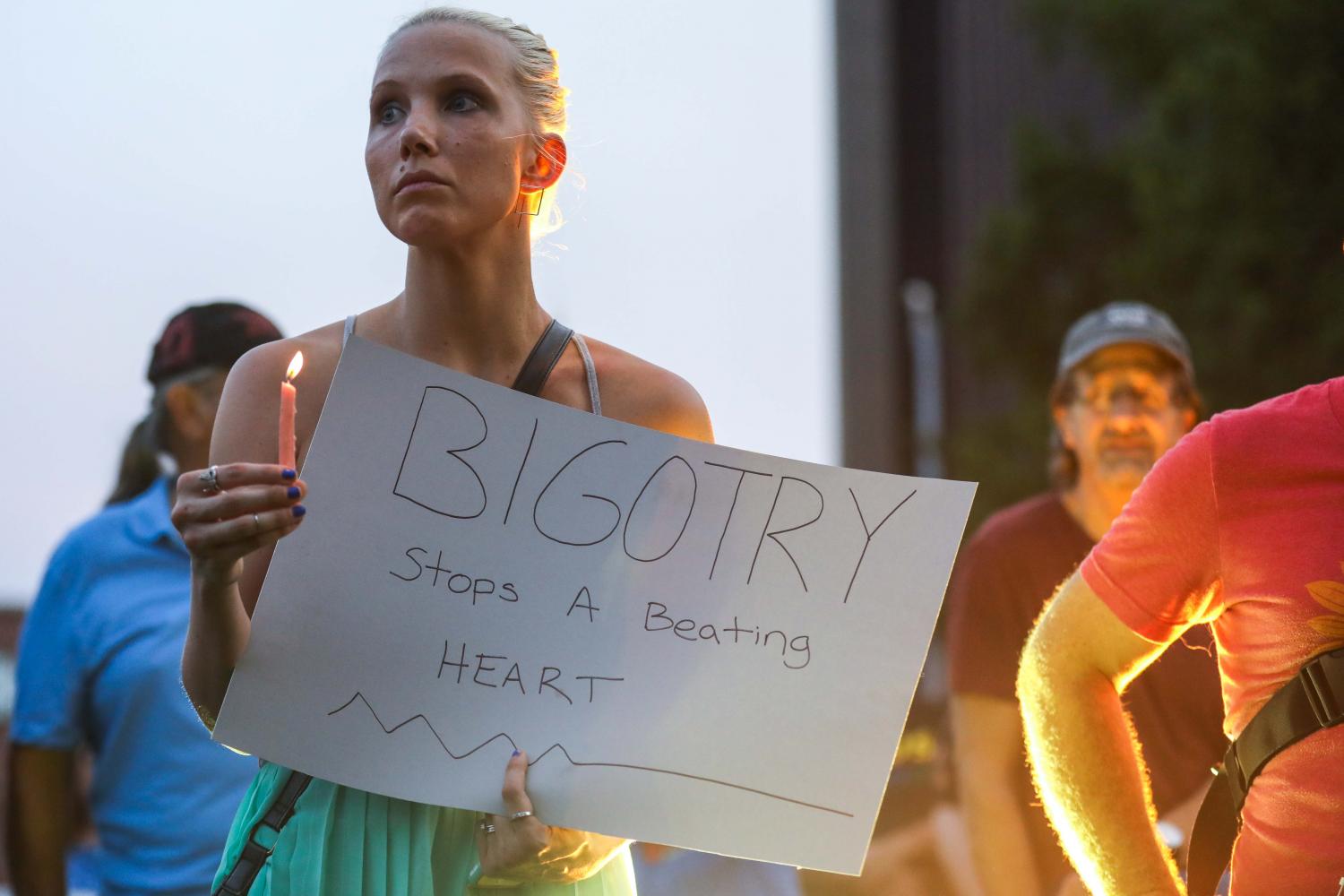 Around 250 people converged on the Sedgwick County Courthouse grounds Sunday evening in a show of solidarity with those who were injured and killed while protesting a white nationalist rally in Charlottesville, Virginia on Saturday.
In response to white supremacists who brandished Confederate flags in Virginia over the weekend, Wichitans came together at the foot of the Union Soldiers and Sailors of the Civil War memorial to advocate for equality and social justice—bringing along signs with messages such as 'Hate Has No Home Here' and 'Make Racists Afraid Again.'
Community leaders spoke words of encouragement to rally-goers before lighting candles in remembrance of the victims.
Larry Burks, president of the Wichita chapter of the NAACP was one of the first speakers.
"Although it happened in Charlottesville, we feel the impact of it right here in Wichita, Kansas," Burks said. "We must work to bridge what divides Americans and widens the gap between us."
Burks also spoke out against President Trump's response to the violence in which he did not explicitly condemn white supremacy.
"We need to make our voices loud and clear so that he (President Trump) and others who think like him know that this is not the America that we're going to stand for and we're going to demand more of him than what he's showing right now," Burks said.
Former congressional candidate James Thompson echoed Burks' criticism of Trump.
"Our president has said that there are many sides to this issue, and with all due respect, Mr. President, no there's not," Thompson said. "There's right and there's wrong."
Thompson proceeded to call out all political leaders who fail to take hardline stances on such issues.
"If they cannot stand up and say that they are going to say no to the hatred and bigotry and intolerance of those movements, then we need to boot their ass out as soon as we can," Thompson said.
Former Wichita State Student Body President Joseph Shepard said he felt a moral obligation to stand in solidarity at the rally.
"I do believe that it is my job as a human being to be here—to stand with my Caucasian brothers and sisters, to stand with my brown brothers and sisters and my LGBTQA brothers and sisters to say together we stand strong and there is not a force that can divide us," Shepard said.
"We have to truly walk our talk and stand on the front line."
Wichita State student Debbie Ojeda said she struggled with the violence of the last few days but that she felt at home amongst the rally-goers.
"It's been very scary so I needed to find a place that is therapeutic—to be around people that feel the same as I do and also revitalize ourselves to continue to fight," Ojeda said. "I'm always afraid but I still feel it's important to show up because I'm not going to let white supremacists stop me from speaking up for what is right."
Shepard too said his fear could not keep him from standing up for his beliefs.
"Yes, there's always a fear, but I also remember that if I am always too fearful to walk out of my front door to go and advocate on behalf of the people who need that platform, then what is the future going to look for the people that I care about?" Shepard said. "A part of me is fearful but the other part of me says I need to step out on faith—to take a risk because it's worth it."
In stark contrast to the protests and counter-protests that turned deadly in Virginia, the courthouse rally remained calm throughout.
A lone security guard on a golf cart monitored the event, but just one protester — a woman walking her dog around the grounds and interjecting occasionally with shouted non sequiturs — disrupted the rally.
About the Writer
Matthew Kelly, Former Editor in Chief
Matthew Kelly is a former editor in chief and managing editor for The Sunflower.  Kelly graduated in 2020 with a bachelor's degree in political science...