Brewer hopes time as Wichita mayor helps bid for governorship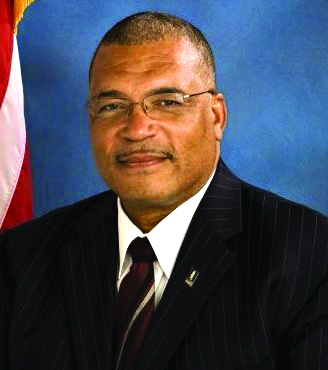 When Carl Brewer completed his second term as mayor of Wichita in 2015, his plan was not to be the next governor of Kansas. Instead, he opted to walk away from public office — going back to work for his former employer, Spirit AeroSystems.
In February, however, when Spirit offered early retirement, Brewer decided to accept, and, within the month, became the first Democratic candidate to enter the 2018 governor's race.
"At that time, I started looking at what was going on — at the state level, and I've definitely been disappointed at what's been going on in Topeka for quite some time," Brewer said.
"Then you start to look at what's going on at the national level, and it's enough to disappoint anybody."
Brewer said at that point, he decided he could no longer watch from the sidelines.
"I can live in my perfect world or I can get involved, and so from that standpoint, I decided it (staying at Spirit) wasn't the right thing, because if there's something that you can do about it, then do something about it," Brewer said.
Brewer, who could become the first black governor of Kansas, said that in a time of great political polarization, people with different ideologies from all different walks of life must come together to make government work — a process he said he facilitated as mayor.
"I was successful in putting partisan politics aside and bringing people together, and we all came to the table and worked in the best interest of the people," Brewer said.
It is this mindset of productive dialogue that Brewer said he hopes he can take to Topeka.
"Bring everyone to the table," Brewer said. "Even if you disagree with them, they have something to contribute, and be enough of a leader to recognize you don't have all of the answers and just possibly, there may be some people out there smarter than you."
Brewer said if elected, one of his top priorities will be revitalizing education and halting the "brain drain" of young people leaving the state for higher education and employment.
"There are so many young people who are getting their education or got their education, and they're leaving to other places and looking for other opportunities," Brewer said. "We have to instill a sense of pride in the state of Kansas."
Brewer said it makes sense to invest in education and that, to have a skilled workforce, Kansas must have an educated workforce.
"Education is equally important as job creation or bringing more businesses here — equally important as taxes, revenue — we just have never sat down and put a dollar amount to it," Brewer said.
"We need to invest in education from K-12 and then work on college and affordable higher education — creating an environment that makes it desirable for them, once they receive their education, to stay here."
Brewer said encouraging young people to stay in state could require Kansas to expand its horizons, creating viable new industries.
"Look at things that other cities are doing — recruit Google or some of these others that are in New York and places of that nature — create that environment here and diversify, and Kansas becomes more desirable," Brewer said.
Brewer said young people should also be invested in their communities by making their voices heard politically, offering his encouragement to Jack Bergeson, the 16-year-old running against him for the democratic nomination.
"I'm actually proud of them when they step out and do things like that, because, if you asked me if I ever thought about doing something like that at 16, I would say no, and no, I wouldn't have been brave enough to do that." Brewer said.
"I would encourage him to stay in the race," Brewer said. "But say things don't work out, you haven't seen the last of them, and that's a good thing."
Brewer said what he is most proud of from his time as mayor was his ability to bring people together during challenging economic times, something he said Kansas needs desperately.
"We brought all of these people together to be able to work to move the city together in the most difficult of times, and we're going to have to do that again to get out of the mess that we're in today," Brewer said. "We will go into another recession, and Kansas – we cannot afford to be divided and have all of this other stuff going on and survive. We cannot have it, because if you think things are bad, they could be worse."
Leave a Comment
About the Writer
Matthew Kelly, Former Editor in Chief
Matthew Kelly is a former editor-in-chief and managing editor for The Sunflower. Kelly graduated in 2020 with a bachelor's degree in political science...