Shocks up in Scotland
Rain or shine, Emily Loy always has her umbrella in-hand. In Glasgow, Scotland, you never know if a light sprinkle or downpour will be on the radar.
After completing her undergraduate studies with a double major in art history and anthropology this spring, Loy said she knew her next step would be to the University of Glasgow for her master's degree.
"I chose [Glasgow] because the master's program is only one year and the opportunity to expand my worldview through easy access to travel was a no brainer," Loy said. "University of Glasgow also has such a wide variety of art history programs that really focus on interdisciplinary skills between other departments; it's quite innovative, really."
Loy is working towards an art history degree with an emphasis on the history of dress and textiles.
Although she has traveled across the world to Asia, Turkey, the Netherlands, Mexico, the United Kingdom and more, Loy has never studied abroad until now.
"Almost every aspect of this academic adventure has been different than how I approached my undergrad at WSU," Loy said. "First, you sign up for all your classes at once — for the whole year."
"And don't even get me started on 'Freshers' week. The entire city goes bananas, sending their businesses and restaurants to campus through coupons and event listings in your face and put stickers all over you. This tradition is to celebrate all the first-year undergrad students."
Loy said another culture shock for her was discovering the importance of joining various clubs and societies at the university. There is no Greek life, but she said it is important to join clubs and truly invest time in them along with student unions.
Loy said she is still adjusting to the everyday life in Scotland.
The weather is cloudy and overcast, comparable to Juneau, Alaska. Loy said she is glad to be out of the Kansas heat but thankful that the Sunflower State prepared her for erratic weather changes.
Loy said subtle cultural differences in Scotland catch her off guard.
"If you ask anyone, Glaswegians speak their own version of English," Loy said. "Half the time no one understands each other. Similar to Wichita, though, every native Glaswegian is more than happy to offer a helping hand."
Loy said she felt like "a salmon going upstream" when she walked on the wrong side of the street her first week in Scotland. Other cultural differences include meeting adults who have never driven and not being able to buy in bulk or find fresh produce like in Kansas.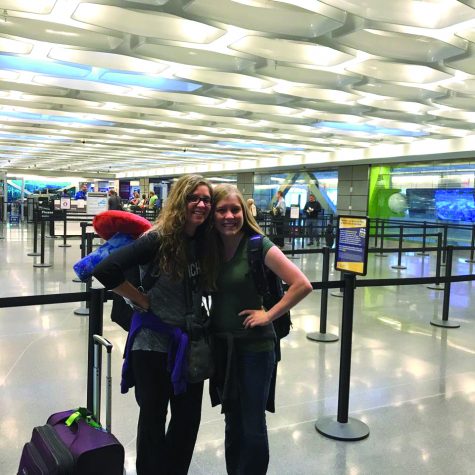 Loy isn't enduring these changes alone, though. She made the journey to Glasgow with another former Wichita State student, Julie Tew. Tew was an anthropology major who also graduated in the spring and is now working towards a master's degree in museum studies.
"It's nice to have someone else here and bring a little bit of home with me," Loy said.
Outside of class, Loy and Tew explore the city and its museums — attending events that apply to their majors. Recently, Loy sat in on a lecture with a costume designer for the TV series "Outlanders," "Game of Thrones" and "The Crown."
"Seminars and exhibitions help me explore different ways my degree can actually be translated into a career," Loy said. "My program is very career-oriented; it's a bit overwhelming, really."
Ultimately, Loy said she wouldn't change her experience for the world.
"For anyone interested in pursuing their postgraduate degree, be willing to look internationally — especially in the UK," Loy said. "Glasgow accepts United States financial aid, which is amazing. The programs are so diverse and the international connections these universities have are unbeatable. Also, the unicorn is Scotland's national animal, and I think that just says it all, really."
Leave a Comment
About the Contributor
Marissa Campbell, Culture Editor
Marissa Campbell is the Culture Editor for The Sunflower. Campbell writes music reviews as well as arts, culture and other entertainment stories. She...