Leroy lights up the Writing Center
A majority of the students who drop by the Wichita State Writing Center are seeking help with grammar or idea development for an essay, but some have a different motive. They come to visit Leroy.
Leroy the Ostrich Lamp has proudly served as the Writing Center's mascot since the summer of 2014.
Prior to joining Shocker Nation, Leroy lived among reindeer, chickens, and service-dogs-in-training at a farm near Vail, Colorado. Brian Evans, senior administrative assistant of the English department, was teaching as a WSU adjunct in 2009. While visiting a friend of a friend in Vail, he was struck by Leroy's unique presence in her living room.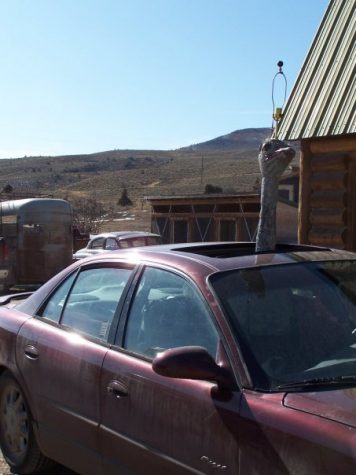 "I asked my friend about her lamp and she said she was thinking of getting rid of it because it was the ugliest thing she's ever seen," Evans said.
Evans asked if he could take it, and then Leroy joined Evans on the nine-hour drive back to Wichita.
"He didn't fit in the backseat or the trunk, so we had him sticking his head out through the sunroof," Evans said.
Once in Wichita, Leroy settled down in Evans' office on the sixth floor of Lindquist Hall. Leroy got straight to work, assisting as an icebreaker between Evans and his students.
"They either loved him right away or thought he was the weirdest thing ever," Evans said.
When Evans accepted his current administrative assistant position, Leroy needed to find a new home.
"Leroy can be a little intimidating," Writing Center Director Kerry Jones said. "There was resistance to bringing him to the front office.
Jones knew the perfect place for Leroy. He was moved into the Writing Center and has become a much-loved icon.
"It's not just go to the Writing Center, it's go to the Writing Center and take a selfie with Leroy," said Jones. "People come in and do that all the time. Student's think he's hysterical."
Leroy enjoys when students come to the Writing Center for a photo-op, especially when his fame surprises his coworkers.
"I was working a later shift and this kid came in and just started taking pictures of Leroy from all angles—up, down, left, right," Mercedes Lubbers said. "I never thought that would happen."
This semester, Leroy has another responsibility besides just posing for pictures.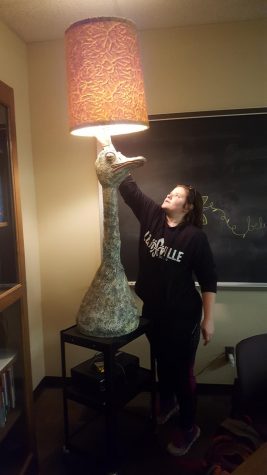 Prabashini Siriwardana started working as a writing tutor this fall. She has an eye condition that makes her highly light-sensitive, and her ability to see is greatly affected by the standard issue fluorescent ceiling lights installed in the Writing Center.
"When I first walked into the Writing Center with Kerry, the room so bright that I couldn't actually see Leroy," Siriwardana said. "The next day Kerry mentioned that we have a lamp that we don't really turn on, but we could if we wanted to."
Leroy was moved from his position near the entrance to behind the tutors' main desk. He provides just the right amount of light for Siriwardana.
"He's helped us become ADA compliant," Jones said. "Who would have thought an ostrich lamp could help us with that?"
Leroy is excited for the start of October. Halloween is his favorite holiday, and of course, he has a costume ready. Leroy usually gets dressed up on the first of the month, but he might be able to convince the staff to move that up a few days. You'll have to make the trek to the top floor of Lindquist Hall to find out.
The staff expects Leroy to stick around for as long as the Writing Center exists. He sets WSU's writing center apart from the centers at other universities.
"Lots of writing centers have mascots, but none of them have an ostrich lamp," Jones said.
Leave a Comment
About the Contributor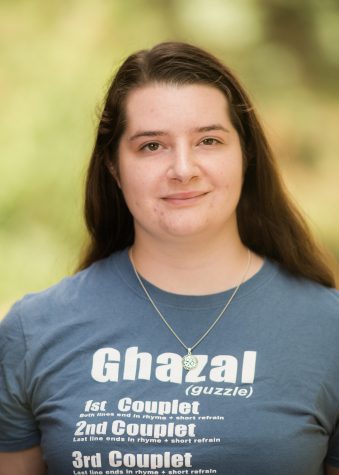 Nicole Byrne, Former digital editor
Nicole Byrne was a digital editor for The Sunflower. Despite her better judgment, she developed a crippling addiction to poetry. She self-medicates with...