Pflugradt: AP voter drops Wichita State 11 spots after winning 109-57
AP voter Doug Doughty of The Roanoke Times dropped the Shockers from No. 4 in his preseason ballot to No. 15 after Wichita State dismantled UMKC
College basketball's first weekend was limited in surprises.
Top-ranked teams beat down on low-level opponents. No team really stood out in the headlines, minus the Utah Valley Wolverines.
Utah Valley started a campaign Wolverine Head Coach Mark Pope coined the "toughest 24 hours in college basketball history." The series entailed traveling to Kentucky for the Wildcats' season opener, then to Cameron Indoor Stadium to face Duke in their season opener less than a day later. Expectations were limited.
What maybe wasn't expected was Utah Valley's 12-point lead in the first half against John Calipari's top-ranked freshman class. The Wildcats trailed at home by nine points at the half — and although the Wildcats pulled away with a 10-point victory, the scare didn't go unnoticed.
Voters in the AP Poll — a group of 65 national sports writers — moved the Wildcats down two spots to No. 7 in the polls. Wichita State jumped the Wildcats and moved up a space to No. 6 after the first weekend of action.
But this too-close-for-comfort game that should have been a bench-clearing Kentucky blowout didn't matter for Doug Doughty of The Roanoke Times.
Doughty didn't see eye to eye with the majority of AP voters. He not only ranked the Wildcats (previously No. 5 in Doughty's preseason rankings) ahead of the Shockers at No. 4 in his poll, but moved WSU outside of his top 10 entirely.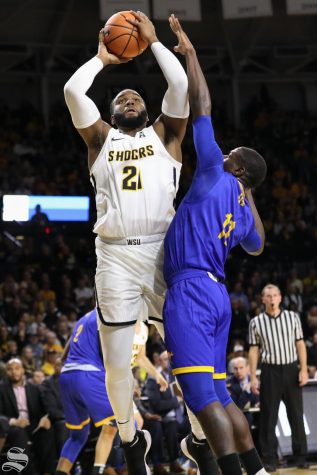 Doughty dropped the Shockers from No. 4 in his preseason rankings to No. 15 in his week two ballot after the Shockers soundly dispatched the University of Missouri-Kansas City, 109-52.
Uhhhhhhh.
Three Shocker forwards stepped outside the perimeter for three pointers while the team racked up 13 threes altogether — two shy of a school record — against the Roos. WSU's offensive efficiency was one of the highest in Division I action through the opening weekend.  WSU led by as many as 62 points before Gregg Marshall called in his walk-on reserves with just under five minutes left to play.
KenPom ranked the Shockers No. 2 in his rankings following the first weekend of action.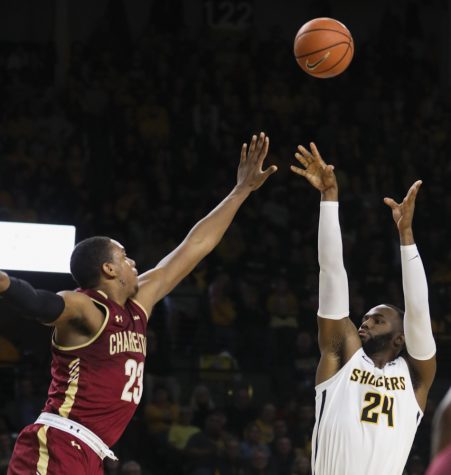 Doughty moved Florida, which didn't play its first game until Monday night, up from No. 11 in his preseason rankings to No. 7 in his second set. While Florida ultimately put the hurt on Gardner Webb, 116-74, the game wasn't played until after the rankings were published.
UMKC isn't exactly a powerhouse. The Roos are No. 309 out of 351 Division I teams ranked by KenPom. But a 52-point win against any team is hard to discredit, and it sure isn't reason to drop a team 11 spots.
For reference, Doughty also placed UCLA, which narrowly defeated unranked Georgia Tech, 63-60, better than the Shockers, holding the Bruins at No. 14. Georgia Tech is ranked worse in KenPom than UMKC.
Doughty might be the first voter to drop a team 11 spots for winning a game by 52 points.
Jeez.
Step up your game, Doug Doughty. Try better next week.
View Comments (1)
About the Contributors
Evan Pflugradt, Sports Editor
Evan Pflugradt is the former Sports Editor of The Sunflower.

Pflugradt past served as the publication's Editor in Chief, Opinion Editor and a reporter....
Selena Favela, Photographer
Selena Favela is a photographer for The Sunflower.

She was the photo editor for The Sunflower her junior year. Favela is currently a senior majoring...