SGA passes 5 resolutions to address campus safety concerns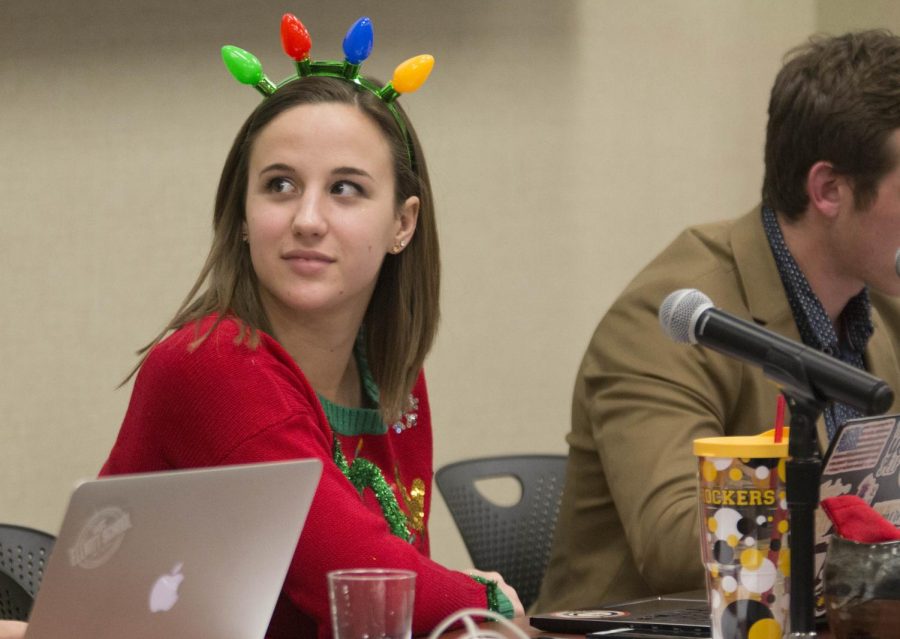 The Student Government Association passed five resolutions to support on-campus security during the Student Senate meeting on Wednesday night.
The five resolutions were crafted based on suggestions made by students and officers at the safety walk earlier this month about potential on-campus security concerns. SGA's Student and Safety Services Committee hosts the event annually to locate and address potential safety concerns on Wichita State's main campus.
The first resolution passed was a recommendation to improve the area surrounding McKnight Art Center. According to the resolution, there are many overgrown trees and bushes, as well as malfunctioning light bulbs around the building.
"I have a class at McKnight every Tuesday night," Senator Haley Ensz said during the debate portion for the resolution.
"It's been darker in the winter, and it's more obvious how there could be safety concerns."
Ensz said she was glad to see appreciation for the "art side" of campus.
A similar resolution was passed in regards to Corbin Education Center and the surrounding areas. It was developed considering various police reports of theft and auto-damage in the area. The resolution called for the addition of "appropriate safety measures," as well as a follow-up from the University Police Department on the progress of the new safety measures.
Two resolutions were related to lighting on campus. The Student Senate recommended that the university should adopt an identification system for light poles and fixtures on campus.
During the debate section for the resolution, Veteran Senator Michael Bearth asked if an actual plan had been presented for labeling the light poles and fixtures.
"We do have some sort of plan that we've been working with the Physical Plant to address what they want done," said Senator Elle Kabler. "It shouldn't be too expensive to label things."
The resolutions recommended that the university convert all exterior lighting on campus to LEDs — citing potentially brighter, more cost efficient, and eco-friendly lighting.
According to the resolution, Charles Koch Arena recently converted to LED lighting, which saves the university between twenty-five and thirty thousand dollars annually.
About the Writer
Daniel Caudill, Editor in Chief
Daniel Caudill is the editor in chief for The Sunflower. A staffer at the paper since 2017, Caudill first covered Student Government Association and general...