Price releases book documenting Wichita's rock 'n' roll history
A book documenting Wichita's rich rock 'n' roll history is complete — a story that Chair of the history department Jay Price said has never been completely told before.
The book, "Wichita Rock & Roll: 1950-1980," was part of a project sponsored by the Wichita State history department, and covers more than 150 local rock 'n' roll bands spanning three decades.
"We know the old west story," Price said. "1960s and 1970s — that seems too recent, so we don't tend to focus on it. But it's hidden in plain sight."
Price said the story of rock 'n' roll in Wichita speaks to the city's broader history.
"Wichita was wrestling with segregation and desegregation," Price said. "A number of these bands, they're sneaking into African-American clubs."
The release was kicked off with a book signing and reunion concert at Margarita's Cantina Sunday, which featured four bands from the book. Proceeds from the book sales will go back to the WSU history department to support future research and publications, Price said.
Seating was filled before the concert started, and the line to enter the event trailed out the door. Price said many of the people attending the event were either members of the bands mentioned in the book, or fans who remembered them in their prime.
"In my entire life, I've never been able to go to a place where I could say 'I'm with the band,'" Price said.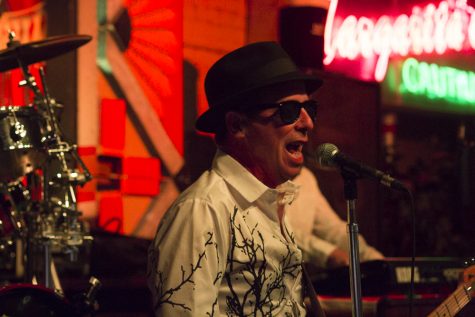 Joshua Rupp, a graduate student who worked on the book for his thesis project, said the project meant a lot to people.
"You can see how excited people are from this," Rupp said. "It's a big part of their lives."
Rupp's research involved a lot of one-on-one interviews.
"Everybody's got a crazy story. These are a bunch of old hippies that survived," Rupp said. "This is the first time any of this has been documented."
"There's nothing in books about this, so you're not going to go to the library and get much in the way of stories for these guys."
John Corkum became involved in Wichita's rock scene during the early and mid-1970s. He sang for various local bands, and said The Beatles were a great influence on local music.
"There were really hairy ruffians around, like me," Corkum said. "It was fun. There was no computers."
Ron Schauf, who played the bass for local rock bands during the 1970s, said he played his first gig in 1969, at a talent show at Mount Carmel Academy, now Kapaun Mt. Carmel High School.
"We didn't win, but that was the first gig I ever played," Schauf said.
He said being on the local rock 'n' roll scene was an opportunity to be a part of something larger than himself. Partying, naturally, played a role as well.
Schauf laughed. "That's why we don't speak so well anymore."
View Comments (1)
About the Contributor
Jenna Farhat, News Editor
Jenna Farhat is the News Editor of The Sunflower.

Farhat is a junior majoring in creative writing. After graduating, she plans to pursue a career in...