SGA tables bill that would separate incoming and outgoing administration banquets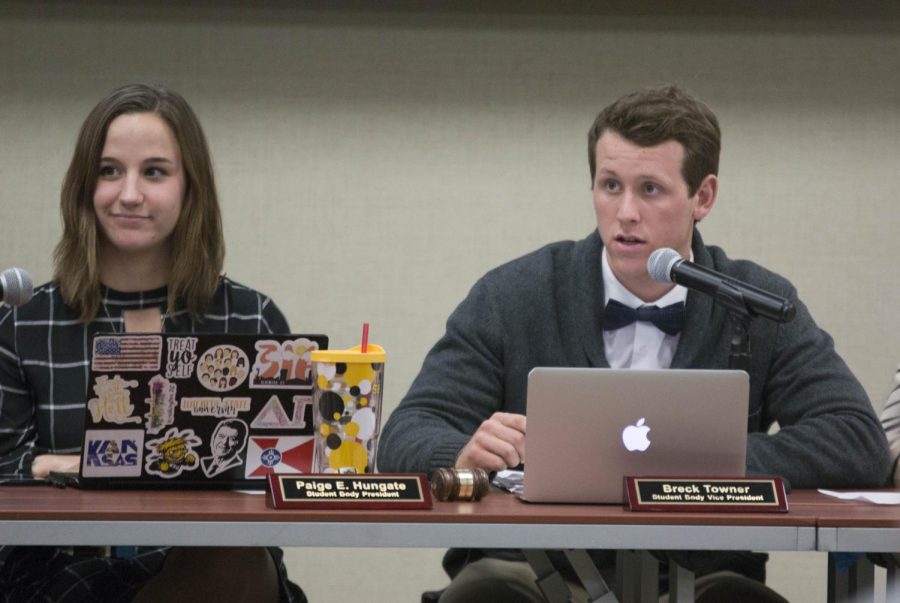 Controversy erupted at May's student government banquet, as incoming Student Body President Paige Hungate's parents were accused of battery and anti-black, hate "fighting words" after an altercation with outgoing Student Body President Joseph Shepard.
Though criminal charges against Hungate's parents were dropped, the incident incited student protests that set the tone for Hungate's first weeks in office.
SGA voted Wednesday to table a piece of legislation co-authored by Hungate that would separate banquets for incoming and outgoing SGA sessions.
In a November interview, Hungate told the Sunflower she does not participate in the legislation-writing process.
"It's always been the thing that we — the executive team, doesn't write legislation," Hungate said.
During the debate portion of the bill, several senators expressed their concerns with a provision stating that the outgoing president will organize a banquet for all outgoing members, while the incoming members will have an inaugural event paid for and organized by Student Affairs.
Student Body President Paige Hungate said separating the celebrations would allow for both sessions to be properly honored.
"We want to be able to celebrate the past session and then be able to welcome in the new session," Hungate said. "But separately."
The current policy designates just one celebratory event, paid out of the SGA budget.
"The outgoing celebration will be paid for still by the Student Government, but we'll probably minimize that budget just because we won't have as many people there," Hungate said.
"No student fees will go to it," Vice President for Student Affairs Teri Hall said. "It's just something that I have access to that we could use to pay for that."
"The optics aren't good in the first place if it looks like we're paying for two banquets," Senator Timothy Dodd said during the debate portion for the bill. "And that we're not caring for underserved populaces in the midst of student fees increasing."
"This [bill], as it stands, doesn't speak well to the perception or the actual implication of why we're Student Senators."
Senator Stella Yang echoed Dodd's concerns that having two banquets could affect the funding of other programs meant to help underserved populaces.
"I don't believe that we need to have two separate banquets coming out of two separate funds," Yang said. "And I really believe that we could use the funds from the separate reception for something that is a little bit more useful considering tuition is going up."
Senator Kenon Brinkley said having two separate banquets could serve as an excuse to ignore any "beef' between previous and incoming administrations.
"I think we should promote a conversation and a narrative of more professionalism," Brinkley said. "I don't think there should be issues with administrations talking to one another."
Shepard was in attendance at Wednesday's meeting, and posed a question to Hungate — but not about "beef" between incoming and outgoing administrations.
"What happens if you have current senators who are going to run again?" Shepard asked. "Would they be paid for twice for an incoming banquet and an outgoing banquet?"
"Is that a strategic way to spend university dollars and student dollars given the situation that particular students find themselves struggling with student fees increasing?"
Hungate responded by saying that senators who are re-elected will be able to attend both the outgoing celebration and the inaugural event for incoming members.
Senator Xan Mattek expressed concerns with the lack of a specific dollar amount laid out for the two celebrations.
"We have passed a bunch of resolutions this year that say, 'This is what we're going to do. We're going to put cameras on campus … We're going to support the Dunbar Theatre restoration,'" Mattek said. "But we haven't given any money to that."
"I can't vote on a bill that … doesn't have a dollar amount. That could be super pertinent That could be used other places."
Several senators expressed their concerns with another provision in the bill that would remove the outgoing president from the selection process for the incoming treasurer, cabinet positions, and student advocate.
"The outgoing president knows what kind of people need to fill those positions," Senator Kyler Sanders said. "The incoming president might not exactly know what to look for."
Hungate said she doesn't think it's necessary to have the outgoing president involved in interviews for people who are going to "serve in director of public relations, chief of operations, or anything like that."
SGA will not meet again until the start of the spring semester.
About the Writer
Daniel Caudill, Editor in Chief
Daniel Caudill is the editor in chief for The Sunflower. A staffer at the paper since 2017, Caudill first covered Student Government Association and general...