City, county, university cut ribbon on Innovation Campus law enforcement training center
In the vein of Innovation Campus's collaborative vision, a ribbon cutting ceremony Friday morning for WSU's new Law Enforcement Training Center featured representatives of Sedgwick County, the city of Wichita, the Wichita Police Department and the Sedgwick County Sheriff's Office, and Wichita State simultaneously cutting the ribbon.
"When we thought about the idea of an Innovation Campus, it was all about collaboration," John Tomblin, vice president for research and technology transfer, said. Tomblin spoke in place of President John Bardo, who was out sick. "And when you look at the vision for Wichita State, it's about being internationally recognized as a model for applied learning, and how we can grow the workforce differently in our community."
The ceremony brought more than 100 attendees, many of those Wichita Police Department and Sheriff's Office workers. The $9.5 million center, funded by the City of Wichita and Sedgwick County, houses training and classrooms for the Sedgwick County Sheriff's Office, Wichita Police recruits and criminal justice students.
The center started as an idea by Michael Birzer, professor of criminal justice at Wichita State and former director of the WSU School of Criminal Justice. City and county law enforcement agencies, whose officers have been training in a former elementary school built in the 1950s, have been trying to find a new training center for years.
Dave Unruh, Sedgwick County chairman, kicked off the ceremony. He said after 30 years of training in an old grade school — which was originally supposed to have a five-year maximum lifespan as a training facility — the new facility was much-needed.
"Our law enforcement officers, both in the city and county, have been training under conditions that might be considered an embarrassment to our community and an insult to those in training," Unruh said. "But it resulted now in a facility that brings frequent pride."
Unruh said like any partnership — in this case, between Sedgwick County, the city of Wichita, and WSU — there were ups and downs and some tense meetings.
"But we've arrived at it, and we're very pleased with the outcome," Unruh said.
The three-story, 60,000-square foot building — located in the northeast corner of campus, behind the Marcus Welcome Center and Woodman Alumni Center — includes rooms for tactical training and fitness, 911 backup/training, crime scene incident and quartermaster's rooms for the WPD and Sheriff's Department on its first floor. The second floor includes classrooms for the WPD and Sheriff's Department, and the third floor includes classrooms and offices for the Wichita State School of Criminal Justice, formerly known as the School of Community Affairs. The criminal justice program was previously located in Lindquist Hall.
Police chief Gordon Ramsay called the partnership and facility an "innovative idea."
"This is something unheard of, where you have a police academy and a university sharing space," Ramsay said. He went on to say that the partnership will lead to a noticeably increased police presence on campus.
Andi Bannister, interim director of the school of criminal justice, said the facility is "a win-win for everyone."
"I kept thinking to myself, 'What is negative about this? Are there any downsides to the partnership and facility?'" Bannister said. "And I'd say absolutely not. We have a longstanding relationship with these agencies, and this will just broaden the scope and enhance the working relationship."
That working relationship was something Sheriff Jeff Easter emphasized as well. He said both the police and sheriff's departments have a hard time finding recruits and getting people to apply.
"We truly believe collaboration with WSU is going to enhance that for both departments," Easter said, then joked that the departments are "going to be fighting over the same people."
View Comments(1)
About the Writer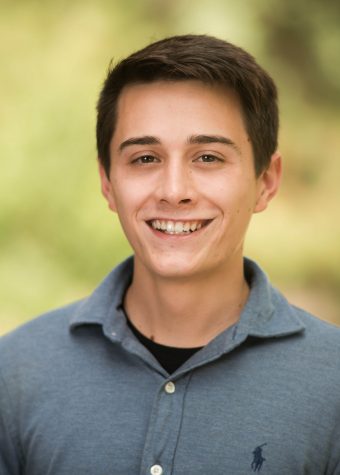 Andrew Linnabary, Former digital managing editor
Andrew Linnabary was the 2018-2019 Digital Managing Editor of The Sunflower. He studied journalism and minored in English. Linnabary is from Wichita, Kansas.