Pflugradt: Two Big 12 teams jump into the top 5 amid major weekend shake-up
Evan Pflugradt ranks his top 25 college basketball teams in a weekly poll. 
Get ready for a major shake-up in the polls.
Ten top 25 teams hit the road this weekend and seven lost.
Trae Young might be walking away with the NCAA's player of the year credentials, but West Virginia's Devon Carter put a hold on the madness, handing the Sooners their second loss of the season.
With a winning streak dating back to Nov. 15, West Virginia is 3-0 and atop the contentious Big 12 standings. Bob Huggins' Mountaineers have six wins against teams in KenPom's top 100.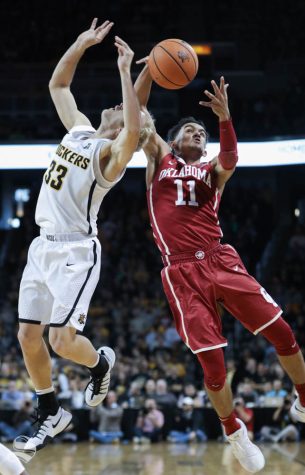 For these reasons the Mountaineers are deserving of the No. 1 spot in this week's rankings.
While Villanova has the same number of wins (6) against top 100 teams in KenPom, the Wildcats' loss to Butler is a worse opponent than Texas A&M, who owns the only win against West Virginia. West Virginia also owns a marquee win against Virginia, the No. 3 team in this week's standings.
Texas Tech is making a monumental jump — up 14 spots from last week's AP poll — after giving Bill Self's Jayhawks one of the few losses at Allen Fieldhouse in his tenure. They're riding an eight-game winning streak, and they'll take on Oklahoma on the road for a chance to stay undefeated atop the Big 12 with West Virginia before the two teams meet Saturday in Lubbock, Texas.
Oklahoma doesn't fall after losing to West Virginia. Michigan State and Duke, each with losses to unranked opponents, fall below the Sooners until another team stops freshman sensation Trae Young.
Ohio State sneaks into the rankings for doing the miraculous. Though they're burdened by four losses, the worst comes to Butler by a point in overtime. This could be their big break.  
Rankings — (Jan. 8)

The Mountaineers lost a season-opener on neutral court against Texas A&M, and have since won 14 straight, including a marquee win against Virginia. They've started Big 12 conference play with three wins, including two on the road at Oklahoma State and Kansas State. Saturday, they held off scoring sensation Trae Young and the Oklahoma Sooners.

Villanova owns wins against ranked opponents, Tennessee and Gonzaga, both on neutral court. Saturday, the Wildcats defeated Marquette. Their one loss is a single digit falter at Butler, who is riding a two-game losing streak.

Virginia's lone loss is by single digits at top-ranked West Virginia. Virginia is riding a six-game win streak with wins against Virginia Tech and North Carolina.

Texas Tech's one loss is at Seton Hall. They've started Big 12 conference play 3-0 for the first time since 2004, and distributed a rare loss to Bill Self and the Kansas Jayhawks at Allen Fieldhouse. They'll take a seven-game win streak to Oklahoma to take on Trae Young on Tuesday.

Purdue owns two losses on neutral court, each by single digits, including an overtime loss to Tennessee. They own wins against Maryland, Butler, and Arizona. They'll take a 10-game winning streak to Michigan on Tuesday, before ending a challenging two-game road schedule at Minnesota.

Wichita State debuted into the American Athletic Conference on a three-game winning streak, tied with Cincinnati to lead the conference. They own wins against Marquette, Baylor and an 18-point clobbering versus conference-rival Houston.

Oklahoma has suffered a road loss to top-ranked West Virginia, and a neutral court loss to Arkansas. NCAA-leading scorer and assists leader Trae Young has led the Sooners to marquee wins on the road at Wichita State, Southern California, Oregon, and Texas Christian. They host No. 4 Texas Tech on Tuesday.  

Michigan State was stunned by unranked Ohio State Sunday, where they trailed most of the second half by more than 20 points. The Spartans drop from the top spot down to No. 8 while holding wins against Notre Dame and North Carolina.

Duke lost on the road for the second time to unranked North Carolina State. With wins over Texas, Michigan State, Florida State and Florida, Duke has the plenty of street cred, but they're lacking in ACC play where they're off to a 1-2 start.

Xavier owns wins against Cincinnati, Baylor, Butler, and Marquette. They fell for their second loss of the season, this time at Providence — their only other loss coming to Arizona State. They look to rebound on the road at Villanova on Wednesday before hosting Creighton on Saturday.

Arizona State snapped a two-game losing streak with a narrow win at Utah on Sunday. Their losses are both on the road to Arizona and Colorado. Their most notable win comes at Allen Fieldhouse, unseating the Jayhawks in surprising fashion.

Kansas picked up their second win of Big 12 conference play narrowly escaping TCU on Saturday. With wins at Texas and TCU, the Jayhawks have won their last two on the road, despite losing at home to No. 4 Texas Tech.

American Athletic Conference favorite Cincinnati sits tied with Wichita State at the top of the conference standings after three games. The Bearcats defeated Southern Methodist at home in a 20-point victory. Their two losses are to Florida and Xavier.

Seton Hall is on a five-game win streak with wins against Butler and Creighton. They own the only win against Texas Tech.

After a 12-0 start, TCU has dropped two of their last three, including a home losses to Oklahoma and Kansas. They own wins over Southern Methodist, Nevada, Baylor and St. Bonaventure.

Gonzaga owns wins over Ohio State, Texas and Creighton. They're also off to a fast 4-0 conference play start. Two of their three losses are inside the top 50, including then-No. 1 Villanova and Florida.

Auburn is on a two-game win streak against teams ranked in the top 50. They defeated Tennessee on the road before defending home court and giving Arkansas their second straight loss. They're off to a 2-0 start in conference play.

Miami offset a bad loss to Georgia Tech with a win over Florida State. They own wins at Minnesota and on neutral court against Middle Tennessee. Miami is undefeated at home.

Tennessee's four losses all come to teams ranked inside the top 50, including Villanova, North Carolina, Auburn and Arkansas in overtime. They own an overtime win against Purdue and a win at home against Kentucky.

Kentucky's three losses all come to teams ranked inside the top 50, including Kansas, UCLA and Tennessee. They're 3-2 in their last five games against teams ranked inside the top 50, though their biggest road win this year is at LSU, where they won by three.

Clemson carries a 10-game winning streak to NC State. who they've already defeated. They're 3-0 in conference play and own wins at Ohio State, Florida. They defeated Louisville in overtime Saturday to continue their winning streak.

Florida State lost at Miami after handing North Carolina their fourth loss of the season on Wednesday. They're 1-2 in AAC play with losses to Duke and Miami.

North Carolina dropped their last two games after falling to Virginia and Florida State. They own four top 50 wins including at Tennessee and on neutral court against Ohio State.

Ohio State pulled the upset of the weekend, leading Michigan State by more than 20 points for much of the second half before eventually winning by double-digits. Ohio State's worst loss came on neutral court to Butler by one point in overtime.

Florida has four top 50 wins, including a double-overtime win against Gonzaga on neutral court. They're riding a five-game winning streak — and the last three games have all come against teams in the top 100. The Gators' worst loss came at home to Loyola Marymount by single digits.
Honorable Mentions
    Arizona
    Creighton
Leave a Comment
About the Contributor
Evan Pflugradt, Sports Editor
Evan Pflugradt is the former Sports Editor of The Sunflower.

Pflugradt past served as the publication's Editor in Chief, Opinion Editor and a reporter....