Phi Delta Theta on probation, deferred suspension for hazing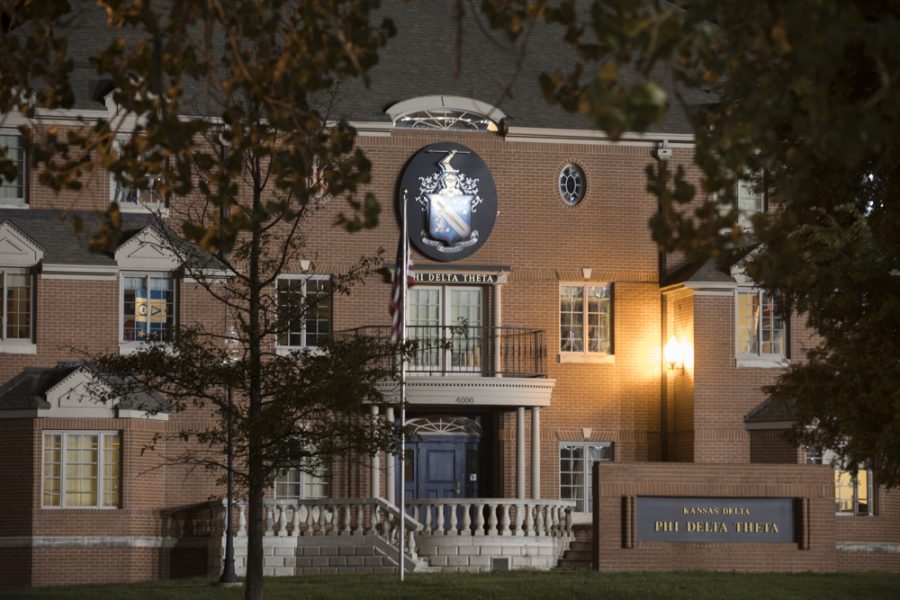 Phi Delta Theta fraternity has been placed on disciplinary probation and deferred suspension for hazing.
That means the fraternity is "not in good conduct standing with the university" but is able to fully function unless it violates the Student Code of Conduct again.
Phi Delta Theta was charged with hazing, alcohol-related violations, and violations of program and department policies, rules, or regulations. The hazing occurred September 30, 2017, the date of Phi Delta Theta's annual off-campus Luau event, according to associate vice president for Student Affairs Aaron Austin.
The Sunflower reported in October that Phi Delta Theta was under suspension and investigation by Student Conduct and the Title IX office for hazing and possible sexual misconduct related to the Hawaiian-themed overnight event.
Title IX director Dr. Natasha Stephens was not immediately able to give information about any Title IX investigations opened as a result of Phi Delta Theta's Luau event, but Austin alluded to there being no sexual misconduct charges.
Austin said "if there had been an investigation (into sexual misconduct) and there is no adjudication, that would mean to me there would be no evidence to support moving forward."
"I don't want to make that sound flippant — we take any allegations of sexual misconduct seriously," Austin said.
The fraternity's disciplinary probation will run until December 31, 2019 and was set by Austin in a November Code of Conduct case resolution, according to documents obtained through an open records request.
The deferred suspension will become an actual suspension — meaning the fraternity would be unable to function and meet as an organization — if there are any additional violations of university policy through December 31, 2018.
The multiple reports "lead me (Austin) to believe that without a realignment of member behavior to WSU policy and the cardinal principles of Phi Delta Theta, the chapter will continue to move further away from healthy and safe compliance," Austin wrote in the case resolution. When asked if the multiple reports were hazing related, Austin said yes.
Austin would not say how many members participated in the hazing, and would not give any other details.
Phi Delta Theta is the second WSU fraternity in trouble for hazing in a year. Beta Theta Pi was put on probation and deferred suspension for hazing new members in January 2017.
The fraternity had been off probation for less than a year before being put back on because of the hazing. From December 2015 to December 2016 it was on probation for drinking violations stemming from an unregistered 2015 trip to Colorado State University.
Phi Delta Theta's hazing incident followed an early September investigation into the fraternity because of a "free house tours" banner. After an outcry that the investigation violated free speech, the investigation was dropped.
This isn't the first time Phi Delta Theta has been in the public eye for hazing. In 2006, The Wichita Eagle reported on six Phi Delta Theta members under investigation because of photos posted on Facebook showing a member "duct-taped to a banister and bound and being fed pizza" inside the frat house.
While the university's 2006 investigation found insufficient evidence for a violation, the fraternity was required to develop mandatory education workshops as a result. Over a decade later, Phi Delta Theta was again required to work with the Phi Delta Theta General Headquarters staff to develop a mandatory hazing prevention workshop, an alcohol awareness seminar, and a bystander intervention workshop as punishment for hazing and alcohol violations.
When asked if he believed the punishment was appropriate, Austin said that as "the person solely responsible for issuing the sanctions I believe they were appropriate," but went on to say that he will "admit that due to a miscommunication on my part there should have been additional restrictions."
While talking to members of the fraternity about what they'd be able to participate in while on deferred suspension, Austin was asked about participating in Hippodrome and other social functions. Austin said he accidentally gave the fraternity's members permission to participate in events they should have been suspended from.
"So they're being able to engage in campus now a little quicker than they should, based upon what our precedent had been.
"I felt the mistake was mine and not theirs, and because of that I own that," Austin said.
The fraternity's president, Thomas Schmidt, declined requests for an over-the-phone interview but responded to questions over email. He said Phi Delta Theta has completed all of its required workshops. When asked if any members were suspended or disciplined by the fraternity for hazing, Schmidt said "punishments that the Kansas Delta chapter of Phi Delta Theta administers are private and internal."
Schmidt said that when the fraternity is "ready to host a Luau event," it will ensure "a safe, positive, and fun event for our members and guests."
Note: A previous version of this story said Phi Delta Theta was suspended because of a "free house tours" banner in September. The chapter was under investigation, but was not suspended. Two members within the fraternity were suspended internally.
About the Writer
Andrew Linnabary, Digital Managing Editor
Andrew Linnabary is the 2018-2019 Digital Managing Editor of The Sunflower.

He is a senior studying journalism and minoring in English. Linnabary is...