Shockers' season ends with a six-point upset
No. 13 Marshall knocks off No. 4 Wichita State 81-75.
SAN DIEGO— With a season-ending game on the line, No. 4 Wichita State and No. 13 Marshall both knew the final two minutes of the game would ultimately determine the fate of their team.
Marshall, a school that hasn't been to the Big Dance in 31 years, came into the game with a chip on their shoulder, They were longing to prove themselves against a team that has seen the tournament seven consecutive seasons.
That longing feeling was translated into momentum heading into the early moments of the game.
With an explosive, hard-to-anticipate offense, the Thundering Herd took the Shockers by surprised.
Wichita State knew they haven't seen an offense quite like Marshall's this season, but didn't anticipate it to be that big of an offset.
"They're very hard to guard. They have a great and very unique offense," Head Coach Gregg Marshall said. "They had some good looks, but it's a good offense. It really is."
"It's difficult to prepare for and they spread you out with shooters all over court."
Although their playing style wasn't what took Wichita State by surprise, it was Marshall's ability to execute it the way they did.
"No, they pretty much executed their offense however they wanted. Nothing that was too surprising," senior center Shaquille Morris said. "They just came out and executed better than us and made us turn the ball over and scored off turnovers."
Marshall's second-best shooter, Ajdin Penava, saw early foul trouble landing him on the bench more than what The Thundering Herd was used to.
His absence allowed Jon Elmore, Marshall's best scorer, to take complete control of the floor. He finished with 27 points.
"We knew going into the game that he was a really good player," senior guard Conner Frankamp said. "He controlled the game, controlled the pace of the game."
Frankamp and Elmore's deep shooting ability created a back-and-forth battle. When one would score, the other would answer.
Frankamp finished his last game at Wichita State with a new career-best of 27 points.
The battle to out-score lasted up until the final moments of the game, but Wichita State came up short ending their season earlier than anticipated for the four seed.
"We did not play the game that we need to do play, the quality of which we could have advanced," Coach Marshall said. "When that happens in this tournament you come up on the short end."
The Shockers are looking ahead to the season to come. They have seven scholarship players expected to return.
Of those seven sophomore guards Landry Shamet and Austin Reaves and junior forward Markis McDuffie saw significant minutes in the game.
"It's not over. Shocker Nation, we're still here," McDuffie said. "It's not the end of the world, we'll be back next year doing big things."
Leave a Comment
About the Writer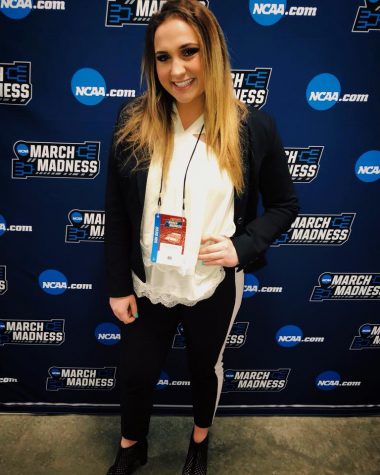 Aliyah Funschelle, Former sports Reporter
Aliyah Funschelle was a sports reporter covering men's basketball for The Sunflower. She studied sports management at Wichita State, and worked as a Campus...