Student Affairs had extra funds available when it requested large student fees increase
When Student Affairs requested a more-than-$118,000 increase in student fees for its division this year, it already had extra money in a "shrinkage account" in the division, according to information provided by Vice President for Student Affairs Teri Hall.
The extra available money was confirmed Wednesday when Wichita State President John Bardo released a written statement saying Hall "plans to take money from an open staff position in her division and offer The Sunflower up to $25,000 in print and online advertising."
That money will not come from an open staff position. According to Hall, that money will come from the difference in salary between former associate vice president of student affairs Maureen Dasey-Morales, who left the university in December, and incoming assistant vice president for retention and assessment Alicia Newell. Hall said that money exists in a "shrinkage account" within her division, which varies based on "vacancies and filling positions."
Hall could not give an exact amount in the shrinkage account Wednesday, but said there are five open positions in her division. She said those positions should be filled by this summer and estimated the amount in the shrinkage account next year will be about $40,000. She said she's willing to commit up to $25,000 of that to advertising in The Sunflower.
The $25,000 Hall plans to spend on advertising is the amount the paper was cut this year by the Student Fees Committee. Hall is the chair of the student fees committee and abstained from voting to cut The Sunflower.
Hall said her offer to spend $25,000 to advertise in The Sunflower next year is "sincere and genuine."
"It is my hope that having the Division of Student Affairs advertise in the Sunflower that other campus departments will begin to do so as well," Hall said in an email Wednesday.
Campus departments, including those in the Student Affairs division, have advertised in The Sunflower for years. Since 2008, groups falling under Student Affairs on the campus organizational chart have bought more than $45,000 in ads in The Sunflower.
Since Hall's arrival at Wichita State last January, Student Affairs reporting lines have purchased $160 worth of ads in The Sunflower.
The Sunflower asked if the advertising agreement — which has not been written, signed, or presented to The Sunflower — would come with "strings attached."
Hall said she is "not trying to address or restrict your (The Sunflower's) content in any way."
In July, closely following The Sunflower's questions about conflicts of interest and development on Innovation Campus, Hall said she wanted to "begin discussions how the Sunflower could become a true separate entity from WSU." That was sent in an email to Todd Vogts, the chair of the Publications Board, which governs The Sunflower but does not exercise editorial control over the newspaper.
"In a recent correspondence with (WSU Vice President for Strategic Communications) Lou Heldman, you (Vogts) described the Sunflower as a 'separate entity' without bias and control from anyone. Currently, the Sunflower receives $100,000 in student fees so it is really not a separate entity. I'd like us to schedule a meeting to begin discussions how the Sunflower could become a true separate entity from WSU," Hall said.
In a November email exchange with Vice President of Technology Transfer John Tomblin obtained through the Kansas Open Records Act, Hall said The Sunflower's "independen(ce) of oversight" and willingness to "take student fees" was "just one of the many things (she is) working on fixing."
Hall now says she'll make up for the cut to The Sunflower with extra money from within her division's budget.
The Student Fee Committee initially cut The Sunflower's student fees allocation to $55,000 in a closed meeting. Before that proposal could be discussed by the Student Senate, Bardo called for the fee committee to reconvene in public due to "First Amendment questions." After deliberating in public, the committee increased funding to The Sunflower to $80,000. Student Senate voted 21-18 to approve that cut last Wednesday.
In the past two years, Student Affairs funding through student fees has increased by $588,761. During that same time, The Sunflower's student fees allocation has been cut nearly in half, from $158,000 to $80,000.
Student Affairs will receive $2,871,059 in student fees next year, which includes a $200,000 sum of money for student affairs initiatives. That fund did not exist two years ago.
When questioned by senators at last week's senate meeting about her budget, Hall said a cut to student affairs initiative funding would change staffing levels in her division — including a recently created but unfilled position that deals with students threatening suicide.
"And so while I appreciate that you're concerned about fiduciary responsibility, we've done whatever we could to request less money than we had last year in the budget," Hall said.
Hall's division initially requested a $118,719 increase from the Student Fees Committee. Hall also offered up $75,000 from student affairs' reserves for the fees committee to allocate to different organizations. The fees committee allocated $59,000 of those funds, and the rest went back into the reserve account.
Leave a Comment
About the Writer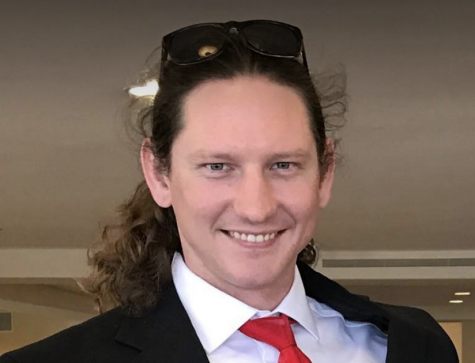 Chance Swaim, Former Editor in Chief
Chance Swaim was the Editor in Chief of The Sunflower from fall 2017 to spring 2018.

Swaim was a graduate student in the English Department working...