Kansas primaries attract national political attention
With the Aug. 7 primary election looming, national political figures have turned their efforts to Kansas as a battleground in the pivotal 2018 midterms. Last week, Donald Trump Jr., Sen. Bernie Sanders, and rising progressive star Alexandria Ocasio-Cortez campaigned for candidates in Kansas's gubernatorial and congressional races.
"The fact that we've had this much attention shows that Kansas politics are competitive," political science professor Neal Allen said. "By national standards, we have way more competitive elections than most places do."
Trump Jr. made his second trip to the Sunflower State for Kris Kobach — speaking at a Wichita fundraising dinner on behalf of the secretary of state and firebrand conservative governor's candidate. Two days later, Sanders and Ocasio-Cortez rallied at Century II in support of James Thompson, a Democratic hopeful in the Fourth Congressional District.
"We must have gotten off at the wrong stop, because people told me Kansas was a Republican state," Sanders declared to uproarious applause from the crowd of roughly 4,000.
Democratic socialist Ocasio-Cortez broke onto the national scene last month by upsetting Rep. Joe Crowley, the No. 4 Democrat in the House, in New York's 14th Congressional District primary. The Thompson rally was her first political engagement outside of her home state.
"It probably makes us look more important than we are around here," Allen said.
Like Ocasio-Cortez, Thompson is an anti-establishment candidate. He lost a single-digit race to Republican Ron Estes in last April's special election to replace Mike Pompeo — despite a notable lack of funding from the state Democratic party.
Junior political science major Jaiden Soupene attended the Thompson rally. He said polarizing national figures taking center stage in Kansas politics goes to show that appealing to moderate voters in 2018 may not be a viable strategy.
"There's a real shift in politics to bringing out the base and energizing your base voters — the more hardcore Democrats and hardcore Republicans," Soupene said. "I think that's really shown by Trump Jr. coming earlier this week and then Bernie and Alexandria coming out here for James (Thompson). They're obviously not going to appeal to more moderate voters in Kansas."
Ocasio-Cortez said Kansas is "carrying the candle of hope" for the country.
"Kansas was founded in a struggle over the conscience of this nation," she said — referring to the state's role in the fight to end slavery in the U.S. "It was in 1861 the people of Kansas decided we were going to be a free nation."
"Kansas has delivered before and it will deliver again."
In a casual, interview-style conversation with Kobach days earlier, Trump Jr. had a different assessment of Democratic motives.
"The other side is motivated by hate and nonsense," Trump Jr. said.
"Despite what they're trying to project, that's not a political platform. BS isn't a political platform, and that's all they have."
Kobach, an outspoken advocate for stricter voter ID laws, was an early ally for President Trump — serving on the president's now defunct commission on voter fraud.
The president's endorsement of Georgia Secretary of State Brian Kemp propelled the self-described "politically incorrect conservative" who pointed a gun at a teenager in one campaign ad, to a decisive victory in Tuesday's primary runoff election. Allen characterized Trump Jr.'s public show of support for Kobach, another controversial figure, as a "quasi-endorsement" from the president to avoid negative national attention.
"It might be, he came here because there's a desire by people around President Trump to get as close to endorsing Kobach as you can without actually having the president doing so," Allen said.
Kobach, the early Republican favorite, is currently locked in a heated race with Gov. Jeff Colyer. Allen said Trump Jr.'s visit in the waning weeks of the primary could indicate that Kobach is not as strong of a candidate as was once thought.
"His fundraising hasn't been that great, his polling hasn't been that great," Allen said. "Kobach is not as bulletproof in the post-2016 Republican party as it would have looked like a year or two ago."
Allen was also skeptical of Thompson's chances in the Fourth District.
"Even if he gets close, then the national Republican party has the means to get the base out around here in the same way they have in some other special elections," Allen said.
At the Thompson rally, Sanders lambasted a "corrupt" campaign finance system — decrying billionaires Charles and David Koch for heading a powerful conservative machine he said serves the wealthy.
"The American people coast to coast do not believe that a handful of billionaires led by your neighbors here in Wichita, the Koch brothers, should be able to spend in this midterm election alone, $400 million to help elect candidates who represent the wealthy and the powerful."
Drake Robinson, another junior political science major who attended the rally, said that, personal views aside, he's encouraged by the political discourse going on in Wichita.
"I'm glad that they came here to share their opinion and make their case in Kansas," Robinson said. "I definitely support that. Bernie's a little too radical for me, but I'm glad that he took the time to invest in Wichita, so either way, it's good to hear both sides."
Leave a Comment
About the Contributor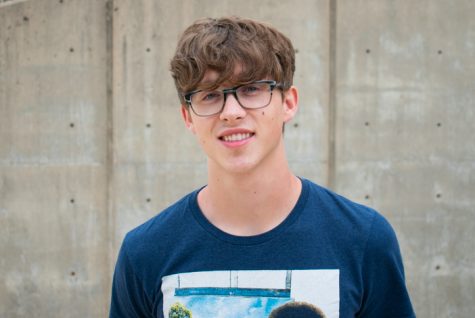 Matthew Kelly, Former Editor in Chief
Matthew Kelly is a former editor-in-chief and managing editor for The Sunflower. Kelly graduated in 2020 with a bachelor's degree in political science...