Kobach to college voters: Tuition hikes directly related to undocumented students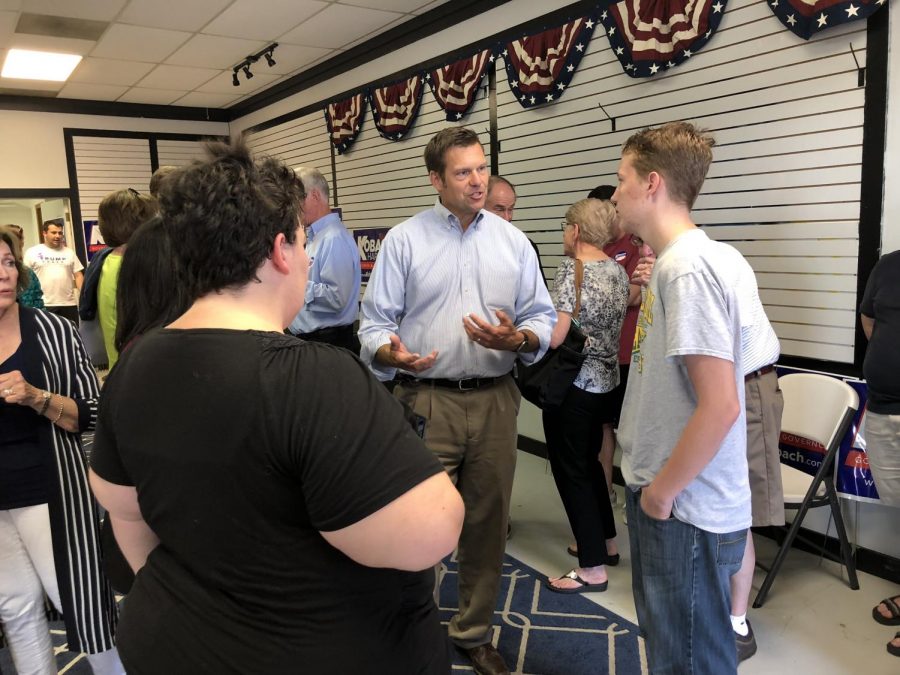 Secretary of State and gubernatorial hopeful Kris Kobach reiterated his belief Sunday that rising tuition at Kansas's public institutions could be stemmed by repealing a law that allows undocumented high school graduates to receive in-state tuition.
Two days before the Republican primary, Kobach rallied with supporters at his Wichita campaign headquarters. In an exclusive interview with The Sunflower, the immigration hardliner made his case to college students.
"I'm going to stop the injustice of in-state tuition being given to illegal aliens," Kobach said.
"If we weren't giving somewhere between three and four million dollars of subsidy to illegal aliens, that subsidy could be redistributed so that maybe Kansas in-staters don't have to see a hike after hike after hike."
Tuition increased for state colleges and universities by $10.2 million last year and $12.9 million for the upcoming school year.
In June, the Wichita State Student Government Association released a statement denouncing a Kobach tweet that claimed tuition hikes could be mitigated by discontinuing the practice of granting undocumented students in-state tuition.
"The Wichita State Student Government Association's Cabinet rejects Kris Kobach's discriminatory remarks against Kansas' undocumented and DACAmented students," read the statement — signed by Student Body President Kenon Brinkley, Student Body Vice President Shelby Rowell, and the rest of the presidential cabinet.
"At Wichita State University, one of our core values is success for all stakeholders, and this cabinet will strive to ensure that no person in Kansas, or beyond, will be denied their fundamental right to the pursuit of happiness through higher education," the statement read.
The student government bodies at the University of Kansas and Kansas State released similar statements supporting undocumented students.
The Kansas Board of Regents approved across-the-board tuition and fees increases at their June meeting in Topeka. At the same meeting, the board approved Wichita State's Global Select — a program that allows high-achieving international students to pay 150 percent of in-state tuition instead of out-of-state tuition.
Kobach said he supports the Global Select program because it rewards students who entered the country legally.
"If you're going to reward somebody from a foreign nation who is attending a university in Kansas, you would want to reward the people who are doing it legally — not the people who are doing it illegally," Kobach said.
The secretary of state said college students have high taxes to blame for a lack of job opportunities after graduation.
"Companies are leaving Kansas right now because our taxes are so high," Kobach said.
"In order to create opportunities for students to have a good job on graduation, we've got to be keeping businesses here and encouraging new businesses to come here."
In 2012, former Gov. Sam Brownback did away with the top personal income tax bracket and eliminated income taxes for 330,000 small business owners. The cuts were largely overturned by the state legislature after they failed to produce the promised economic boom.
Kobach said Brownback's signature tax cuts were hindered by a lack of spending cuts at the state level.
"The tax cuts were dropping revenues, but the expenditures were setting new records," Kobach said.
The close ally of President Trump said he supports public-private partnerships and that Wichita State's Innovation Campus model should be emulated in other parts of the state.
"I think the Wichita State Innovation Campus is a great model," Kobach said.

"The more we can have public educational institutions giving the private sector what they need in terms of training, in terms of future employees, the better."
About the Writer
Matthew Kelly, Former Editor in Chief
Matthew Kelly is a former editor in chief and managing editor for The Sunflower.  Kelly graduated in 2020 with a bachelor's degree in political science...