Cissell's 'The Cutting Songs of the Butcher Son' tells story of rich, tumultuous life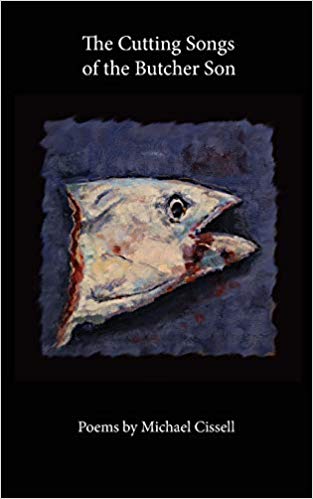 Last August, poet and former Wichita State English faculty member Michael Cissell passed away just days after publishing his first full-length book of poetry, "The Cutting Songs of the Butcher Son."
Referred to as "ageless" in his obituary in The Wichita Eagle, Cissell was a runner. According to friends, was as health conscious a person could be. During Cissell's wake at Hopping Gnome Brewery, family, former students, and friends joked that the poet once even gave up eating potatoes after becoming suspicious of the fat and starch content.
Such is the irony of life. Still, Cissell's poems tell of a rich one, lived amid joy and tumult.
Old and new poems, combined with selections from Cissell's WSU Master's thesis, form a collection of elegies on the cycles of life.
Verses in "Cutting Songs" chronicle the Cissell family tree, including his father, a bucher, and his uncle, a Kentucky blackface minstrel. Beyond his family, he explores a variety of urgent topics, including his moral struggles with the Catholic church.
Spanning from his childhood in Paducah, Kentucky to the bitter reality of adapting to life as a father, husband and teacher, "Cutting Songs" exhibits the wry fogeyisms of an admittedly anachronistic personality while viewing life through a nuanced cast of speakers.
In the book's opening verses, Cissell takes on a character that illustrate his powerful command of voice. Through the troubled dual-identity of his uncle, Cissell writes of paternal advice from beyond the grave:
Yer gonna struggle. Lust and hate and love.
Yer hard music and yer harder tongue no pardon.
But I find yer constitution suitable.
Da devil is bigger dan we meant and he ain't gone.
Buck up butcher Son. Transmutable.
Da Universe falling away. Da universe on da run.
Cissell crafts dozens of such cyclical images. Some include the shrugging irreverence of a young son to the authoritative literature of Albert Goldbarth and the universal questioning of one's own abilities.
Another of Cissell's characters, "Grandfather Bones," issues a maxim on the Samsara-like repetitiveness of life and the danger entailed.
"Butcher Son hate to run, but run," Cissell writes . . . "Cancer in da lung, in da mind by lightning bolt . . . by hate by lust by love undone . . . who dare eat dat footed plum?"
It was Cissell's ability to place himself in the shoes of others in his life that make the poems in "Cutting Songs" authoritative discourses on empathy.
In-line with what David Foster Wallace once deemed the ability to allow ourselves to "imaginatively . . . identify with a character's pain" and "conceive of others identifying with their own," the "Cutting Songs" embody something unique in contemporary poetry. Throughout, Cissell attempts reconciliation with history's bigoted villains.
"The Cutting Songs of the Butcher Son" are simple in terms of meter, and as such, they don't tax the reader. They consistently display Cissell's strong command of diction and word choice. At times, however, the sentiments conveyed are cliched in terms of references to the human experience. There are times when a reader may find themselves asking, "Have I read this somewhere before?".
In any case, Cissell's book is certainly worthy of a read. It stands as a fine cap to a substantive career as a teacher, reader, father, and lifelong poet.
Leave a Comment