Professional experience prepares Wesley Low, Wichita State for bowling's national spotlight
Out of the bowling center and into the doctor's office.
With three months until the start of Junior Team USA tryouts, Wichita State freshman bowler Wesley Low found his eyes not fixated on a scoreboard, but on an X-ray.
Low was an avid bowler, spending hours a day in his local bowling center in Palmdale, California, but in a high school wrestling match in September of 2012, Low sustained injury to his left wrist.
"I felt the pain," Low said.
As the weeks progressed, the pain lingered on, progressively growing worse and worse. Low was having trouble ignoring the pain when delivering his 15-lb bowling ball out of his left hand in his two-handed, rapid-release.
Focused on progressing his physical game, Low's parents suggested he take a step back and focus on his health.
"The doctor revealed I had a hairline fracture in my wrist," Low said. "I was out of bowling, wrestling, everything for two months."
It wouldn't be until December when Low picked up a bowling ball again, and with time ticking against him — tryouts for the Junior Team USA — Low dedicated himself to the sport for a month to try and put himself in position to make the team.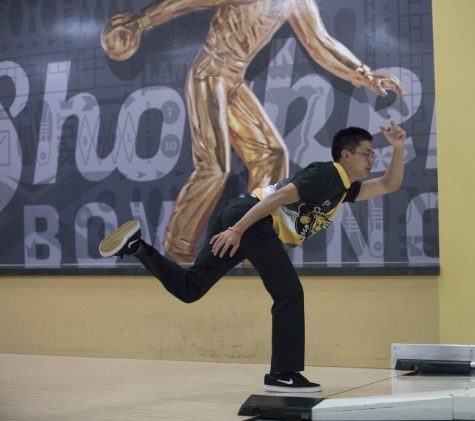 In January it all paid off. Low was selected as one of the 12 members to the team.
"I saw what I was able to do in one month and I thought to myself, 'Man, to think what I did in one month, if I keep improving I may actually be something,'" Low said. "This was the major turning point in my career."
Four years later, Low is four-time member of Junior Team USA, and now, he's apart of another team.
In August, Low left the beaches of California to a destination of more than 1,350 miles, — Wichita, Kansas. Low joined the 12-person men's bowling team at Wichita State in the fall.
When he arrived, it was an instant reality check — palm trees and nearby Los Angeles, California, felt like they were light years away; Low called it a new culture.
"My goals before Wichita State were setting out to try and win a tournament by myself, but now my goal is to help these other 11 guys win a National Championship," he said.
Thursday, Low and his WSU teammates — the defending National Champions ­— will bowl at Northrock Lanes in Wichita in search of the program's 21st National Title, and Low, like several times before, wants to raise up a trophy in celebration. 
His experiences tally a list that for many 18 year olds is unmatched. Low has won three PBA regional titles, the third coming a little more than a week ago at the Earl Anthony Western Regional Open. 
Low placed first with the tournament's highest total score after 24 games, beating 2010 alumna Josh Blanchard in the title game — Low won the same title in 2015. Low becomes the second bowler to have three PBA regional titles by the age of 18 — the other being PBA Hall of Famer Pete Weber who held four at the same age. 
Regulations allow college bowlers to cash in two PBA sponsored events per year.
Low began competing in PBA regionals when he was 12 years old while still in middle school. He called it a learning experience, and at the time he said he didn't know how far it would take him. 
"When I began, I felt out of place," Low said. "My dad had high aspirations for me winning, he always told me I would cash eventually." 
As a 12-year-old carrying a 210 game average, he was already standing out in the crowd. Things changed three years later, when Low was no longer cashing in, but cashing big.
"It was March 29, my dad's birthday," Low said. "That was my first win. I'll never forget it." 
As with most all tournaments, his parents were routinely celebrating closely behind. 
"Tournaments every weekend," Low said. "My dad would be the driver, my mom would ride shotgun in the passenger seat, hour and a half drives to Los Angeles most weekends, two to three hour drives to Orange County on other weekends.
"They always want me to do well and succeed, everyone in my family is supportive of what I do." 
Low describes his father as an avid bowler, a traditional right-handed, one-handed bowler who carried a 200 average. Most memories Low recalls from his childhood are with his dad in the local bowling center; they started when Wesley was 3 years old. 
"Back then I couldn't carry a 6-lb ball," Low said. "Dad let me push the ball down with two hands. That style stuck ever since." 
As with most people Low comes across, his dad was equally surprised with his unique two-handed release. 
"I was 8 years old when I first beat my dad," he said. 
Now he's an 18-year-old on a mission. Low carries a game average of 240, but with all the record books he's shattered there's one that remains. 
"It's not about what I've done, I'm concerned on what's coming next," Low said. 
Wichita State head bowling coach Gordon Vadakin said Low is ahead of the curve, and is well on his way to preparing himself for a lifetime in the professional circuit. Vadakin appreciates that despite the accolades, Low is humble.
"It's not about him, it's about us," Vadakin said. "He works well with other people. He doesn't spend time dwelling on his successes, what he's done in the past isn't relevant to him. He's wonderful, I don't know what to say, he just fits us." 
Low entered the collegiate level with more accolades than most collegiate bowlers finish their careers with, but with positivity and openness, he's continuing to progress his skills for a higher level. 
"He's growing," WSU senior and teammate A.J Chapman said. "He's more open-minded, he's more competitive now. Everything he does, he proves that he belongs out there.
"Wesley is a superstar. That's what he is." 
Low has four years remaining at Wichita State, and even though his mind is racing with thoughts of bigger venues, he's focused on completing a business degree. But he can't help but hide his hopes of a lifetime in the spotlight extending long past Thursday's Intercollegiate Championship. 
"I love bowling," he said. "I'm excited to see how far I can take it." 
Leave a Comment
About the Contributors
Evan Pflugradt, Sports Editor
Evan Pflugradt is the former Sports Editor of The Sunflower.

Pflugradt past served as the publication's Editor in Chief, Opinion Editor and a reporter....
Brian Hayes, Former Photo Editor
Brian is the photo editor at The Sunflower. Hayes is a junior majoring in mass communication with an emphasis in journalism. He is from Wichita. Hayes enjoys...