'Nothing has gone our way for a while': Shockers knock off UCF, celebrate first win in 28 days
Markis McDuffie celebrated as though Wichita State had just won a championship game following the team's first conference victory.
WSU snapped a four-game losing streak — its longest in a decade — with an 8-point victory against the conference's top opponent, Central Florida.
"It's been tough," Shocker senior Markis McDuffie said after leading his team to its first win in 28 days. "It's been a long month filled with so much drought.
"We've always believed we were a good team, we just had to get over the hump."
Teddy Allen, the Shockers' redshirt sophomore, blasted music as celebrations poured through the locker room walls. Gregg Marshall ran quickly into the postgame press conference, not wanting to miss the moment with his players.
"I was thinking during the game, win or lose, I'm having so much fun coaching this group," Marshall said. "We're getting so much better."
Marshall said the losses have affected McDuffie, a senior who has been a member of championship teams. "It's affected all of us, but it's really affected him," Marshall said. "It's been tough on everyone.
"We deserve that win. … Nothing has gone our way for a while."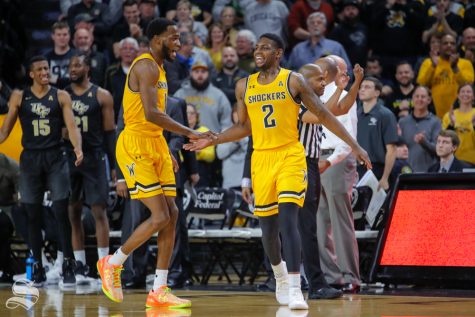 The Shockers led at the half for the third straight game, and for the first time in those three games they held on. Despite a scare late in the second half, watching a seven-point lead quickly dissolve into a one-point lead, WSU senior Samajae Haynes-Jones secured the win with a step-back jump-shot with 22 seconds left in the game.
"It's something I work on every day," Haynes-Jones said. "I've been working on that my whole life, and I had the confidence to knock it down."
Marshall said concerns crossed his mind, having the Shockers failed to hold on to late leads in recent games.
"We've seen this movie a couple of times," Marshall said. In practices this week, Marshall wrote on the whiteboard "Missed Opportunity" signifying the chance WSU had to beat Temple at home or Houston on the road. "We can't get those back. They're gone," he said. "We wanted to finish this one as best we could."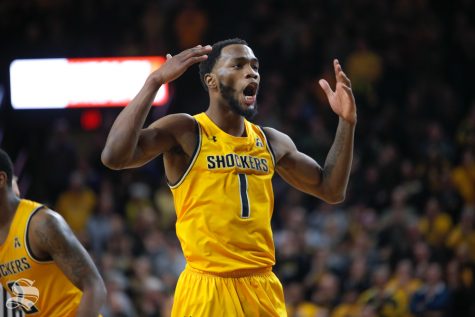 McDuffie said he was personally "tired" of "these second-half slumps." He said he told his teammates that "tonight's the night."
The Shockers allowed UCF, the preseason favorite, to score 42 points in the second half, making the Knights the fourth consecutive opponent to post 40 or more in the second half against WSU. However, the Shockers met the firepower of UCF's 7-foot-6 center Tacko Fall, preseason player of the year B.J. Taylor, and standout forward Aubrey Dawkins with effective shooting.
WSU shot 51.9 percent from the field in the game. McDuffie led scorers with 23 points on 15 shot attempts. Jamarius Burton started at point guard for WSU, and set the pace of the game with 10 first-half points.
"I thought Jamarius (Burton) was a key," Head Coach Gregg Marshall said. "He looked like he belonged out there."
WSU handled the size of Fall with a combination of forwards. Sophomore Asbjørn Midtgaard scored a career-high six points all in the first half of the game. He was perfect from the field, shooting mid-range jumpers away from the basket.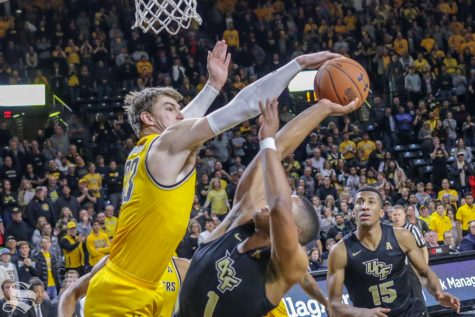 "It took everything we had," Marshall said. "Everybody in that locker room really, really fought."
Isaiah Poor Bear-Chandler, Jaime Echenique and Morris Udeze all rotated the forward positions. With the set of big men in play, WSU out-rebounded the Knights 35 to 22.
"We have a surplus of big guys," Marshall said, claiming that he's one of few college coaches in the country who has the ability of packaging bigs at the four and five-spots in his rotation. "We're one of the teams that can match that (size). It paid off tonight."
"I don't know how much better we could have played than we played tonight," Marshall said.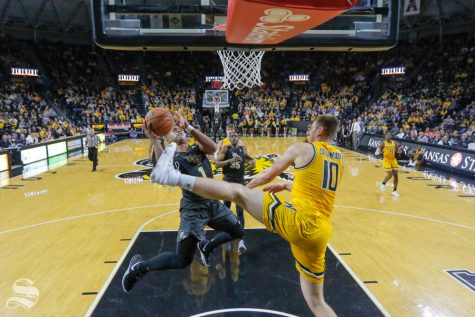 Haynes-Jones brushed off a slow start with 14 points, adding three rebounds, two assists and a steal. 
The Shockers snapped a four-game losing streak. The Shockers now own an 8-8 record and are 1-3 in American Athletic Conference play. WSU also handed Central Florida (13-3; 3-1) its first conference loss.
WSU next hosts Cincinnati at 1 p.m. Saturday at Charles Koch Arena.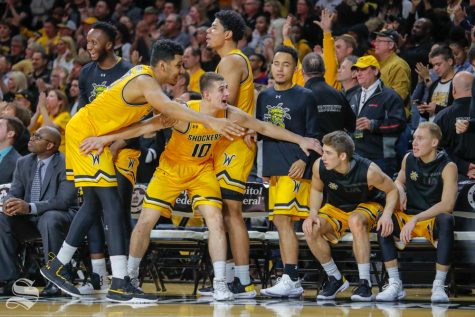 For more photos from Wichita State's win against UCF, please visit our gallery. 
Leave a Comment