'I'm not afraid of you' comment earns Stevenson a technical foul as Cincinnati handles Wichita State
Two technical fouls sealed the game for the Cincinnati Bearcats, who claimed their second win in the national spotlight at Charles Koch Arena.
Wichita State freshman Erik Stevenson was called for a technical foul, to which point Gregg Marshall charged the official. Marshall, who had to be restrained by his son Kellen Marshall and assistant coaches, was charged with a technical foul of his own. Cincinnati put up six free throws, that sunk WSU's once one-point lead into a near-instant 11-point smothering.
Stevenson got into a scuffle with Cincinnati combo-guard Jarron Cumberland. In the mix, Stevenson said to Cumberland, "I'm not afraid of you."
Officials called Stevenson for the technical foul.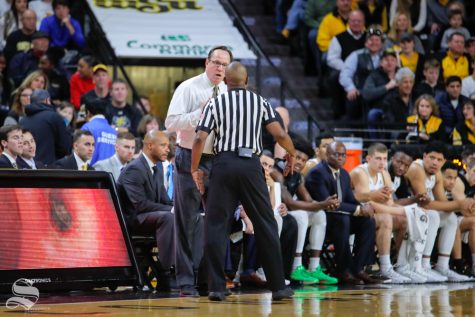 "If that's a technical-worthy comment, I felt like at the point I had to back my player," said Marshall, who willfully took the technical foul, his second of the year. "If that's a technical foul, in that type of game, with all the chit-chat going on … They determined it was. I hope the whistle was better than I thought it was during the game. I certainly hope it was [better] than I think it was right now."
At the media timeout, 10,000 WSU fans chanted out at officials "Refs, YOU SUCK!"
"That was the worst officiating I've seen in a long time," Marshall said following the game. "I felt like the road team in a game at Koch Arena."
VIEW PHOTOS FROM CINCINNATI VERSUS WICHITA STATE
Cincinnati Coach Mick Cronin respected his team's ability to hold steady and not respond to the technical foul with a call with one of their own.
"He [Marshall] obviously felt he needed one," Cronin said. "He [Marshall] is a veteran coach. He's not a good coach, he's an elite coach."
Marshall's frustrations came early. It's a safe bet to say tensions were high. After all, the last two games of this series had each been decided by one possession, and last year's regular-season finale decided the conference champion. After fouls to WSU's Dexter Dennis and two early on starting center Jaime Echenique, Marshall shed his jacket not even five minutes into the game.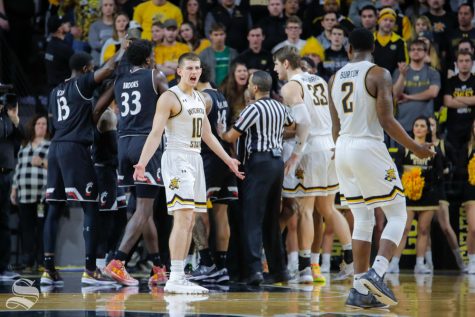 The Bearcats shot 35 free throws and made 25 of them.
Cronin's Bearcats held a one-point lead at halftime, and the Shockers led by as many as four points in the second half before Cincinnati blew the game open. Samajae Haynes-Jones, who was scoreless for WSU in the first half, scored five straight in the early going of the second half, to give WSU one of its two leads that half.
Marshall echoed his team's frustrations following the game.
"There's not much I can tell them," Marshall said. "I feel the same they do."
WSU's late rallies were smoldered by Cincinnati's star player Cumblerland, who had a game-high 18 points.
WSU's Markis McDuffie matched Cumberland for a game-high 18 points.
"Best he could," Marshall said of McDuffie. "Tough. Tough. It was tough out there."
The Shockers lost at home for the third time this season. Saturday's loss was the sixth time WSU has lost in Koch Arena in the last six years.
The Bearcats (15-3; 5-1) advanced their lead on the American Athletic Conference with Saturday's win.
The game was broadcast on CBS, and was the second-ever CBS telecast from Charles Koch Arena.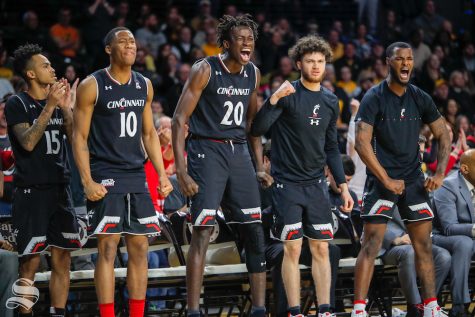 Leave a Comment
About the Contributors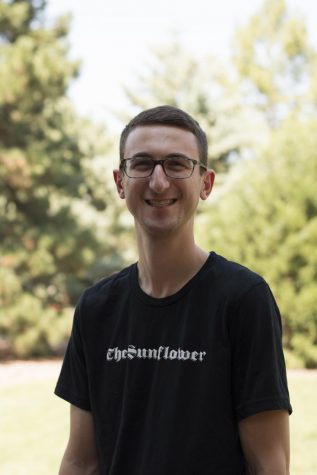 Evan Pflugradt, Former sports editor
Evan Pflugradt is the former sports editor of The Sunflower. Pflugradt past served as the publication's Editor in Chief, Opinion Editor and a reporter....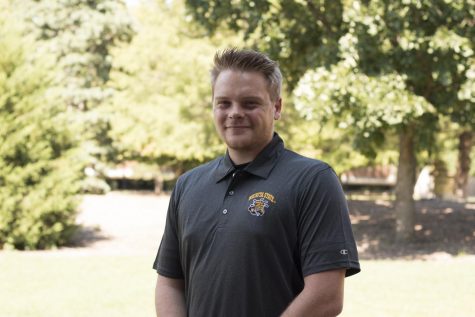 Joseph Barringhaus, Former sports photo editor
Joseph Barringhaus was the sports photo editor for The Sunflower. Joseph majored in marketing with a minor in communications. He was born in Michigan but...