Investigation documents shed light on Beta Theta Pi suspension
Beta Theta Pi's current suspension stems from a "Thirsty Thursday" party in August — one that reads like a stereotypical rager: MD 20/20, 30 packs, bottles of vodka and whiskey, alleged kegs, and bags of wine specifically to get women drunk, solicited over a GroupMe text by a Beta member, according to fraternity members' testimonies and other documents.
Those details emerged from a 70-page investigation summary into the fraternity, an investigation that began in September and ended in November. Redacted records of the conduct process, including six fully redacted pages, were obtained Friday through the Kansas Open Records Act after being requested in early November.
Beta was charged with five violations of university policy in November, including the underage drinking, social host violation, and excessive drinking subsections of WSU's alcohol and drugs policy. At the time of the incident, Beta was already under deferred suspension and disciplinary probation through March 2019 for hazing and violating alcohol policies and department policies.
The initial incident report for the August party, sent anonymously to Student Conduct, alleged that Beta's "assistant pledge ed [redacted] hosted a party which provided wine, purchased with donations from chapter members, to specifically bring women to their 'Thirsty Thursday.'"
"Beta Theta Pi has repeatedly been a significant risk to the health and safety of its own members and those members belong to Wichita State," the anonymous report reads. "Executive council knew of the party days before the event and did nothing to stop it. As a member of Wichita State, I beg you to finally take the action this chapter deserves to protect students."
A separate email thread between the anonymous reporter and Student Conduct alleges the party also included a keg, a fight "in which inactive member [redacted] was punched from behind and knocked out," and "two gunshots fired . . . according to [redacted] and multiple other members." Members denied there were any kegs in their student conduct questionnaires, but were not asked about any fights or gunshots, at least in their written responses.
There were 13 members of the fraternity, including executive members and members confirmed to be at the Thirsty Thursday event, questioned during the investigation. The house had around 40 members at the time of the incident. There were around 40-50 people at the house party, members said in their written questionnaire responses.
Questionnaire questions included "Was a keg purchased for this event?" and "Were you told to 'bring women' to the Thirsty Thursday event?"
The investigation summary included screenshots from a Beta GroupMe chat, "Silent Men of North Hillside: With Campus as an Exception."
"I ordered a keg to Beta," part of one message reads, with the sender's name redacted. Members said it was a joke about mail not being delivered to Beta.
"No random geeds tonight," another redacted message reads. "Also only 3 people have squared me to help out [with purchasing wine bags], don't be pussies."
Beta's suspension ends in May. The fraternity was on deferred suspension before the incident for hazing and alcohol-related violations in 2017.
Aaron Austin, associate vice president for student affairs, said he's hopeful that Beta can "change the culture" that may have led to their suspension.
"I would hope this experience realigns Beta with what they needed to address," Austin said. "It's not about punishment. It's about 'how do we help you make better decisions now?'
"I would not say this is a systemic issue in fraternities. I think a few folks can affect the culture of an organization."
Leave a Comment
About the Contributor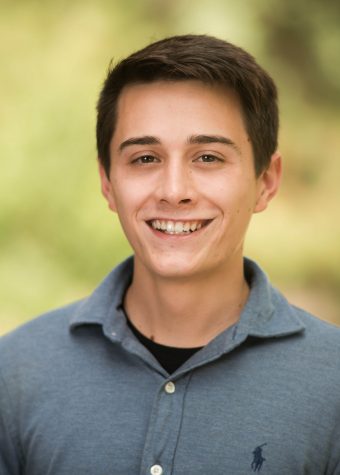 Andrew Linnabary, Former digital managing editor
Andrew Linnabary was the 2018-2019 Digital Managing Editor of The Sunflower. He studied journalism and minored in English. Linnabary is from Wichita, Kansas.