Shockers misfire on 26 three-pointers in loss to Cincinnati
Wichita State had a chance to add to its four-game winning streak and snag a marquee win on the road against Cincinnati.
Opportunity was there. The Shockers traded the lead in the first half, and cut down a second-half deficit to six and seven points all the way until the final minute of the game. But without Dexter Dennis, WSU couldn't come close to knocking in a three-point shot.
Dennis, who posted a double-double with a career-best 13 rebounds and 14 points with two threes in the final minutes of action, was largely all WSU could get going against the Bearcats.
WSU missed 26 three-pointers. Subtract Dennis, who made four of eight attempts from distance, and the Shockers shot 19 percent from beyond the arc.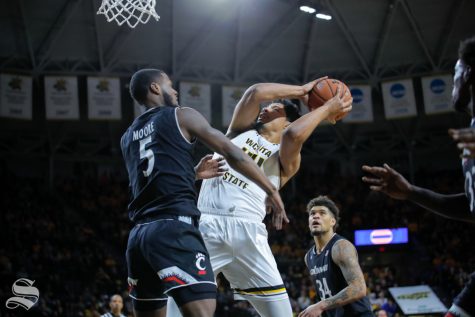 "This effort is usually good enough against a lot of teams in our league," WSU Coach Gregg Marshall said. "But it's not good enough against Cincinnati."
Marshall said the team had a hard time "emulating" Cincinnati's size and athleticism in practices this week. Although the Shockers out-rebounded the Bearcats by nine in the game, just five Shockers had a rebound in the first half, compared to Cincinnati's nine.
"You have to have five guys motored up like their life depends on it," Marshall said. "Cincinnati has five guys at any time that have a high motor."
Cincinnati's Jarron Cumberland single-handedly held off WSU's late second-round pushes, breaking the Shockers' four-game winning streak.
Cumberland, a contender for American Athletic Conference Player of the Year, showed out with 27 points. He scored 18 of his 27 from beyond the arc.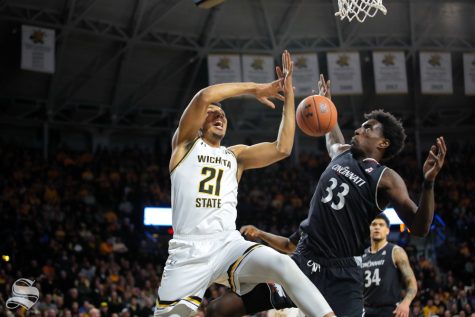 WSU's Markis McDuffie had 13 points, shooting 4-15 from the field. He finished well below his league-leading 19 point average. Cincinnati took away shots under the basket and forced WSU's forwards to step away from the basket.
"You better shoot the ball in the basket and defend like it matters," Marshall said. "That's what we're going to get back to."
Having won its first road game of the season a little more than two weeks ago at East Carolina, WSU rejoined its season-long struggle on the road. WSU dropped to a 5-7 record in the AAC, two-and-a-half games behind Memphis and South Florida. WSU remains in seventh place in the AAC's standings.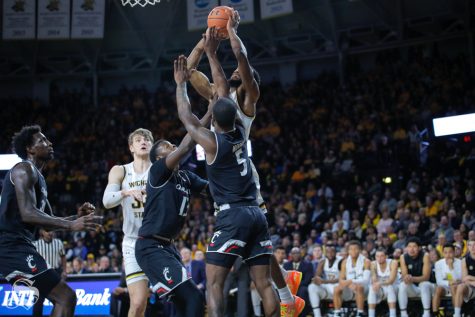 Leave a Comment
About the Contributors
Evan Pflugradt, Sports Editor
Evan Pflugradt is the former Sports Editor of The Sunflower.

Pflugradt past served as the publication's Editor in Chief, Opinion Editor and a reporter....
Joseph Barringhaus, Sports Photo Editor
Joseph Barringhaus is the Sports Photo Editor for The Sunflower. Joseph is a senior at Wichita State majoring in marketing with a minor in communications....