Bubble Watch: Shockers' hope of making field of 68 may rely on eye test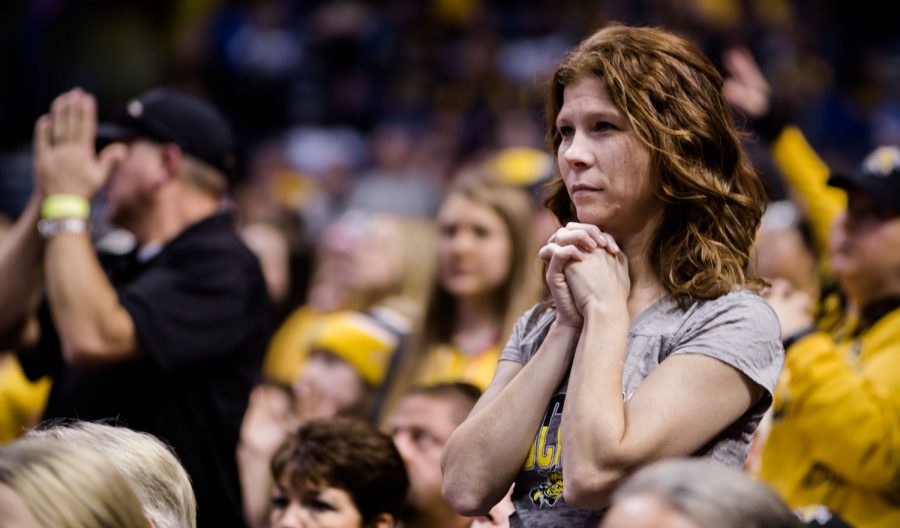 In December, Gregg Marshall, gleaming with excitement from a 17-point win over then No. 25 Utah, addressed the media with strong statements of a resurgent group, a team already proven tournament-ready.
"Maybe having people write you off for the NCAA Tournament inspired us," he said, directed to a reporter from Bleacher Report.
WSU handily defeated the Utes, shooting more than 40 percent from the field. Conner Frankamp recorded his first basket as a Shocker, and Zach Brown was showing signs of steady improvement, all positives in the Shocker locker room.
After a gut-wrenching November, when the team was 2-4 against Division I opponents, the Shockers desperately needed positives to draw from. The result was winning three straight marquee wins, and on Dec. 12 there was bass-thumping music, celebratory dances and chants and cheers of pure positivity filling the WSU locker room.
On Saturday everything changed. WSU fell to a high-fire Northern Iowa team in overtime. On Sunday, UNI guard Wes Washpun sent the Panthers dancing into March on a game-winner in overtime of the Missouri Valley Championship.
As the Panthers danced in the Scottrade Center, Gregg Marshall did the one thing he could do to determine his NCAA Tournament selections — he watched television.
"I'll watch, I love college basketball," Marshall said. "I'll watch a lot of games, and try and learn and try to get better. A lot of so-called bubble teams' bubbles burst today and may throughout the week, I'll watch."
In fact, it's all he could do. With 24 wins to his résumé, Marshall has the task of seeing his future played out on courts across America.
In the next few days, the final 36 at-large spots will be factored out and decided by a selection committee, announced Sunday night.
As with all of the Shocker-faithful, Gregg Marshall will be clinging to the screen, waiting for a chance to lead his team into March.
Days, hours and minutes, all in which players and coaches won't sleep easy.
"It's going to be a long, tough week, a lot of things going through my mind, whether I'm in, whether I'm not, nothing more I can do now to persuade [the committee]," senior forward Anton Grady said.
Last season, WSU fell to Illinois State in the semifinals of the MVC Tournament, they were secured into the field of 36 selected at-large teams with a 28-4 record. Two years prior, they locked up an at-large after falling to Creighton, a record of 26-7 put them in the field.
The record Marshall may not want to revisit, a 24-8 record in 2011. WSU fell short of an NCAA Tournament bid after falling in the semifinals to Indiana State. They went on to rally five more wins, and end the season victors of the NIT. Players and coaches don't want to revisit that record, but they have to because it's where they stand now, a record of 24-8 with feet firmly stuck in the bubble.
"Let the chips fall where they may, all we can do is wait and see," sophomore Zach Brown said.
The Shockers want in, and frankly, so does America. But the selection committee is far from a popularity contest.
Here's how the committee picks out the field (Per NCAA):
1. Select the 36 best at-large teams
2.Seed the field of 68 teams
3.Place the teams into a championship bracket
The field is made of 68 teams. The committee gives automatic entries to 32 teams, each winners of their conference tournament. After this has been completed the committee pulls and ranks 36 other non-automatic qualifiers. These are called at-large teams. This is where Wichita State stands a chance.
According to NCAA.com, at-large teams are "the best teams not otherwise automatic qualifiers for their conference will fill the at-large berths."
Best is very subjective, so how does a committee who votes by secret ballot determine who is actually the top-tier?
"Committee members have a wide-range of observation, consultation and data resources available to them throughout the season and during selection week," NCAA.com writes. "These resources provide the foundation for a thorough and educated process that is reinforced by the committee member's discussion and deliberation. Each of the 10 committee members uses these various resources uses these various resources to form their own opinions, resulting in the committee's consensus position on teams' selection and seeding."
There's a lot to be discussed amongst the 10 selection committee members, and when the conversation switches to Wichita State, one is guaranteed to speak up.
Former Wichita State athletic director Jim Schaus is one of the 10 members of the committee. Schaus left WSU in 2008, and hired Marshall before leaving.
The committee has regulations on members discussing schools they're currently affiliated with, but with no current affiliation to WSU, Schaus, the now athletic director for the University of Ohio, said plans on being a voice in the discussions about Wichita State.
"With no current association, I fully plan on participating in any conversations regarding Wichita State," Schaus told the Wichita Eagle.
Schaus isn't the only one who wants to discuss Wichita State, with the basketball-filled weeks of March spinning at full-speed, the Shockers have become the center of national attention.
ESPN's Joe Lunardi said the Shockers are a "lock" for the NCAA Tournament, and in his bracketology analysis, he has WSU as a No. 8 seed playing Butler in Des Moines, down one spot from a seven-seed he had listed WSU a few days earlier.
Michael Beller of Sports Illustrated leaves WSU out of his mock bracket. Jerry Palm of CBSSports.com has WSU as one of his first four teams out. Bracketmatrix.com, a site that compiles 94 bracket projections, ranks the Shockers a No. 10 seed.
It's a debate fueled almost entirely by statistics.
By the numbers, the Shockers argue strongly for inclusion. Wichita State has a No. 11 ranking by Ken Pomeroy, other tests including the Sagarin have them listed as No. 25 in addition to their No. 50 RPI and No. 22 non-conference strength of schedule.
The committee is reported to be taking additional consideration to Ken Pomeroy and other statistical measures, but there's no set in stone formula for consideration. The biggest test could be one where no numbers are present.
"I think the eye test in No. 1," Marshall said. "Some people have a better eye for basketball talent from a team perspective, others go by strictly breaking down computer numbers and others use high-end numbers like analytics. I say, you have to watch us, then you can really see what we're about."
The eye test could do the Shockers the most justice. During the season the committee converses on conference-calls getting updates from schools and conferences, they follow the top 75 teams particularly closely. Duke athletic director Kevin White and North Carolina Asheville athletic director Janet Cone follow the Missouri Valley more exclusively.
In selection week, committee members may binge-watch an entire season of games. Any litmus test WSU hasn't passed already, the committee can speed through a game in the course of about 45 minutes, after breaks have been removed.
"The eye test is the biggest test for people," Creighton athletic director Bruce Rasmussen told the Wichita Eagle.
Rasmussen is a member of the selection committee.
"Watching games and watching the way a team plays, their toughness, they play together, that's what you look for," he said.
The eye test could help settle the debate. While the numbers speak a voice of their own, the eye test shows two teams, one hindered by injury, another shows highlight reel dunks and a team handedly defeating opponents by 30-plus points.
It also shows three losses in which VanVleet and Conner Frankamp sat on the bench, marginal three and four-point losses in Orlando. Two losses with Anton Grady hospitalized and the spirit of the team left deteriorating; injuries are something the committee consistently reiterates they take into account throughout the season, another helpful boost from of the eye test.
If Wichita State wanted to make one last and final push for the committee, they've done it, and they've done it by being themselves.
"People are familiar with Wichita, people are familiar with Fred VanVleet, Evan Wessel and Ron Baker and a lot of those kids," Rasmussen said.
A Final Four in 2013, a 35-1 season in 2014 and a victory over state-rival Kansas landing them a Sweet 16 appearance, led by the four and five-year seniors is a story the country wants to see finish.
And Marshall wants his seniors to play again, hoping their journey ends somewhere in the NCAA Tournament.
"They're ready to play in either tournament, they don't want it to be an NIT bid," Marshall said. "In the end, if you see teams that are better and had to deal with what we had to deal with, maybe they select them. I think at the end of the day, we're a team that not only can be in the NCAA Tournament, but also win games in the NCAA Tournament."
Time is ticking down for the selection committee, and the Shocker faithful are closely sweating this one out, awaiting an opponent, a destination, a tournament to settle their season.
The field of 68 will be announced in a special two-hour broadcast at 4:30 p.m. Sunday on CBS.
About the Writer
Evan Pflugradt, Sports Editor
Evan Pflugradt is the former Sports Editor of The Sunflower.

Pflugradt past served as the publication's Editor in Chief, Opinion Editor and a reporter....