Angel Rodriguez steals second half comeback, seniors reflect on career end
Fred VanVleet, Wichita State's all-time steals leader, couldn't steal a trip to the Sweet 16.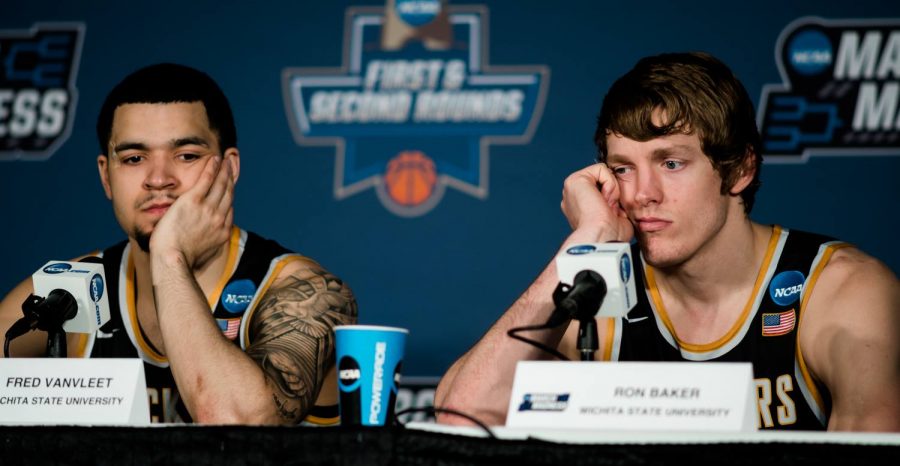 Providence, Rhode Island  —
Fred VanVleet's knack for steals came to an end Saturday.
In the first half of Saturday's second-round game, VanVleet stole two possessions away from Miami's fifth-year veteran backcourt of Angel Rodriguez and Sheldon McClellan — doing so, he surpassed Jason Perez as the school's all-time steals leader.
But VanVleet fell short stealing a bid into the Sweet 16.
A first half of uncharacteristic offense, Wichita State fell into a 21-point deficit — an eventual 65-57 loss.
Miami's fifth-year senior point guard, Rodriguez, picked off back-to-back steals and raced down the court for uncontested layups, he finished with four steals and a game-high 28 points. He scored the last 10 points of the game. WSU found ways to pressure Miami — improving their 1-10 shooting performance to start the game and forcing 16 turnovers — narrowly trimming the lead again and again.
VanVleet collected four steals and used crafty offense to toss in a challenged layup. Full court pressure prompted a Shaq Morris fast break dunk, and a Baker three-pointer gave Wichita State a brief 57-second advantage — as close as VanVleet and Baker could get to extending their history-making four and five-year careers.
For the first time all season, veteran seniors Ron Baker and VanVleet stepped onto the court against a backcourt equally as experienced.
After 40 minutes, fifth-year seniors Rodriguez and McClellan extended their season another week, and the NCAA Tournament's No. 1 and 2 scoring and assist leaders, Ron Baker and VanVleet, walked off the court for their 13th (tournament record) and final NCAA Tournament games.
"A couple of years ago, I told Fred that we would be back in the Final Four after we lost to Louisville walking down the tunnel, and I wasn't able to keep that promise to him," Baker said. "The feeling right now, it's not fun. I feel disappointed. I feel like I disappointed my teammates, my family."
Baker, eyes red and cloudy, showed expressions of sentiment, memories of his five-years experience racing through his head one by one. Next to him, VanVleet sat in disbelief. He had yet to be fazed by the end of his career.
"It's all good when it's all good, and when you lose, you've got to wear it," VanVleet said. "It's been a hell of a ride, I'm not looking forward in my future to anything else, just want to appreciate these guys, our fans and the program. I'm going to be enjoying this moment."
VanVleet finished as the program's career assist and steals leader — named a two-time Missouri Valley Player of the Year, he finished with 120 career wins in a Shocker jersey, tied with Tekele Cotton as the program's all-time winningest. And as determined as the program's all-time win leader would be, VanVleet said the one thing on his mind was planning to watch film on Saturday's game and prepare for the next round, an opportunity that will never be.
"We did it together, we fought back together," VanVleet said. "We had each others' backs throughout the whole experience, and I wouldn't have had it any other way. I want to thank everyone I've ever played with in my four years, and thank all the coaches and especially Shocker Nation."
Gregg Marshall took his time leaving the locker room. He wiped tears from his face before gingerly walking to a post-game press conference. At the presser he looked at VanVleet, then to Baker, and back again — concerning himself with memories, and painfully noting his final moments with each one of his seniors, he fought to hold back tears once again.
"They've taken us on — I call it a magic carpet ride," he said, through tears. "They're tremendous professionals on and off the court. They handle their business like pros, and I'm deeply indebted to them, as we all are."
Behind a closed locker room was silence, faces staring at the floor, players drooped back in their lockers. Senior Evan Wessel sat on a fold-out chair ahead of the group, choking on tears he thought of five-year segment of his life coming to a close.
"All the adversity we dealt with this year, and the last five years, to come up short of our expectations, it's tough," he said. "When you give your life to the game of basketball, you put all your energy and passion into it, you put your life on the line every night, it's tough to see it end like this."
Wessel dodged questions about his future, and remembered the brotherhood that has taken him in since he stepped into a two-room dorm with Baker five years ago.
"It's been a hell of a run, a lot of memories, great moments, moments I'll remember for the rest of my life," Wessel said. "This game has brought my family closer together, it has brought the whole community together, it's an amazing thing what basketball can do for you. This last game won't change anything. I love these guys for life.
"It means everything to play for Wichita State. I'm a Shocker for life."
In the locker room, senior Anton Grady tried to look up, but he couldn't. His eyes hung, fixated with the tile. He couldn't decipher whether or not he was taken in by the loss, or astonished at the experience.
"I'm appreciative of everything about this year, I appreciate these guys for giving me the experience to play in this tournament. This is all I ever wanted," he said. "I'm thankful to have worn the same jersey with every player on this team, to be able to play next to every last one of these guys I'm so grateful."
Grady played for his first time in March since a single NIT Tournament bid at Cleveland State. He played in three NCAA Tournament games before ending his five-year college career.
"It's great for these guys to carry me along with them. I enjoyed this more than anything," he said. "I am also thankful for the support the fans gave me, when I was injured, when I was on the court. All the support and the way they embraced me, I couldn't have asked for more."
Underclassmen forwards Shaq Morris and Rashard Kelly looked over at Grady teary-eyed and regretful. Morris said his focus game by game was to continue extending Grady's lifelong dreams of NCAA Tournament success.
"It's more than a tournament for him," Morris said. "He's worked his whole life for this."
Grady was recognized by his teammates as a leader, one who educated others on how to play with passion. A fifth-year senior, Grady faced countless marks of adversity. In November he was temporarily paralyzed with a spinal concussion. In four years at Cleveland State, he battled injuries to his knees, ones that never gave him the chance to build a lengthy string of success. At Wichita State he preached to cherish the moment, knowing those moments could go away in a brief second.
"Day in and day out you always see a lot of passion out of Anton," Kelly said. "He's been through a lot of adversity in his life. If you don't have basketball going perfect for you, it's the end of the world. He taught you that if that's not going good for you, it doesn't mean your life isn't perfect.
"That's my big brother, he helped me grow up a lot on and off the court, and I couldn't appreciate him more for that. It hurt to see him go down like this."
Morris looked up at the name plates hanging on the lockers in the Dunkin' Donuts Center. He said it would be weird for him to think about a locker room where the names Baker, Wessel and VanVleet aren't hanging up next to his own.
"I'm thinking about taking their nameplates," he said. "It's nothing we can hold onto forever — we know that, but it's hard for me to let go.
"I love these guys," Morris said. "They've been great to play with. Their legacy is still going to live on, their leadership has already passed on. We're still going to be Wichita State."
About the Contributor
Evan Pflugradt, Sports Editor
Evan Pflugradt is the former Sports Editor of The Sunflower.

Pflugradt past served as the publication's Editor in Chief, Opinion Editor and a reporter....