Don't call it an upset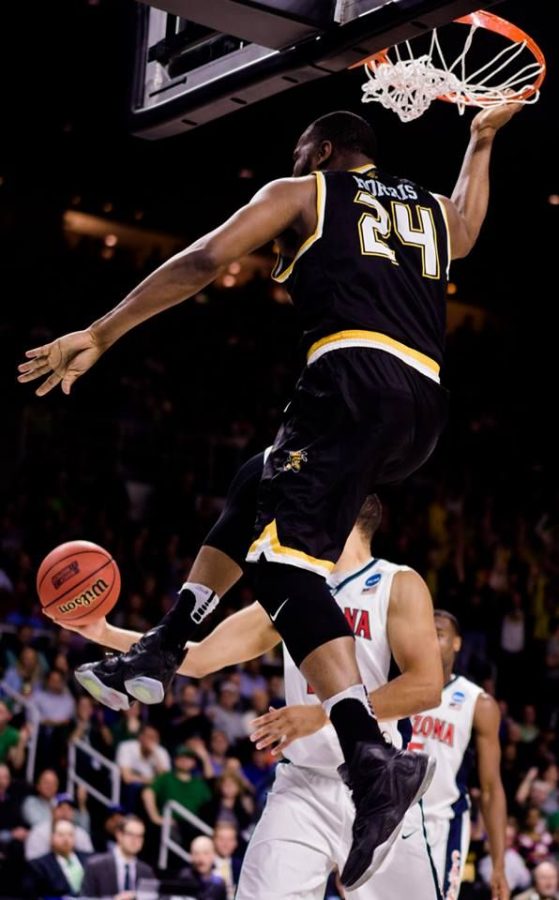 Providence, Rhode Island — When it comes to playing in the NCAA Tournament, Wichita State forward Anton Grady doesn't have a lot of experience. The transfer from Cleveland State played his first tournament game on Tuesday. For his four years at Cleveland State, his only experience of the NCAA Tournament came by a television screen.
On Friday afternoon, in the locker room of the Dunkin' Donuts Center, Grady, and the rest of the team clinged to a 32 inch LG TV. No. 15-seeded Middle Tennessee was holding a four-point advantage over second-seeded Michigan State.
The game ended in an upset — a 90-81 defeat, one where Tom Izzo's group never lead — the former Final Four participant exited in the first round. Wooden Award finalist, Senior Denzel Valentine cried in disappointment as his college career came to a close.
The nation was in ultimate shock. Bracket's were busted —according to ESPN.com only six perfect bracket entries remain. It was the sixth double-digit seed to advance to the Round of 32.
Among the bracket-busters, Wichita State, who took down six-seeded Arizona on Tuesday  — the first time the Wildcats exited in the first round since 2008 , and the first time they had lost to a lower-seed since 2007. 
Wichita State advanced to the second round of the NCAA Tournament for the fourth straight year. WSU is the second double-digit seed to advance in the South region — according to Wichita State players and coaches, call them whatever you want, but don't call them upsets.
"We had people passing us today on our way over here telling us, 'Hey, great upset', but we're thinking, 'You didn't think we would win?'" sophomore Shaq Morris said.
His teammates agreed. This one felt nothing like an upset, they collectively said. And Miami head coach Jim Larranaga said to his players to think of it as anything but an upset, either.
""The seeding at this point is meaningless," he said. "Wichita State was an 11 seed and had to play in the First Four, and they very easily could have been a No. 2, 3 or 4 seed coming into this tournament."
Larranaga continued to call Wichita State a two-seed for the remainder of the day, long into his practice, functioning as a motivator to instill confidence within his two fifth-year seniors. He assessed that the best way to look at the opponent is to assess them with the eye test, he said that he looks past the seeding in his opponents to determine their skill level, and added that his team needs little reminder or education on their opponent.
"I don't have to convince my players of anything. They've watched," Larranaga said. "They watched the first half last night, and they were like, wow, those guys are really good. You don't look at the seed and say someone is good. There's 68 teams out of 350, I think all 68 teams have earned their way into the tournament. It's clear to us what to expect."
Wichita State entered Friday morning as a 2.5 point favorite against Miami. They're the first and only team in the tournament with a lower seeding to be the favorites to win in the second round.
"You can label a team however you want, if you look at this tournament, in it's fourth day, the tournament is boiling down to one-seeds and double-digit seeds," WSU head coach Gregg Marshall said. "Look at teams like (12th-seeded) Arkansas-Little Rock, or even Gonzaga. Gonzaga, they're a one-seed, they're just two one-seeds, they're an eleven, just like us."
Marshall held up two index fingers and said, "we're a one-seed, we're so good we have two ones."
Marshall's group entered the season named the projected No. 10 team in the nation, but with early injuries to Fred VanVleet, Anton Grady and Landry Shamet, the team finished far off the mark of personal and national expectations. Marshall calls it a season of adversity, one with a growing chip on their shoulder. But now, with a 20-point win in Dayton and a 10-point win in the First Round of the NCAA Tournament, WSU can be called anything but an underdog.
"I personally never thought anybody would disrespect them or looked at them as an underdog," Miami senior Angel Rodriguez said. "That's something that doesn't surprise me whatsoever."
For some players, this an 11-seed seems like an understatement to the testament and nature of the 16-man group with Wichita State stitched across their chest, but those believe it's anything but a detriment to their own satisfaction.
"It's more detrimental to other teams that it is to us," Morris said. "Look at Arizona, I feel a team like them shouldn't have had to face a team like us this early, especially in the first round."
With a 24-8 record entering Selection Sunday, Wichita State was far from a perfect fit. So maybe it's unfair to pair up with an 11-seed who is listed as the No. 8 team by KenPom.com, but anything would be a challenge to pair a perfect fit.
"This game is a lot about numbers, but it's also more than numbers, those labels all go away when we step out onto the court," Morris said.
A Cinderella story considered by some, Saturday morning Wichita State has the chance to tally the eighth win of the tournament for a double-digit seed.
Call it what you want, but don't call it an upset.
About the Writer
Evan Pflugradt, Sports Editor
Evan Pflugradt is the former Sports Editor of The Sunflower.

Pflugradt past served as the publication's Editor in Chief, Opinion Editor and a reporter....