Hoosier Daddy: Wichita State beats Indiana, advances to Madison Square Garden for NIT semifinals
BLOOMINGTON, Ind. — Gregg Marshall needed Markis McDuffie to trust him.
Marshall wanted to recruit him to Wichita, far from McDuffie's home in Patterson, New Jersey. Bringing him to Wichita was a big discussion between McDuffie and his parents. But Marshall promised he would make McDuffie and his parents happy when he returned their then-17-year-old lanky son back home. 
Now four years later, McDuffie is going home.
Wichita State defeated top-seeded Indiana in the National Invitation Tournament quarterfinals to advance to Madison Square Garden, a short 18-mile drive from McDuffie's hometown, for the semifinals. The Shockers stunned the Hoosiers in historic Assembly Hall, 73-63.
"This just means a lot to go back to somewhere I grew up at," McDuffie said.
The Shockers await the winner of Lipscomb and North Carolina State, who tip at 8 p.m. Wednesday. The semifinals will take place Tuesday and air on ESPN.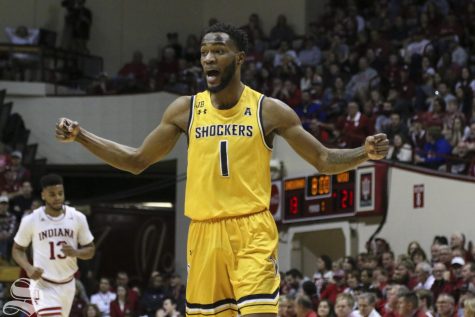 "It was one of our goals to get McDuffie home," senior Samajae Haynes-Jones said. "We did that, and now he can bring his whole family in to watch."
"We accomplished one goal, now it's time to go check another one off," freshman Erik Stevenson said.
Wichita State is the first team in NIT history to have advanced to the semifinals by way of knocking off No. 1, 2 and 3 seeds.
"It's just something special that's going on right now," Haynes-Jones said.
Indiana played without star guard Romeo Langford, who missed the tournament with a sore back.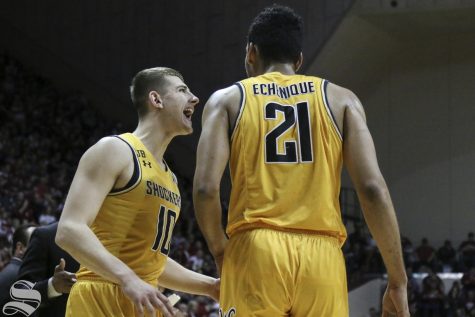 The Shockers led 36-29 at the half, and Indiana junior Devonte Green had unlimited ammo. Perhaps thanks to his recently discovered tattoo that references a cheat code for unlimited ammunition in the popularized video game Grand Theft Auto: San Andreas. Green hit probably his biggest shot of his college career with an NBA-range 3-pointer, on which he was also fouled. He put the Hoosiers down just a point with 8:26 left, and the historic Assembly Hall was rocking.
Dexter Dennis stepped in for Wichita State. After a shy three points in the first half, Dennis exploded with 14 points on 5-6 shooting in the second half. He responded to Green's deep three with a knockdown, crowd-silencing 3-pointer.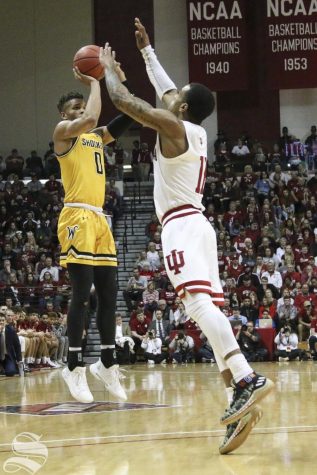 "Dexter has been growing up this whole year," Haynes-Jones said. "To have that composure just shows how much he has grown."
Wichita State never backed down, winning by 10 points and outstretching the lead more and more in the final stretch. Without Dennis in the second half, Wichita State may not be heading to New York City.
"I was just hooping," Dennis said. "I was just out there playing my game, and was doing everything I could to help my team win."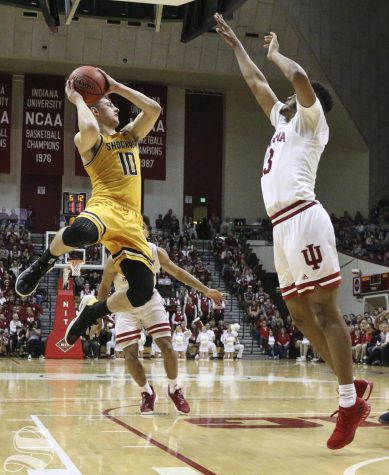 Dennis had six blocks all in the first half. That wasn't just a career-best but also a season-high.
"I didn't even know I had that many," Dennis said. "I was told at halftime, and I only remembered like three of them.
"That was crazy."
Dennis had come up big for Wichita State in the second half before. His 17 second-half points in the quarterfinals of the American Athletic Conference Tournament helped the Shockers topple Temple.
"Our goal is to win this whole thing," Dennis said. "We want to keep playing with each other."
Juwan Morgan led the Hoosiers in scoring with 21 points and six rebounds. McDuffie led Wichita State in scoring with 21 points and four rebounds. The Shockers continued to use its size with big men Jaime Echenique and Asbjørn Midtgaard, who combined for 10 points and 14 rebounds — a low in comparison to the past two games.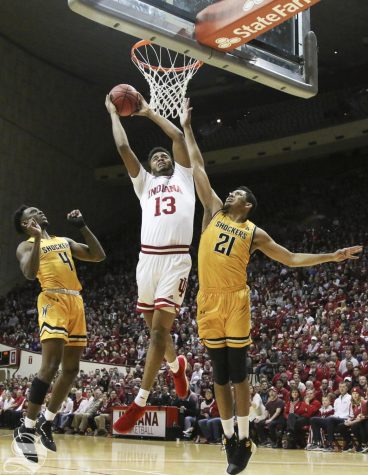 Stevenson feeds off boos
Assembly Hall was filled to the rafters, and crowds roared trying to disrupt Wichita State's momentum.
In the first half, Erik Stevenson shushed the crowd. Instantly, he was showered in boos.
"It took me back to those old high school days," Stevenson said. "Crowds used to do that to me in high school."
Stevenson feeds off negative energy. With boos pouring in every time he touched the ball, he had to act quickly. He responded with composure and knocked in a 3-pointer.
"I just did what I do," Stevenson said. "It didn't bother me, it motivated me. And to do it on ESPN just made it that much better."
Leave a Comment