Gregg Marshall holds player meetings to discuss future season
Players this week will meet with Gregg Marshall and the Wichita State coaching staff in his office. They'll have a seat, one-by-one, and give an analysis to their individual season.
It starts with basketball, then branches off into personal life. Players talk academics, social life and family.
"It's a comprehensive meeting," Marshall said.
Marshall won't say a word until players answer what they liked, what they didn't like and what direction they see things going forward. Then comes the coaching staff, who will share their interpretation of what happened. It's after Marshall will list his request — here's what I expect of you upcoming, will you accept?
"At that point, everyone has to agree on a yes, no or a maybe," Marshall said Monday at his final coach's show of the year with host Mike Kennedy.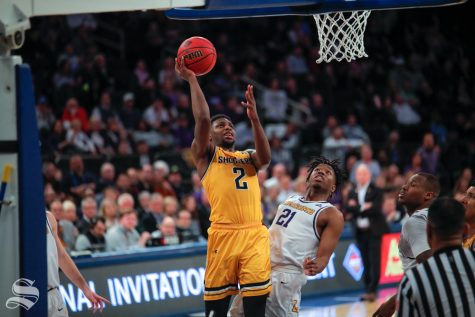 Marshall said he met with freshmen guards Erik Stevenson and Jamarius Burton each individually at the start of the week. With Burton, who transitioned to an "unorthodox" point guard, the Shockers won 14 of 18 games under his direction. Still, Marshall had his hesitations with Burton's confidence scoring the basketball.
"He doesn't trust himself," Marshall said. "He's not confident. He's not confident because he hasn't put the work in. He's got to believe that he can do it. Right now, he's reluctant."
Not every meeting is filled with good news. It's about buy-in. Wichita State's winningest coach wants to win — and that means getting the most out of players like Burton in short time.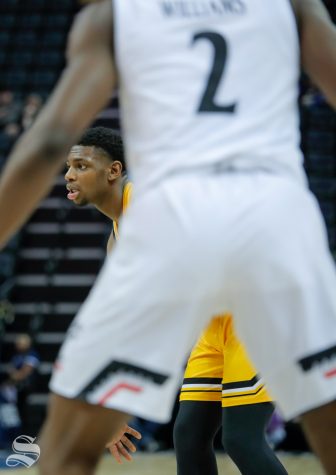 "You're a consistent jump-shot away from being an all-conference player," Marshall instructed him. "You need to make 500 shots every day. You've got to be a threat to shoot the basketball.
"He says he's going to do it," Marshall said.
This time of year is about decision-making. Each meeting ends in a question of whether or not players are committed to helping the program move forward. Yet, Marshall is no stranger to the misfortunes of what might come. This time a year ago, players Austin Reaves, C.J. Keyser and Brett Barney left those meetings in disagreement. In a matter of weeks, they'd each land at a new program.
"That happens," Marshall said. "Everyone is in it for them. In the end, they're trying to become pros."
Daishon Smith knew years ago had he stuck around for his senior year, he would have backed up Wichita State point guard Landry Shamet. It was clear. He wasn't willing to play second-fiddle to the future NBA-pro, and so, he left. At Louisiana-Monroe, he's scored more than 40 points more than a couple times this season. That probably doesn't happen had he stayed at Wichita State.
"I look back at him now," Marshall said, "as someone who persevered."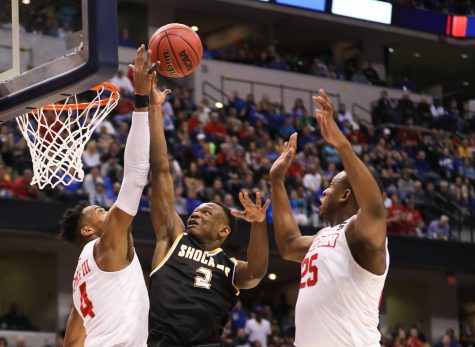 It would be unrealistic for Marshall to speculate at any potential transfers this year. He does recognize what he has in front of him in three freshmen — Noah Fernandes, Tyson Etienne and DeAntoni Gordon.
Fernandes at 5-foot-11 exhibits play of a pure point guard.
"He knows how to run a team," Marshall said.
Etienne, a four-star recruit, is a "quick-twitch" combo-guard who possesses the ability to play the shooting guard role, scoring the basketball, and distributing the ball in typical point guard duties.
Gordon "bounces and runs like Tigger from 'Winnie the Pooh,'" Marshall said, adding that he expects Gordon to share time at the power-forward spot.
"We're going to need him to be a four next year," Marshall said. "We'll play Teddy at the four, Dexter at the four some. And we've got Rod Brown, too."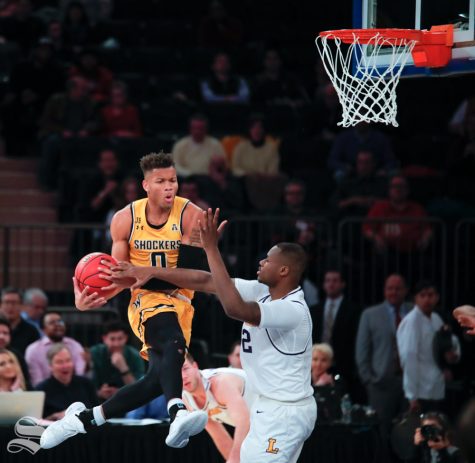 Wichita State was uncharacteristically young this season. Gregg Marshall's mantra of stringing together graduate transfers and rotating young classes of freshmen into experienced players and fulfilling the mission of "getting old and staying old" didn't come together this year. Next year is a different story — one were Marshall will have to decide how to budget experience.
Take the forward position for example. Jaime Echenique, Asbjørn Midtgaard, Isaiah Poor Bear-Chandler and Morris Udeze all shot better than 41 percent from the field this season. Midtgaard will be a junior, Echenique a senior. Udeze, who spent the second half of the season sidelined with a shoulder injury, will slide back into that rotation. Then, there's a time-splitting problem.
"We had one too many fives all year long," Marshall said. "It's great to have those guys … I'm going to ty to make them a little bit nasty … One of those sophomores will probably redshirt next year."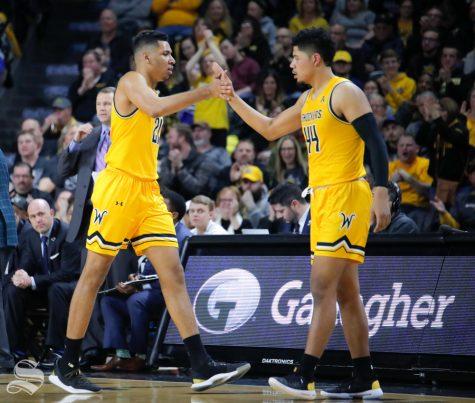 Marshall hinted that recruiting for potential commits is still ongoing. As it stands right now, with Markis McDuffie and Samajae Haynes-Jones each graduating, plus the mid-season departure of Chance Moore, Wichita State will have exactly three openings for its three freshmen to occupy.
Ricky Torres announced his departure from the program late Wednesday evening. With Torres not returning for his senior season at Wichita State, Marshall will have one more spot to play with in attempts to land another recruit. Torres scored just 86 points in 37 games, which included 10 starts, at Wichita State.
The Shockers are still in-play for Grant Sherfield, a four-star recruit who played his season at Sunrise Christian Academy. He was granted release from his letter of intent to UCLA earlier this year, and is expected to make his official visit to Wichita State on Friday.
Other transfers and recruits still have Wichita State in the mix, and an additionally signee would mean either sending someone to prep school or someone transferring out. As he hinted, redshirting one of the Shockers' four forwards would also free up some space for the team to take on another addition.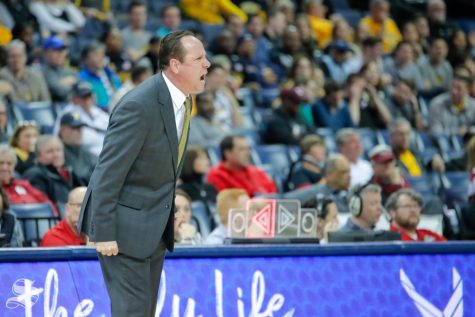 Leave a Comment