Meet Dr. Tompkins: Q&A with Interim President Andy Tompkins
Andy Tompkins started his term as interim president of Wichita State Monday.
Tompkins, who retired as KBOR president and CEO in 2015, most recently served as Fort Hays State's interim president from 2016-2017.
A 2001 inductee into the Kansas Teachers Hall of Fame, Tompkins was a high school English teacher who became a principal and eventually district superintendent. He served as commissioner of education for the Kansas Department of Education from 1996-2005 before going on to teach at the University of Kansas. Tompkins served two stints as Pittsburg State dean for the College of Education from 1995-1996 and 2007-2010.
The Sunflower sat down with Tompkins in the President's Office Wednesday to talk about his first two days on the job and outlook for the university. Responses have been edited for length.
How would you describe your first 48 hours on the job?
"Yeah, it's been kind of a whirlwind a little bit. Everybody thought the first day, they're telling you so much, and I said, 'In a way, you've kind of got to hear all that so you can sort through it all.' I'm having to listen a lot and learn a lot."
"When I was at the Regents, I mean, you know the institutions generally. I've been on campus a lot — I used to be a superintendent close to here — so I was on campus a lot, but you don't know it really until you get there. The buildings — I've been walking around every morning trying to make sure I got kind of a sense of where all the buildings are.
What is the role of an interim president?
"The week or two before, when I had time to think, I'm going, 'Now what is my role going to be here?' Because in a way, there's a little difference in it. Obviously, you're not trying to go start a brand new direction because you're kind of getting the place ready for that next person."
"Part of it also is you're trying to deal with the issues that you'll have when you're there. I think part of my role here is making sure I know a lot of the people and listen well and try and be a good listener and a good steward of the place."
"I know some of the people in our community here, but I need to get more closely acquainted — learn more about students that are here. It's just really learning about the place, getting a sense of what's happening right now, what are some of the things that are planned for the future, and then trying to make it the best that it can be once we get that new person here."
What qualities are needed in the next long-term university president?
"Higher-ed is a changing field. Enrollment is a big issue in higher education. If you're out here thinking you're going to get a lot more students, it's not going to happen. So you're having to look at other things, in your instance, the I-35 corridor, in hopes to find a new way to attract more students to your institution, because enrollment matters — especially when you have less involvement from the state."
"When I went to college, my tuition was a lot less, because the state's role was a lot greater. If you're so dependent on the students, guess what? You've got to have the students. So that's one of the biggest things I think for any university, including this one."
"I think one of the issues is facilities improvements. If you're waiting on the state to help you build a building, it's probably not going to happen. So I think that's one of the challenges you have. At the core, you have to remember there are faculty and staff who deliver your mission. And their mission is your success. That's the bottom line."
Have you developed any specific goals to help the university push forward?
"Well, not in two days yet (laughs). One of the things in the little bit of reading I've done is I know we need to be very good at communication. Everyone. That would be a big goal — to make sure we're good with you and that you can ask us [anything], you know what I'm saying? And I think we'll try to develop a few goals that we can say, 'I think we can get these done while Andy's here.'"
"If you're going to be that next president, you'll want to know from that interim, 'Hey, what do you think the issues you need to be thinking about are?'"
Where'd you develop your passion for education?
"I feel like the luckiest person in the world. I was an English teacher, I was in a small school district, I was a principal, then I was a school superintendent for a number of years. And then I was a commissioner of ed. And then I've been in higher ed, so I've kind of got to see the whole gamut of it and work with it. I just feel pretty blessed with my career. I did not have these goals. I had no goal (laughs). But it felt like the right thing to do. I've had these opportunities, and I decided to take advantage of them."
"Who would have ever thought the kid from a little old town in Oklahoma would have these opportunities, you know? But I had some, and I took them, and I tried to do the best I could when I was in those roles."
"I was an English teacher. I can't tell you the defining moment, but at the same time, I decided maybe I want to be a principal. And so I was writing my master's thesis on (Alexander) Pope's couplets."
"I finished my master's in administration, then I was a principal, and then my superintendent at the end of the first semester said, 'If you want a job next year, show me you've enrolled in a doctorate program.' I would've never enrolled in a doctorate program."
"I had people who encouraged me to do things. And that's part of what we do in higher ed, encourage people — sometimes see more in people than they see in themselves."
How'd you develop the principal bug?
"If I was honest with you, I was a much better superintendent than I was a principal. Oh gosh. I was a principal when I was 25. I remember when I went to the interview. My wife's three years younger than I am. The board was there, and they looked at her, and they looked at me and they said, 'How old are you?' (laughs) I remember that part."
"I had to grow a lot in that principal's role, but I loved every minute of it. I probably wasn't the best high school principal, but I tried."
Leadership style?
"I like to know people. And I like to be able to engage with people and listen to them, if there's ways I can be helpful. When I've been in interviews in my career, they'd say things like, 'What's your vision for here?' My vision was always, 'I need to get there.' I want to get there and see what I learn about that institution. I have certain core beliefs — got to keep the focus on the students, their success, how you make sure that institution is maintained and growing and healthy. [And] as you're there and start seeing the issues, I start organizing those in a way, and then I start communicating what I'm seeing and what I think we need to be doing."
"My style is trying to make sure I have a good relationship — trying to make sure I listen well, and then trying to make sure we grow into a set of goals we need to focus on, in this instance for the time I'm going to be with you."
Do you still have a passion for English?
"I read all the time. Novels . . . I'm into authors now. And then I read the New York Times sometimes. Just because when you get good writers and they're really thinking, man, you learn things — you never would've thought of that perspective before."
Oxford comma or no Oxford comma?
"I don't know what that is . . . I use it before the and."
"I've seen [The Sunflower] but I haven't gotten into it all yet, but you all have a nice setting where you're in a university, you have staff, and so forth. I've seen these other newspapers where they've just dropped their staff so much. I'm not even talking about universities, I'm talking about these major newspapers."
Other things for fun?
"I try to exercise a lot. I try to do my Fitbit. 10,000 steps, try to do all of that. This morning, I got 6,000."
"I've got to have wandering around time. I just do. And that to me is what I'll want to do. So I'll get plenty of steps in on this side of the campus."
Thoughts on Innovation Campus public-private partnerships? Benefits/drawbacks?
"I don't know as much as I probably should know. We've had instances across the state. So this would not be the only one that in order to try to not have a debt, they try to have a business partnership to help with that under certain agreements. I think generally it's got to help the students, hire them or give them internships or do certain things, so I think you're going to see this, especially in those states that have no support for buildings where they're trying to find a way they can make sure they have options available for students."
"I would admit to this, when Dr. Bardo started this, it's so different, I'm out here, I'm a skeptic a little bit. But as this has unfolded . . . one of the things I would tell you I really like is this: trying to find a way to get more students on campus. I like that. Your retention goes up. It feels like a campus. It feels like a university and a campus and so forth."
"What Innovation Campus has done is find a way to do this and have some partnerships and have some options for students, and one of their strategic goals is applied learning. But I think it's like anything else — you have to constantly look at it. You're probably learning as you're going. What are those things you have to make sure you don't do again? So far, what I can tell you, when you walk down there, it's pretty energetic. The campus feels like there's a lot of energy in it."
"You have not only students coming, but you have the chance they may want to live in the state or region or something. I like that. I wasn't here for all the thinking that went into all the things they're doing right now, but I know this: it seems to me it's a pretty innovative thing, and they probably had some challenges getting people to see the view on it — would that be a fair assessment?"
Why were you a skeptic?
"Well, because it's just different than what we were doing. We're used to this set way where you decide you're going to go in debt or you have the donors who are going to give you the money for it, and this is the way you're going to do it."
"I'm guessing you've had other universities wanting to know: how are you doing this? And I think the thing always on this to keep the focus on is: we're doing this, how does this advantage our students, how does it advantage our community, how does it advantage our university? You keep those right in front of you.
Leave a Comment
About the Writers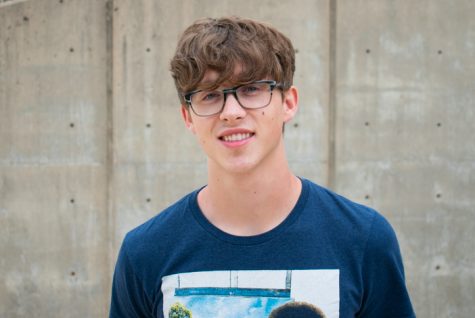 Matthew Kelly, Former Editor in Chief
Matthew Kelly is a former editor-in-chief and managing editor for The Sunflower. Kelly graduated in 2020 with a bachelor's degree in political science...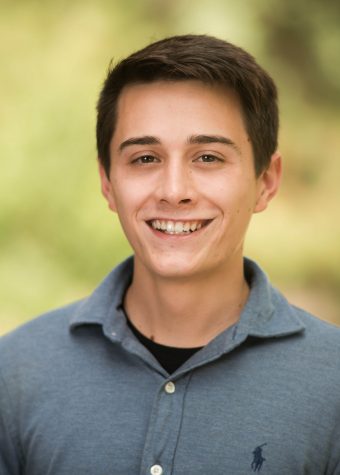 Andrew Linnabary, Former digital managing editor
Andrew Linnabary was the 2018-2019 Digital Managing Editor of The Sunflower. He studied journalism and minored in English. Linnabary is from Wichita, Kansas.