WSU celebrates 50 years since Ginsberg's visit to Wichita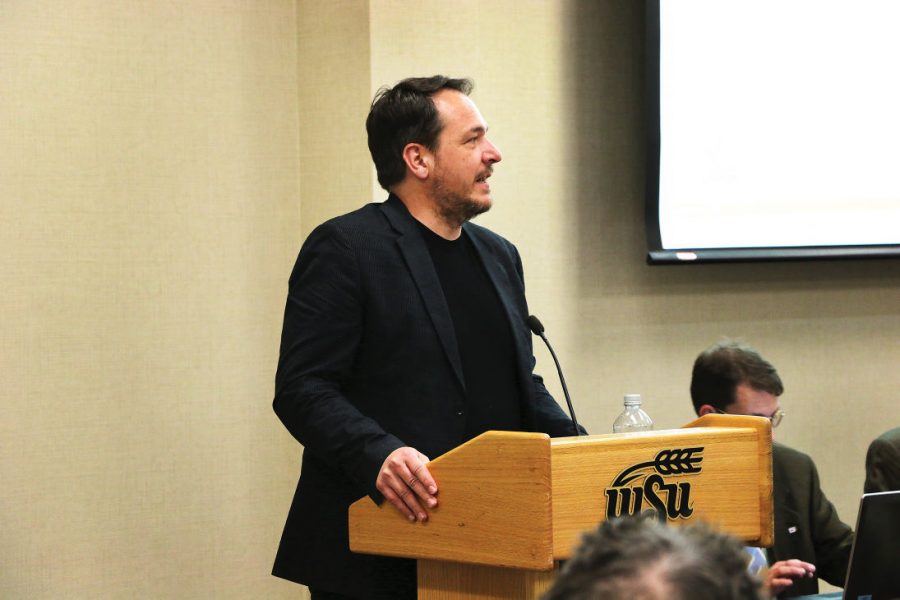 The news threw Wichita State into a swirl.
Students and professors had been whispering about it over coffee in the student union for days. Most students, like Eddie Tejeda, a sophomore studying psychology at the time, had no idea who poet Allen Ginsberg was in 1966.
"I knew it was something hip — something the hip professors and students were talking about," Tejeda said. "And then I saw it in the newspaper and I knew it was actually happening."
Sunday marked the 50-year anniversary of Ginsberg's first reading of his anti-war poem "Wichita Vortex Sutra" at Wichita State.
Historians and witnesses of the reading held a panel discussion in front of a packed crowd Sunday in the Beggs Ballroom in the Rhatigan Student Center about the history and importance of Ginsberg's visit to Wichita and the first reading of his anti-Vietnam War poem.
Extra chairs were brought in, and some still had to sit on the floor or stand against the wall at the back of the room.
Panel members included Roger Irwin, a retired philosophy professor who was instrumental in getting Ginsberg on campus in 1966; Jay Price, Wichita State history professor; Dan Rouser, a former reporter for the Wichita Eagle who followed Ginsberg's visit to Wichita; and James Johnson, an independent curator.
KMUW commentator Jedd Beaudoin performed a reading of the poem.
Defining the significance of Ginsberg's writing proved problematic.
"We can all get up here and tell you something about the reading that was important to us, from our own intellectual angles," Irwin said. "But it's like the story about the blind men and the elephant — everyone touches the elephant in a different way and everyone comes to a different conclusion."
Irwin said Ginsberg's visit strengthened his Buddhism.
Price compared Ginsberg to Carry Nation, an outsider who has been absorbed into Wichita mythology.
Rouser questioned how much Wichita has changed in 50 years.
Johnson covered the timeline of events of Ginsberg's journey to Wichita.
A clear thread in each account was how Ginsberg, a key figure in the "Beat Movement" of the 1950s, was in many ways fascinated by Wichita.
Ginsberg used money from a Guggenheim Fellowship to buy a Volkswagen bus and travel across America. During his travels, he used a tape recorder he bought with money he borrowed from Bob Dylan to record the poem that would become "Wichita Vortex Sutra."
Known as "The Vortex" to San Francisco Beats, Wichita had a reputation as a place that produced extraordinary creative talent, but then stifled it with its conservatism and identity as a key producer of wartime aircraft.
"The only way to end the brain drain of artists and other free thinkers is to make an end of present politics, invite the wild ones back and give them lots of money and set them loose on the town," Ginsberg told The Sunflower on Feb. 23, 1966.
Fifty years later, Ginsberg's solution to Wichita's problems got a good laugh out of the audience.
About 10 people who attended the first reading 50 years ago were present for the panel discussion and reading Sunday.
"To understand what this all meant," Tejeda said, "you have to understand what it was like around here back then.
"Wichita, as the biggest city in Kansas, had what all bigger cities had. It had hip people. It had psychedelics. But on the flipside of that, we had this older generation telling us how we were supposed to do everything," he said.
Tejeda, who went on to get a master's degree in clinical psychology from Wichita State, said in the '60s, Wichita made people "almost bipolar" in their behavior.
"During the day, people would dress in their dress shirts and ties and go to their jobs or school or whatever, but Wichita was just big enough that they could disappear and be who they really wanted to be at night," Tejeda said.
Tejeda wore a McConnell Air Force Base T-Shirt with a peace sign pin to the panel discussion. During the question-and-answer session at the end of the panel discussion, he asked audience members to raise their hands if they were from Wichita.
Around two-thirds of the audience raised their hands.
"Then you understand," Tejeda said. "Wichita really is a vortex of people being pulled in so many opposite directions. This poem was really a homerun with people here."
About the Writer
Chance Swaim, Former Editor in Chief
Chance Swaim was the Editor in Chief of The Sunflower from fall 2017 to spring 2018.

Swaim was a graduate student in the English Department working...