Student housing questioned in survey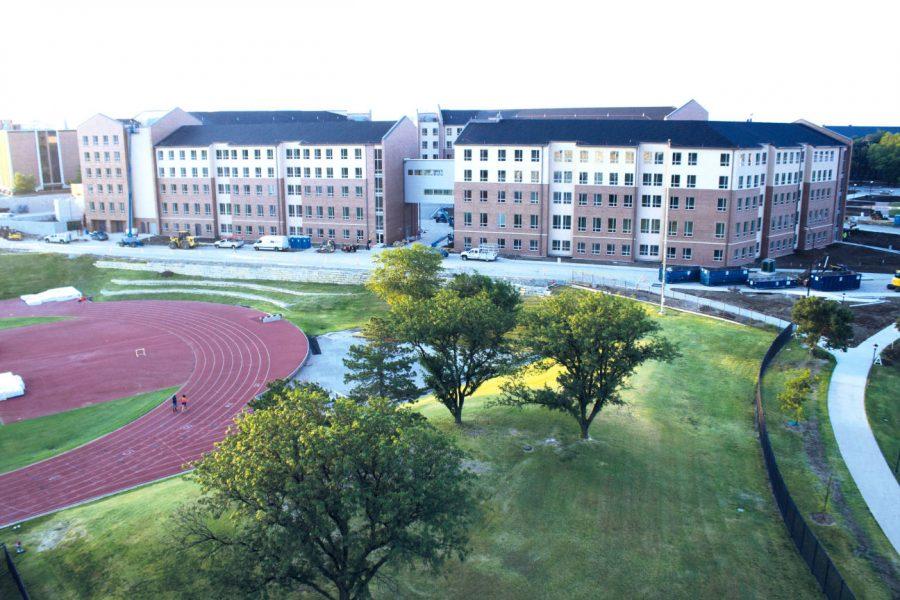 Study recommends new housing on Innovation Campus, phasing out Fairmount Towers
A study of the Wichita State housing market recommends phasing out Fairmount Towers and constructing a new, 400-bed residence hall on Innovation Campus.
More than 1,500 students were surveyed last summer by the firm Brailsford & Dunlavey to determine "the additional student demand for housing units on the Innovation Campus in the context of WSU's strategic goals," the study stated.
The 94-page study included an analysis of off-campus housing options near the university, demand analysis based on the student survey, and financial modeling.   
Based on the student survey, 81 percent of students were satisfied with their current living arrangements and 5 percent of students were dissatisfied with their living arrangements. Fourteen percent of students surveyed were neutral.
The study concluded the private rental market in Wichita provides low cost, amenity-rich options for students in a variety of unit types, but the older rental stock adjacent to campus is generally of below-average quality and not student-focused.
According to the study, total cost of rent and utilities was the biggest factor for students' housing decisions. The study concluded that off-campus students spend an average of $533 a month on rent and utilities. Sixty-six percent of respondents were in 12-month lease agreements.
Students would pay $746 to $1,039 a month for the academic year at the new residence hall, depending on the unit, the study stated.
That doesn't include the cost of a meal plan.
Lou Heldman, vice president of Strategic Communications at WSU, said the university has not  yet decided on a cost for residents.
"We look to keep the price as low as possible while providing a great place for students to live on campus," he said.
Heldman said the new residence hall will be paid for by residents and would not cost students who don't live in university housing to pay for its construction and maintenance.
Other important factors for students were the in-unit amenities, the ability to have a pet and privacy.
"We anticipate housing built on Innovation Campus will be apartment-style, with access to kitchens," Heldman said. "If that's the case, there won't be a required meal plan."
Pets have not been considered by the university, he said.
Heldman said the new apartments will be geared toward all students who have completed at least one year at WSU or transferred after one year completed at a different university.
A majority of students used the comment section of the survey to bemoan the parking situation on campus.
"For the love of whatever you find holy," one student said, "build an on campus parking garage open for everyone before you build anything else."
Preliminary plans for Innovation Campus show the new residence hall near the new parking garage on the east side of campus.  
Brailsford & Dunlavey outlined two financing options for the residence hall — a public-private partnership and a university-funded option. A public-private partnership, in which a nonprofit foundation owns the property and leases the site to WSU, would cost $4 million more than a university-funded option.
A public-private partnership would generate $983,000 for the university its first year, and $1.26 million by its tenth year. A university financed option would generate only $12,000 its first year and $827,000 by its tenth year.
Although the university's revenue would increase under a public-private partnership, rent would be 16% higher for students under a public-private partnership than a university funded residence hall, according to the study.
"The housing study from an experienced and respected firm estimates market demand for a minimum of 400 beds," Heldman said. "We will see how enrollment goes fall semester (2017), see what else is going on in the local housing market and reassess our options at that time."
Fairmount Towers
Brailsford & Dunlavey recommended phasing out Fairmount Towers due to operational inefficiencies, limited student demand, its isolated location outside the core of campus and concerns about the facility's condition.
The study did not address specific concerns about the facility's condition, and Brailsford & Dunlavey didn't respond to the Sunflower's request for further information about the study.
According to a 2014 Kansas Board of Regents report considered by the study, Fairmount Towers has approximately $4.7 million worth of deferred maintenance and facility renewal needs.
"This level of capital investment into a 50-year-old facility that is not desired by students and isolated from the core of campus is difficult to justify," the study concluded.
Seventy-six percent of Fairmount Towers residents surveyed were at least somewhat satisfied with living at Fairmount Towers. Of those students, only 33 percent were highly satisfied, the lowest of all housing arrangements.
Heldman said the university is still deciding on how to phase out Fairmount Towers.
"Dr. Bardo has challenged all of us to envision WSU as a university where innovation, creativity, entrepreneurship and technology are making the future," Heldman said. "This is another opportunity for students to live that vision."
About the Writer
Chance Swaim, Former Editor in Chief
Chance Swaim was the Editor in Chief of The Sunflower from fall 2017 to spring 2018.

Swaim was a graduate student in the English Department working...