Student Senate rejects Miller's treasurer appointment
Among a slew of cabinet and senate appointments presented at the first meeting of the 62nd session of SGA, the Student Senate rejected one.
Dylan Jensen, one of nine appointments recommended May 1 by Student Body President Kitrina Miller, was not sworn into the SGA treasurer position after a 10-9 vote.
Though Jensen received a simple majority of senators present, appointment as SGA treasurer requires a two-thirds majority of the entire senate.
"I believe that I have an appropriate amount of applicable experience," Jensen said during the meeting. "…(I)t's a position I could really thrive in. I feel like I'm understanding of individuals' needs, and I always enjoy working with numbers."
Miller said she appointed Jensen as treasurer because of his experience in "similar positions," like finance director of Barton International Group.
Some senators at the meeting said they would not support the appointment due to Jensen's lack of experience in SGA.
"(K)nowing that this is the first time for our nominee to join SGA, and going for the cabinet position, I don't feel comfortable seeing that," LAS Sen. Rija Khan said.
As a member of the budget and finance committee last session, Khan said the treasurer plays an important role on the committee by clarifying and explaining SGA finance to senators.
Other senators said Jensen's experience in financial positions with other organizations qualified him to be treasurer, and his lack of experience with SGA could be made up with training.
"I don't see any issue with his newness to the organization, as there are countless other people who have been in here before, [and] taken executive offices, that have had no prior experience at all with SGA," Honors Sen. Lucas Webb said.
Jensen's lack of experience with SGA was not a concern when Miller appointed him, she said, because he would have been able to train with 61st Session Treasurer Stella Yang until the middle of June.
"When I got the student advocate position last year, I had never been a part of SGA," Miller said. "I don't ever think it's a bad thing to have no SGA experience because it could bring in a new perspective that never identified."
With the senate rejecting Jensen, the 61st session now lacks appointments to student advocate, chief of operations, and treasurer positions.
Miller said applications for these positions are open, and if she selects anyone, they will serve in an interim capacity until the senate can vote on their appointment in the fall.
Leave a Comment
About the Contributor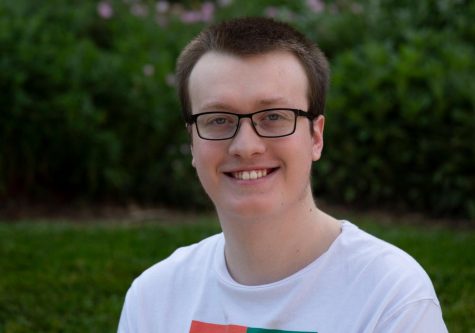 Daniel Caudill, Former Editor in Chief
Daniel Caudill is the former editor in chief for The Sunflower. A staffer at the paper since 2017, Caudill first covered Student Government Association...