Anton Grady recovering from spinal concussion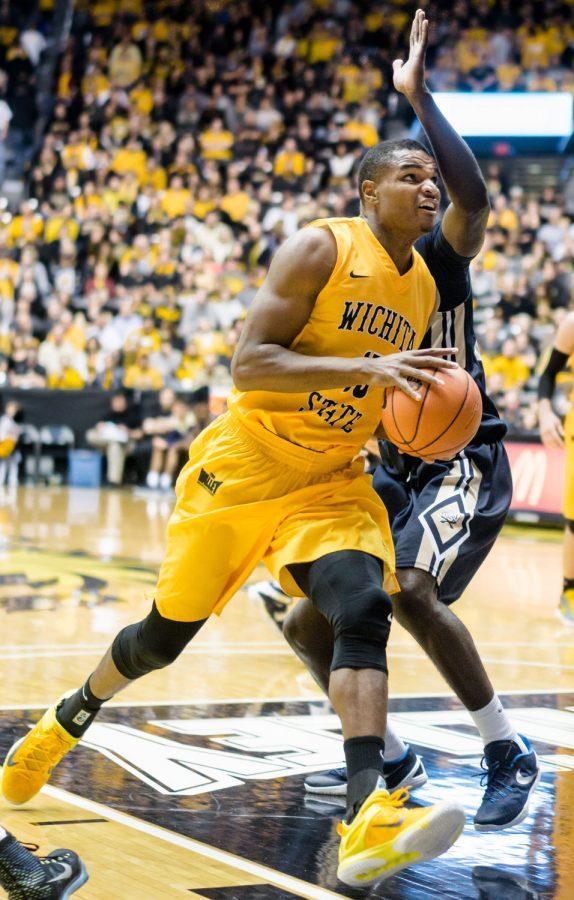 For the first time in 42 weeks, Wichita State's men's basketball team stands ranked outside the AP Top 25 poll.
Coach Gregg Marshall's team previously held the third longest active record of time amidst the rankings, broken after Sunday's loss to Iowa. The Shockers suffered the first 0-3 record in a regular season tournament during the Marshall era in the AdvoCare Invitational with losses to Southern California, Alabama and Iowa.
"I knew coming in [here] we were going to have the shortest sword," Marshall said. "It turned out to be a pocket knife."
Sunday's win for coach Fran McCaffery's Hawkeyes marked the first Iowa victory over WSU since 1979.
Wichita State is now left with a 2-4 record and a 1-4 record against Division I opponents this season. Marshall said this is the first sense of adversity much of the team has faced.
In fact, it is more adversity than any ranked team had previously faced. WSU became the first team ranked in the AP poll to record four losses in November. The woes continue as the Shockers haven't faced a three-game losing streak in three seasons. In addition they haven't held a record under .500 since 2008-09.
Yet with all the adversity the team is facing, it's not enough for Marshall to throw in the white flag.
"The calvary will be here," Marshall said.
Senior All-American point guard Fred VanVleet is expected to return to play in Saturday's game at St. Louis, although Marshall is yet to confirm whether VanVleet will suit up.  
"I can't predict when [Fred] is going to be healthy," he said. "I want to make sure it's the right time. I don't want him to be nagging with this injury all year long."
The Shockers have recorded just a single win with VanVleet sidelined. VanVleet has battled hamstring injuries off-and-on since the start of the season.
"I hope we're done with additional injuries," Marshall said. "It seems like we've been going backwards for a while."
Freshman Landry Shamet, who suffered a stress fracture in his foot in the win over Emporia State had surgery last Wednesday and is anticipated to return in 10-12 weeks.
Senior forward Anton Grady, who fell to the floor in Orlando, suffered a spinal concussion and returned with the team to Wichita this week.
"I don't know if he'll play again, or if so, when," Marshall said on Tuesday. "I'll leave it up to the doctor's decisions and ultimately him."
Grady has been the second-leading scorer for the Shockers this season in addition to leading the team in rebounds.
In the wake of no bench depth, Marshall was challenged to play Sophomore Rauno Nurger against Iowa. Nurger had announced at the start of the season his interest in redshirting this season as he continued to develop his skills. Marshall called out for Nurger to come off the bench and play after senior Bush Wamukota picked up two quick fouls against the Hawkeyes.
"It wasn't a hard decision," Marshall said. "We only have X amount of guys who can play the five. Tom 'Bush' Wamukota gets two silly fouls within the first two or three minutes of the game. Shaq Morris can't go 37 straight minutes."
Nurger recorded one rebound and a turnover on a bit of a blank stat sheet. He played nine minutes.
"Rauno didn't look great today, but he will help us win somewhere down the line," Marshall said.
Cameras spotlighted WSU's bench as the lead continued to grow for Iowa, they focused on the attention of sophomore guard Conner Frankamp and Fred Vanvleet. The wait eagerly grows closer.  
Wichita State heads to St. Louis on Saturday with sights set on VanVleet returning to the floor, and it can't come a minute too soon.
Without the assistance of VanVleet, the Shockers are shooting a combined shooting percentage of 34 percent from the field in the last three games. Freshman Ty Taylor II highlights the shooting woes for WSU; he's recorded a combined shooting percentage of 21 percent on his 33 shot attempts in the last three games.
"[The young guys] want to do so well and I don't question anyone's desire, but right now we're probably asking some of them to do more than they're capable of," Marshall said.
Conner Frankamp will soon be eligible after serving a two-semester redshirt after transferring from the University of Kansas as soon as his final semester grades have been posted. Frankamp could potentially suit up for action Dec. 9 against the University of Nevada-Las Vegas. Frankamp will be eligible to start competing no later than Dec. 12 when the Shockers take on Utah.
With six games behind them, Marshall continues preaching to his team that it's a long season and there's still a long way to go. They'll need every day of it to get back on track.
"The last time we faced anything close to this was 2013," Marshall said. "I think things turned out OK then."
The team reached the Final Four of the NCAA Tournament that season.
"They say it's easy to blame injuries [as the cause for losing]," said freshman Markis McDuffie. "We're not going to sit here and say the [reason for the losses] was because of injuries. We'll keep fighting and get better."
Wichita State next returns to action on the road in St. Louis. WSU eyes its first road victory of the season. The Shockers are 0-4 away from Charles Koch Arena.
The Billikens are 4-2 this season with their only losses coming from Louisville and Morehead State
The game starts at 8 p.m Saturday and will be broadcast on ESPNU.
About the Writer
Evan Pflugradt, Sports Editor
Evan Pflugradt is the former Sports Editor of The Sunflower.

Pflugradt past served as the publication's Editor in Chief, Opinion Editor and a reporter....