TBT: Frankamp, Early credit record crowd to Aftershocks second half comeback
WICHITA– In the past, Charles Koch Arena was quiet in the summers. Off-season workouts would be going on, but the seats would be eerily empty. This summer, that would change.
On January 29, the city of Wichita was announced as a regional host for The Basketball Tournament's sixth-annual edition of the tournament. The announcement also introduced the Aftershocks, an alumni team for former Shockers.
The months of May, June and early July were quiet yet again, as TBT waited to start play in Kansas. The Aftershocks were finally able to kick off its dream for $2 million on Thursday when the team played Iowa United, a team made up of Iowa, Iowa State and Drake alumni in a first round match-up. The Aftershocks would win 85-76.
However, the win wasn't the only special part of the night.
The crowd present for the nightcap game set the TBT record for attendance at 7,184, more than doubling the previous record. Koch Arena's record crowd ended up playing a huge role in the WSU alumni's first game, according to players Conner Frankamp and Cleanthony Early.
With an attendance of 7,184 in Wichita, this is the largest crowd in #TBT history. We see you @GoShockersMBB fans.

Thank you.#TBT2019 | #TBTFAN pic.twitter.com/HC9OzhHGXz

— TBT (@thetournament) July 26, 2019
"It was meaningful," Frankamp said about the record crowd. "Just seeing those guys out there, crowd wise, helped."
Frankamp did feed off of the crowd Thursday night. The former Shocker sharpshooter finished with 23 points on the night, 14 in the second half, and knocked down five three pointers. Four of his five would come in the second half alone. After Frankamp knocked down his final three-ball of the night, he could be seen screaming joyously.
"It felt like a championship game in the Missouri Valley or AAC," Frankamp said. "I was able to knock open shots down and my teammates did a great job finding me when I was open."
It was pretty easy to feed off of that crowd."
Frankamp, who received the pass from Early on that shot, was "just excited," after knocking down that final blow. He also went on to say that he "cherished this process" and was "excited to be out there with the guys."
For Early, the large crowd brought back memories from his playing days at Wichita State from 2012-2014.
"It just felt great to be back in the arena, in front of all of those people screaming and going crazy for us," Early said. "It felt like I was back in my old days."
Early also had his own statement about the crowd's second half push.
"We had spots where we got down, but the crowd helped bring us right back into it," Early said. "They really gave us the boost we needed, and once we got the lead late, they helped us not give it up."
"They played a huge part in this win, we couldn't of done it without the support."
Early, a member of the 2013 All-Final Four team, finished the game with 17 points. Overall, the Aftershocks erased a double-digit deficit in the game, after losing by at least 10-points on more than one occasion throughout the contest.
Up next, the Aftershocks will play Sideline Cancer, who defeated Self Made on Thursday, on Saturday back inside Koch Arena. Tip-off is set for 3:00 p.m. CT and will broadcast on ESPN.
Leave a Comment
About the Writer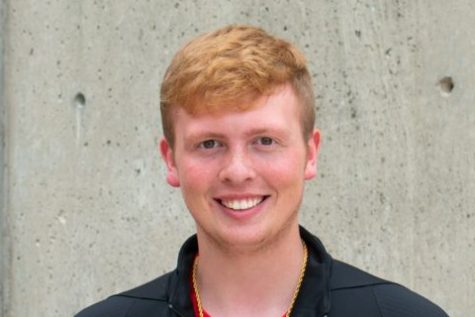 Marshall Sunner, Sports Editor
Marshall Sunner is the Sports Editor for The Sunflower. Sunner is a sophomore majoring in communications with a journalism emphasis. He was born and raised...