Technology thefts on campus causing concern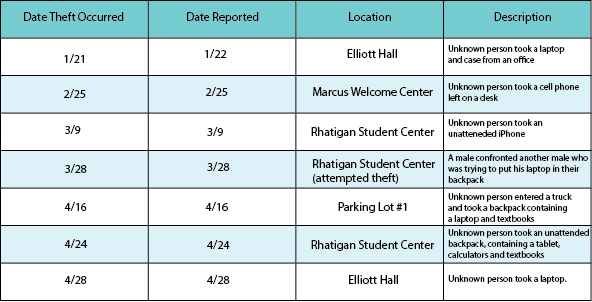 Mandy Riedel, a senior studying communication, left her MacBook Pro unattended in an audio lab in Elliott Hall for two minutes last week.
That short time was enough for someone to enter the lab and take Riedel's laptop and charger and escape the building.
She had been working in the audio lab for about 45 minutes on Tuesday. She said she felt comfortable leaving her computer unattended.
"I had been there every day," Riedel said. "I've come down and had a cup of coffee with Bill [Molash] and left my stuff in there."
Riedel ran downstairs to alert Molash, the Elliott School of Communication's senior administrative assistant.
"At first, I thought somebody was pulling a joke," she said.
Molash told Riedel he had not seen anything, and that's when Riedel said she started to panic.
She contacted University Police, who arrived shortly. At 1:25 p.m., Riedel said she used the "Find my Device" application, and her computer pinged at Towne East Square.
Riedel ran to assistant professor Amy DeVault's office, with mascara running down her face, trying to find a phone number to call the mall. She said DeVault asked if the officers could do anything, but did not get an answer.
Riedel said she did not get much of a response from mall security.
"I feel like there would have been more of a response if the UPD said, 'Hello, this is the Wichita State University Police Department, we know there is stolen property in your mall, we need you to assist us.' I feel like that would have gotten a lot further than me reporting it to mall security," she said.
Solving thefts
Since January, there have been 23 reported cases of thefts on campus, according to the University Police Department's daily crime log. Of those, seven cases involve stolen electronics.
Guy Schroeder, a support captain with UPD, said they handle cases of theft like any other police department. UPD has an investigative section, and a detective would investigate the report, Schroeder said.
He said if UPD has information that stolen items are off campus, the police department could recover the items.
The police department has to have a warrant for the stolen property issued by the Wichita District Attorney's office in order for recovery to take place. Schroeder said if needed, UPD will enlist the help of the Wichita Police Department.
"Our goal is to do everything we can to get it recovered," he said. "If we have information that can take us there, and if we have to use (the WPD) to help us in the process, we will use them."
In addition, Schroeder said UPD may use surveillance cameras to help track down stolen items. He referred to a case in the fall, when a man was reportedly touching women's feet in Ablah Library. He said UPD identified the suspect by using surveillance cameras.
However, Schroeder said not every lot or area on campus has those.
"If you ask me if we've got Big Brother all over campus, I'm gonna tell you 'no'," he said. "There are some places that do not have camera areas."
Another stolen laptop
ESC instructor Eric Wilson said his MacBook Air, given to him by the ESC, was stolen from his office in January. Wilson said his laptop was in his backpack in his office, which he left vacant for a few minutes. He said he did not notice his laptop was missing until early the next morning.
Wilson filed a report with UPD, but did not hear anything back after he reported it missing.
"I didn't expect to unless they had found something," he said. "I felt like they did all they could."
He said he is disappointed that professors in the ESC now feel obliged to close and lock their office doors even when they leave for a short time.
"I think it's a shame we have to lock our offices to run around the corner to use the restroom," he said. "Obviously, there's a problem, because somebody is going after stuff.
Wilson said he might get the laptop of a professor who is leaving to earn their doctorate. However, he said he is not worried too much about his stolen laptop.
"It's been difficult adjusting, but at the end of the day, it's just stuff," Wilson said. "Nobody was hurt, there's nothing that can't be replaced, maybe some pictures, but there's nothing that's life-threatening."