Gordon utilizes positive energy and faith as he wraps up Shocker career
If you're watching a Wichita State track meet, you'll probably hear the voice of Dae'Trell Gordon reverberating throughout Cessna Stadium. That isn't a shock to any of Gordon's coaches and teammates, as the senior is as positive as they come. Gordon is usually cheering on his teammates and being a consistent source of positive energy. 
But for Gordon, his life hasn't always been this positive. 
"It's just something I always do. Like, it's just me," Gordon said. "I just know I took a lot of L's in life but you still deserve to hear your name being blasted out. Somebody's showing you love, I've just been doing it on my own most of my life. So it's like doing for everybody else and hopefully that energy will revert back to me."
Gordon is about to graduate in a couple of weeks with a degree in sport management and said he feels blessed to be where he is in life. For someone that was deemed an "academic risk" coming out of junior college that might seem like a steep obstacle, but for Gordon it doesn't come as a surprise. It's expected. 
Gordon grew up 25 minutes outside of Baltimore, where graduating college isn't the norm. Out of all Gordon's friends, he said he's the only one who's graduating college. 
"None of my other homeboys, not one of them is in school and none of them are still doing sports like I am," Gordon said. "So to be able to be out here that's a blessing every day itself. I can't lie, it's more of a victory being able to wake up every day and hear my own voice."
When Gordon first arrived on WSU's campus in 2020, he struggled mentally despite being that same positive person he is today. Gordon was described as very emotional which started to affect his performance on the track. 
That all changed when Gordon took a trip up to see his foster family and meet some people at a local ministry. After having some conversations with people at the ministry, Gordon decided to get baptized and hasn't looked back since. 
Gordon has faced challenges since converting to his new faith, but it has allowed him to mature and grow stronger over time.
"I know if I try to gravitate more to what I want, instead of what I need, it's not going  to go good for me, or the people around me," Gordon said. "So for the most part, I keep my walk with Him and keep my trust in Him. Whatever He got for me, I'm gonna follow through with it. So keeping on that path is not easy, but if it was, everybody would be doing it."
Many around the WSU track and field program have noticed Gordon's new positive outlook over the past few years. Director of Track and Field Steve Rainbolt said that Gordon's faith has helped him channel that positive energy in a way that is beneficial to Gordon and his teammates. 
"He's an outgoing, fun loving guy and he's an emotional guy. Some of that was not all the best when he first came, he wore his emotions on his sleeve," Rainbolt said. "And over time, he's grown up so much, and he has matured a lot and he still is emotional. He still is encouraging to his teammates and all that. But it's just been much more positive.
Gordon's new outlook on life has helped him to rebound after bad performances. If something goes wrong and Gordon wants to be negative, he'll take 15 minutes to be by himself to get back in a more positive headspace. 
Gordon competes in the shot-put, which can be a tough competition to maintain a positive mindset in. WSU throwing coach John Hetzendorf said that throwing events in track and field rely a great deal on constant motivation, which was a struggle for Gordon at some points. 
"What we do is hard. It's just hard, you know, there's no way to go about it even when it's going good, it's hard," Hetzendorf said. "As a thrower, you're chasing perfect throws, every time you take a throw, the purpose is to throw it farther than you ever have. And to be honest, it just doesn't happen very much."
His new approach has allowed him to have his best season in a Shocker uniform. Entering the final stages of his Shocker career,  Gordon ranks top-10 in the conference for shot-put (5th, 16.49m) and discus (7th, 50.16m). Both marks are also career-highs.
"The way he's kind of come at life, and not just come at life, but he's applied that positivity to throwing," Hetzendorf said. "I can see him throwing farther than he has this year, he's already thrown PRs and I'm excited to see what we can do. It's allowed him to overcome a lot of the day-to-day struggle, that's just part of our sport."
Despite having another year of eligibility remaining, Gordon is expected to take a coaching job at Southwestern College's track and field program. 
But before he puts on his Shocker uniform for the last time, Gordon is focused on ending his collegiate career on a strong note, with the American Athletic Conference Championships looming next weekend.
"That definitely is tough but it's not over yet," Gordon said. "Basically, I have this week and next week, pretty much guaranteed. So as far as what comes after that, it's all going to decide how I push through this week and next."
Leave a Comment
About the Contributor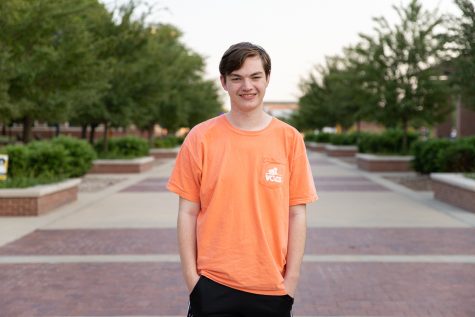 Sean Marty, Former sports editor
Sean Marty was the sports editor for The Sunflower. Marty, a senior from St. Louis, majored in communications with a journalism emphasis and minored in...