Mikrokosmos releases its "return" issue
Mikrokosmos, the official literary journal on campus, kicked off the publication of its 68th issue with a reception and reading last night.
The journal publishes a collection of student and alumni poems, proses and other writings in an annual issue. Editor in Chief Luke Ulatowski said that in the past editors have coined the idea that Mikrokosmos is a revolt in the literary community.
"I think that means different things to different people," Ulatowski said. "For this issue, I wanted to highlight the quality of honesty in a dishonest world through Mikrokosmos."
After belated publishing of the 2021 issue of Mikrokosmos and general difficulties in light of COVID-19, Ulatowski said that the 2022 issue was the "return" issue.
"I think we hit the theme of this one pretty well, and I think it works," incoming Editor in Chief Andrea De La Rosa said.
Recent graduate Rob Yates has two featured works in the issue: a longer piece of fiction and a poem.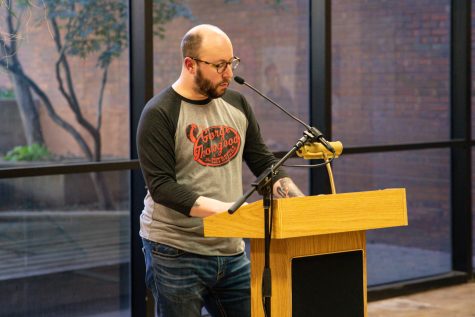 "I worked on it for a while about a year ago, during the heart of the COVID," Yates said. "Then, I just turned it in and gave it a shot. I'm pretty happy with how things turned out."
Those interested in Mikrokosmos and the most recent issue can reach out to [email protected]
"I think it's a great printing, and the more that the community can get involved the greater," Yates said. "They're always asking for more submissions. There are lots of great writers in the community. So, check it out and give it a shot."
View Comments (1)
About the Contributor
Mia Hennen, Reporter, photographer
Mia Hennen is a reporter and photographer for The Sunflower. Hennen is a freshman at Wichita State majoring in English and minoring in communications,...