High jumpers bring Beloit, Kansas connection to WSU
Beloit, Kansas only has a population of 3,000 citizens, which makes the connection between WSU high jumpers Brady Palen and Davis Dubbert even more special.
Both Palen and Dubbert ended up at WSU following four years at St. John's High School in northern Kansas. The pair's paths crossed for one season in 2017 with Dubbert, a senior at the time, and Palen, a freshman, placing in first and second place at the KSHSAA State Championships.
"It's been fun for me because I find that sort of thing to be a really wonderful part of college athletics," Director of Track and Field Steve Rainbolt said. "For two guys to be teammates like that in high school and to be first and second in state track at the same tiny little high school, then to go to college at the same NCAA Division-I school and to be first and second last year at the conference championship—I just think it's a wonderful story, and I love it."
Now, the pair have clinched back-to-back all-conference finishes in the high jump after last weekend's AAC Conference Championship. Palen placed second and Dubbert finished third, behind South Florida's All-American Romaine Beckford.
Palen and Dubbert also secured top-three finishes in the high jump at the conference meet last season. The pair followed that up with top-45 finishes at the NCAA Qualifiers one week later.
"It's definitely cool," Dubbert said. "It's been a lot of fun having him here, coming from the same background. Our parents come to all the meets together, so it's just something pretty cool that you won't see a lot in college track."
Dubbert's five-year WSU career is coming to a close, during which he's recorded five all-conference finishes. ​​Last year, he took home an individual conference title in the high jump, clearing 2.14m/7-0.25, the seventh-best mark in WSU history.
Dubbert has a job lined up at Koch Industries once his track career is over but is hopeful that his experience has helped some of the younger athletes, including Palen.
"I've always looked up to Davis as a mentor and he helped me transition to college athletics," Palen said. "I appreciate him for that, but I'm going to miss him next year because we train every year."
Palen is in his second season at WSU, but still has three more seasons of eligibility remaining. He's recorded five top-three finishes in the high jump this outdoor season, including a first-place individual title at the KT Woodman Classic in early April.
"I'll be the first to admit that Brady's more talented than I am. He's got a much higher ceiling, so I want to see him do as good as he can," Dubbert said. "I feel that I've been able to lead him along the way as we've been going these past couple years. He's obviously improved a ton since he's got here."
Palen and Dubbert will compete in the NCAA West Preliminaries on Friday at 2:30 p.m. in Fayetteville, Arkansas. They will need to place in the top-12 in order to advance to the NCAA Championships from June 8-11 in Eugene, Oregon.
Dubbert will also participate in the javelin throw on Wednesday at 2 p.m.
Leave a Comment
About the Writer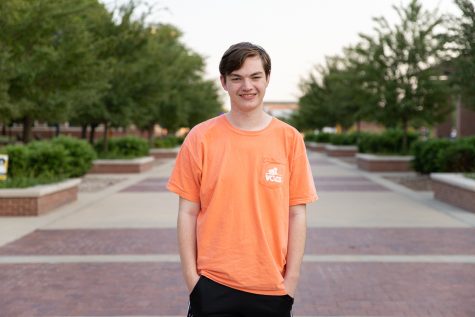 Sean Marty, Former sports editor
Sean Marty was the sports editor for The Sunflower. Marty, a senior from St. Louis, majored in communications with a journalism emphasis and minored in...