REVIEW: Halestorm rises with 'Back From the Dead'
Rock band Halestorm released their latest album, "Back From the Dead" on May 6. This release comes four years after their fourth album, "Vicious," and a decade after their infamous second album, "The Strange Case Of…" When listening to the album, I noticed that it has a consistent theme of empowerment that many can relate to.
Before the album's release, the band released their first single off the album, "Back From the Dead" in August 2021, which serves as the album's title track. When I first heard "Back From the Dead" I found it very empowering.
That was the band's intention with the song in the first place, but once you actually listen to it, you feel empowered. Even if you had never heard of Halestorm until now and you never knew that empowerment was their intention, you can feel it.
Once the album was released, the band released the second single off the album, "The Steeple." Both singles have topped Billboard's mainstream rock airplay chart.
"The Steeple" was another empowering song. Once I listened to both songs that were released, I had a feeling that the album was going to be about empowerment and overcoming obstacles in your life, which I thought was awesome.
The album is different from their previous works. It still has their hard rock style but has a different tone to it, and I'm living for it.
Just like every other Halestorm album, they do have one or two slow songs, and while I wouldn't work out with the slower songs, they are just as good as the other songs on the album.
Personally, my favorite song off the album is "Strange Girl." This song has been a favorite of mine after hearing them perform it at their concert on May 14 at the Wave.
As someone who never fit in throughout the majority of my life or around extended family members, the lyrics speak volumes to me.
"You can damn me straight to hell. You can crucify my name. You can throw me to the wolves. You can burn me in the flame and say 'She's such a strange girl.' Such a strange girl. The world needs strange girls, just like me."
This album is meant to empower everyone who has gone through some hard times or is currently going through a rough patch, and I think that this album has done a wonderful job of that.
While the rock music industry is a male-dominated industry, many women are rising up to challenge that. If you haven't heard anything from a band with a female lead, give it a shot, you may find that you like female leads too.
View Comments(1)
About the Contributor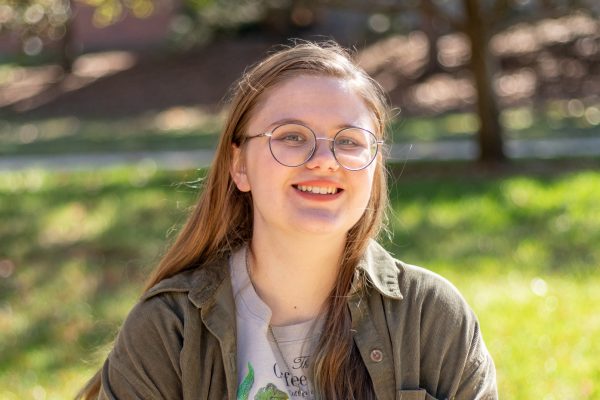 Jacinda Hall, Podcast Editor
Jacinda Hall is the podcast editor for The Sunflower. Hall is a junior majoring in communications with an emphasis in journalism and minoring in English...