Sydney McKinney hosts her first softball camp
After earning second-team All-American honors, Sydney McKinney used her skills to pass on information to younger generations of softball players.
On Wednesday and Thursday, McKinney hosted a hitting and fielding camp, presented by Armchair Strategies. About 60 girls from the Kansas and Oklahoma area attended to learn what it takes to be a two-time All-American.
This was the first of about three camps McKinney will host this summer. She started by putting the girls into groups within their age range. Each day, they spent two hours, rotating into different activities. The activities included batting from a tee, soft-pitch batting and balling with a real pitch. They also worked on properly catching and throwing the ball.
The camp was available for all age groups and numerous summer travel ball leagues attended, while parents and coaches were welcomed to stay and watch their daughters develop their skills.
"I think doing a camp for the kids here in Wichita is a great opportunity to give back to the game, and they support us," McKinney said. "So putting some support into them and really making sure Wichita can get better in the softball world."
McKinney has helped out with numerous events before. Wichita State softball does hold events and camps like this; however, this was the first camp McKinney hosted alone.
"There's just a lot of planning that went into it, especially with different numbers changing all the time, and it really makes you appreciate everything that everybody else has done for me growing up. I've gone to a lot of camps," McKinney said. "So just seeing everything that goes on behind the scenes really makes me appreciate everything that I get to come to every day."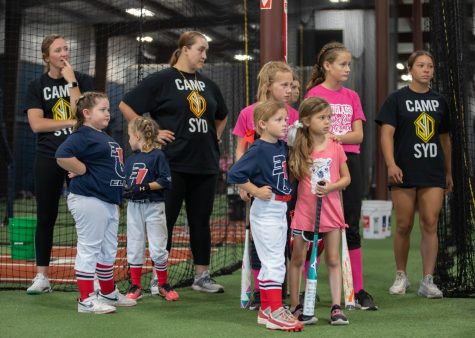 McKinney was not completely on her own for the camp. She was joined by numerous Shockers including Kenzie Schopfer, Wylie Glover, Lauren Lucas, Lauren Mills and Bailey Urban.
"I saw I had 40-60 kids coming to this camp, and I couldn't do that by myself," McKinney said. "I texted them, and they're always the first ones to help."
McKinney will host another softball camp next week in her home state, Missouri, and one more in her hometown at the end of July. The attendance will be about 30 individuals each.
"I'm going to know a lot more of the kids and their families, so seeing them after a long time is so nice," McKinney said.
Leave a Comment
About the Contributor
Rachel Rudisill, Photo Editor
Rachel Rudisill is the Photo Editor for The Sunflower. Rudisill is a junior at Wichita State majoring in journalism, pursuing a career in public relations...