New WSU Tech culinary school opens doors, program to aid visually impaired underway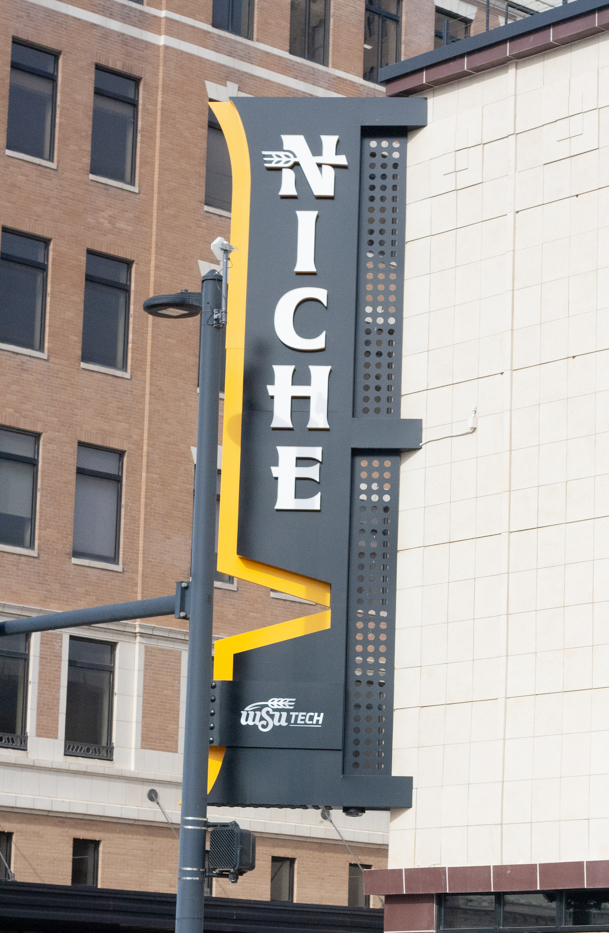 After a few years of temporary classes in the Boston Recreation Center, NICHE, the National Institute for Culinary & Hospitality Education and Envision, will be getting its own spot in Wichita's downtown area. The program designated for blind and visually impaired students does not have a set opening date, but they are hoping to open it by the fall of 2023. 
The new building is located in Henry's, a family-owned department store in the 1900s, that has been vacant since 1984. 
The building is a historical landmark and had to be restored to look like Henry's did years ago. This includes the marquee sign being the same size and in the same location. The first floor of the building was also designed to have the same ceiling and lighting as Henry's once did. 
On the second floor of the building, there will be five functioning kitchens along with classrooms. While the first floor will be filled with restaurants, including the Envision Bistro and Kitchen, which will be completely student-run. 
"There's probably four or five other opportunities for different restaurants to go into the food hall and those have not been identified yet," Sheree Utash, President of WSU Tech, said. 
The rooftop will be an event center that will be ready to open for events by this summer.
The building's mezzanine will hold the Cargill demonstration kitchen, where events will be hosted and visiting chefs will demonstrate. 
"We also believe between the food hall, and the event center this becomes somewhat of a food destination for people visiting, visiting the city and for people within our city," Utash said.
John Michael, Director of Culinary and Hospitality at NICHE, said in preparation for opening NICHE, they visited about 30 culinary schools around the U.S. 
"As we started conceptualizing the culinary school and what sort of direction we wanted to go into … it really came down to three main components which were sustainability, accessibility and innovation," Michael said. 
Michael said as this idea was coming together, that something felt like it was missing among their core components, so they added into their mission to celebrate and enhance the culinary landscape of Wichita. 
"Having a thriving food culture in the city can really just do so much for business, helping to attract and retain talents," Michael said. 
Envision's partnership with WSU Tech
With the new culinary school coming to Wichita, WSU Tech has also partnered with envision, a blind organization, to create the first blind and visually impaired culinary program in the nation.
Envision is one of the largest blind organizations in America, with hundreds of employees being blind or visually impaired. The idea to create a program for blind or visually impaired people came from the discovery that many blind people don't cook. 
Michael Monteferrante, President/CEO of Envision said, because of this barrier, many visually impaired people resort to fast food.
"If … they had the opportunity to go to an environment … where they could learn to cook and prepare food, then there's a higher probability that the nutrition in their daily lives would be improved," Monteferrante said.
Utash said that Monteferrante reached out to WSU Tech about starting the program for blind and visually impaired individuals to help teach his clients about nutrition, cooking and being able to have the capability within their homes.
"He came with the idea, and we just built upon that," Utash said. 
Monteferrante said that this program was started with a purpose, and when he took the idea to Utash and the WSU Tech team, they were engaged with it from day one.
"It's been fun to interact with them and feed off each other's passion for what we're doing," Monteferrante said. 
Currently, there are two individuals in the program; however, the official opening of the program hasn't started. The program is still in the early stages of operation and being built and assessed. Monteferrante said he thinks the grand opening will be coming soon. 
"There's more to this program than just cooking," Monteferrante said. "This is something that we've also had to experience together and help the scholarship individuals continue to scale through … and continue to improve themselves."
Hoby Wedler, a BVI (blind/visually impaired) consultant and CEO of Wedland Group, acts as an advocate for the program and helps to design the curriculum and physical spaces where students will be working.
Wedler also works to design and implement opportunities for students to have internships beyond the program.
"By giving students who are blind or visually impaired this opportunity, you're opening up doors to them in the vocational world," Wedler said. "You're showing potential employers that these individuals are certified culinary arts experts and are capable of working on their teams."
Michael said he could see this program and WSU Tech becoming a hub for empowering blind and visually impaired individuals.
Student Voice
Charlie Wilks is fully without vision and is attending the program while also providing feedback to help improve the program. 
"The reason that I'm interested in the culinary program is that its part of my life's mission to create more integrated settings for blind and visually impaired people to work with their sighted peers," Wilks said. 
Wilks first heard about the program while working at Envision in the Workforce Innovation center and had an opportunity to meet the chefs from WSU Tech and expressed his interest in the program. WSU Tech then brought Wilks on as a student worker to provide feedback.
"I've kind of got a hybrid position where I operate as a student and an accessibility consultant, kind of giving them an inside-out view of the processes that they're putting in place for people who are blind," Wilks said.
While Wilks is also going through the program to receive certification, he's also providing feedback to make sure the program is flexible enough to accommodate the different levels of visual impairment, from partially visible blindness to full blindness. 
"I saw the potential for me to help kind of shore up those cracks and make sure that … we all have the opportunity to pursue it if we desire," Wilks said. 
Wilks said he hopes to see this kind of program implemented in other areas as well aside from the culinary arts.
"I think WSU Tech could be doing a huge service to them by creating career pathways for them to get out and explore if that's what they want to do," Wilks said. 
Leave a Comment