'Be a go-getter:' Legal professionals advise students on law field
Several professionals in the legal field came to talk to students interested in a career in law. A variety of topics were discussed, primarily work/life balance, skills and traits for a good attorney and women in law.
On Feb. 21, The panel was hosted by Andrew Hippisley, Dean of the College of Liberal Arts and Sciences, along with Laura Cunningham, Fairmount College Student Advisory Council president, who sponsored the panel.
Work/life Balance
Michael Jones, an attorney at Martin Pringle Attorneys at Law, said attorneys, now more than ever, are focused on a work and life balance.
"If you've got something that is intensive … then you've got to put the time in," Jones said. "You better take time for yourself too."
When dealing with difficult cases, attorney Julia Leth-Perez emphasized the importance of leaving work at the door. Leth-Perez works at O'Hara & O'Hara and practices criminal defense and family law throughout Kansas.
"Your job in criminal law is to force the other side (judges) to do their job to the best of their ability and you don't decide guilt," Leth-Perez said. "You have to make sure that you emotionally disconnect yourself from the actual elements of your case."
Blair Bohm recently started as an associate at Hinkle Law Firm LLC's. She stressed the importance of learning while working, as well as building a rapport with an employer.
"My goal is to progress as quickly as possible, so that I can have more autonomy and take over cases for myself," Bohm said. "I'm building a rapport with the partners (at Hinkle Law Firm) and showing that I can handle it."
Skills/traits for a good attorney to have
Special Council John Tatlock stressed the importance of three skills: "Diligence, judgment and honesty above all else." Tatlock works at The Harris Law Firm, P.C. in Denver, Colorado.
"The most important skill is to communicate both orally and in written work to the court to clients and to other professionals in your work," Tatlock said.
Conversely, Matt Flesher, an assistant secretary at Textron Aviation, said that listening is the most important skill.
"Being a good listener is an essential skill set for any attorney," Flesher said. "You also need to pay attention not only to what they tell you, but also their comments, their emotions and their behaviors."
Women in law
One of the panelists was Judge Gwynne Birzer, a federal magistrate judge for the United States District Court for the District of Kansas. She said that as the only female African American judge, she knows challenges come with the job.
"But you just got to lean into (challenges)," Birzer said. "It's a challenge if you make it a challenge."
Bohm weighed in on the conversation, saying that there are more women attorneys being hired.
"I know certain opportunities wouldn't be available if I didn't try to go after them," Bohm said. "So lean in and take charge and be a go-getter."
Leave a Comment
About the Contributor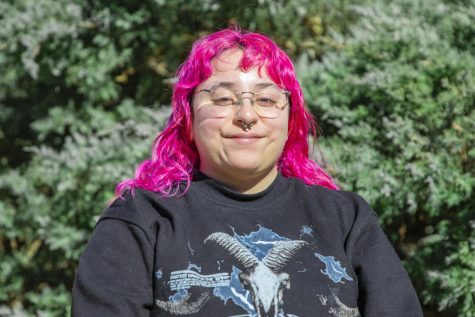 Araceli Lemus, Former reporter
Lemus was a reporter and photographer for The Sunflower.