Art professors take the floor at the Ulrich
WSU faculty members from the College of Fine Arts, Jeff Pulaski and Barry Badgett, held an Artist Talk event at the Ulrich Museum to display and discuss their creative projects.
Pulaski is the Director and a professor of Graphic Design. His projects vary from letterpress printed pieces to digital work.
After starting his teaching job at WSU in 2001, Pulaski was asked to move some supplies out of a building and into another staff member's car.
"What we were carrying in were about 80 drawers, we call them cases, and they weighed anywhere from 20 to 60 pounds a piece," Pulaski said. "As I carried them in, I noticed they were full of these little metal pieces of type."
These metal pieces came in different sizes and typefaces, better known as "fonts" when used online.
"For the past 15 years, I had been working as a designer," Pulaski said. "I had been working with typewriter. … (I thought,) 'this is fascinating' and wondered, 'how does this work?'"
Pulaski began to read and research online and started learning how to print at home. From there, his passion for type blossomed.
"It was fascinating to me, because these little letters that I have seen on screen without too much dimension (became) objects that I can pull and look at and use," Pulaski said. 
Also working in the physical realm, Barry Badgett, an Associate Professor of Sculpture Media, creates sculptures with a theme of "tension" that requires critical decision-making throughout the entire creative process. The piece he discussed in his talk resembled a bow and arrow, adorned with ropes and aluminum pieces in the middle. 
"I live in things that have this tension within them that is being exerted on other objects," Badgett said of his sculpture series. 
The tension spread throughout the art pieces further can express different areas of tension or stress in one's life. 
"Some things that are going on with this (project) provide the sense of pressure that we can go look for in pieces," Badgett said. "But then other parts have things that reference bodies and internal organs and things that can create and put this pressure on us. Some things kind of identify how you relate to certain pressures in your life."
Both artists' work are currently featured in the Polk/Wilson Gallery. The exhibit "Transmissions: The XXIV Faculty Biennial" was introduced to the public on Jan. 26 and will have its final day displayed on April 22.
Leave a Comment
About the Contributor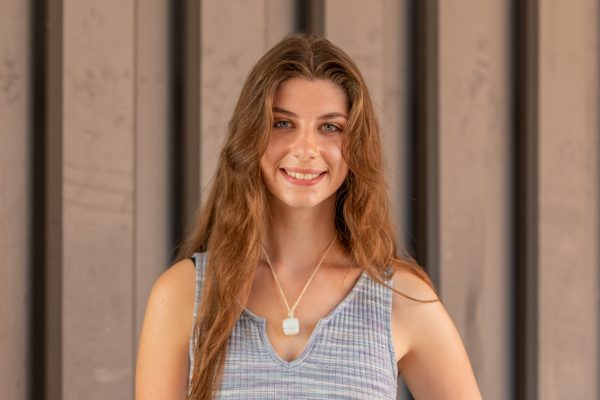 Piper Pinnetti, Reporter








Piper Pinnetti is a reporter for The Sunflower. Pinnetti previously designed content for The Sunflower's Instagram. Pinnetti is a junior...